Hey whats up guys and girls I have finally after years and years have a Xbox 360
I have a 250GB hard drive one with free, Darksiders 2 and Arkham City along with Black Ops 2 for free. I bought also Halo 4 and Minecraft and I have Xbox Live as well my GT is Revy my Engine so send me a friend request if you still play these :D Also today I finally saw Equestria Girls !!!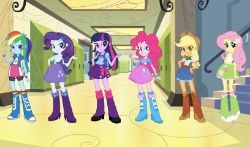 After the first time of trying to see it was a nightmare. The stream of the movie was corrupted and we could not watch it which sucked cause that was back in June on the 22nd. Overall the movie was well worth it just like I thought it would be :) Love the camo of Trixie in the movie. As a Brony I would watch again and own.....which I will when it comes out sense I have my order already on amazon haha See Ya Next Time Luckies Sorry for the short update.