I had once said I am not a big fan of RPGs. I know that Fallout 3 is considered an RPG, but the scars from Mass Effect (the original) aren't burning as they did when I first started this game. As I'd suspected, hours of gaming made all the difference. A fun fact about Ramadan (if you follow my twitter, you already know this), when you're fasting, there are no pesky food breaks. You stop to use the little charmander's room or pray and that's the day. Weekends are a breeze, in that sense. Saturday and Sunday, I found myself playing an obscene amount of time, burning through levels 4 and ending on level 8. I grant you I lowered the difficulty to easy when I kept dying in the first few hours, but now it seems like a breeze, of sorts. This may be my new Vice City.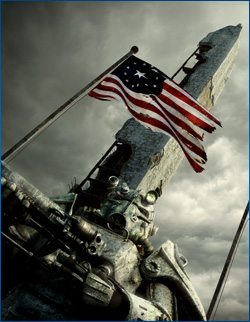 For those of you who don't want to drudge through all my previous blogs, Vice City is one of the few games I enjoyed to the point I replayed it. I doubt I'd replay this one, but I'm doing everything I can in it. The world glitches every once in a while and the NPCs say the same tired things when I speak to them. It doesn't feel tiresome or old. I am finding myself burning through the game and the side missions. I won't say Im sold on RPGs, this is taking up a ton of time, but I'm enjoying said time and that's what matters. I spent a good chunk of Saturday trying to get through the first mission when I realised I stumbled upon the next section of it while doing the Survival Guide for that nut Moira. I realise almost every mission feels like some sort of fetch mission, but it isn't boring me to tears, like say, AC3. I am about half-way through the main story and have finished a good number of the side missions. I'm hoping to keep good karma as I move through the game, but we shall see. I think part of the draw for me is it is set in DC and I live in DC.  Thank goodness for weekends!
Any more 'must-do things' are appreciated!