So I know I have been away for awhile and I apologize for that. I actually want to get back into this whole blogging thing. So for the 3 of you who will read this I present an amazing list of "unlikeable protagonists." I will list protagonists who for some reason are unlikeable for various reasons so let's start this up.
Alan wake (Alan Wake 360, PC)
"He is so angry that even his own books annoy him."
Alan Wake to me is very unlikeable. He is a world famous author with writer's block for 1-3 years. The first impression you get of him is smug and cocky. Legit within the first 30 minutes of the game the man gets annoyed at one of his fans and yells at his wife for buying him a gift! Yes you read that right Alan flips out on his wife because he has writer's block and they both decided to take a vacation together in a rural area and as a nice gesture she brings a typewriter to see if the fresh mountain air can help clear his mind. Since you know it's his job to write books and that's how he makes money. Instead the man flips out and runs out of the vaction cabin like a spoiled child. Also he punches out a doctor who just says he spoke to Alan's wife and is willing to help Alan with his writer's block. Yeah what a douche.
Kratos (God of war 3 PS3)
So before everyone jumps on me I love Kratos is every GoW game BUT the third one. The third game to me completely ruined Kratos. He is overly a jerk and overall not likeable. He kills too many people for when he doesn't even have to. Case in point (spoiler) when you need to get the magic bow and arrow from the man trapped in thorns. Basically the man is handing Kratos his bow all Kratos has to do is remove the thorny cage. Well instead Kratos sets the cage and man on fire and just steals it. Another reason is his fight against the gods is destroying Earth and killing millions. His only response is basically screw everyone else until Zeus is dead he will not stop the mindless violence and massacre of millions. Way to go Kratos.
Unnamed player (RAGE ps3,360,PC)
"Not actually your player some werido with a gun."
Honestly RAGE is a mediocre game at best. What bothered me so much about your player in RAGE is the fact he never speaks…ever. Literally the game takes place 100-200 years in the future after a meteror hit Earth and the player just awakens and follows the advice of everyone without asking a single question. Plus he magically knows how to drive and get to destinations and use futuristic guns without a single peep. Maybe I am over thinking it, but honestly after a 200 year nap and seeing a completely changed world and mutated people and your only response is to sign up for races there is something wrong here.
Any gang member (payday the heist PS3, PC)
This game is honestly pretty fun in its own right. Basically remember the opening scene from "the dark knight?" Well that's what this game is trying to be and to be far some missions are pretty fun. Yet the characters are really really annoying. I can't tell if it's the voice actors or the things they say they just aren't likeable at all. They just shout all the time and just bleh I would go into it further just watch this video and you will get the point.
Rochelle (Left 4 dead 2 360,PC)
This is an easy one she is just not likeable. You can clearly tell this is where Valve completely lost interest/rushed Left 4 dead 2. She has absolutely no personality or anything she is just there. She just takes up space and that's it. Zoey from L4D1 had a personality she was funny and wasn't annoying. Rochelle is just one of those characters just there to be the woman of the group with nothing to add to the mix. I think she was a missed potential she could have had a lot more personality instead of a bland character who is overshadowed by the men.
Alex Mercer (prototype 360,PS3, PC)
"Alex mercer is actually pretty nice after he painfully kills half a million people."
Alex is a man infected with a virus that transformed him into a monster that can do many different things. Long story short the city of NY (where he lives) is put under quarantine and a special military group is looking for him all the while the virus is out and transforming humans into zombies or monsters. The problem with Alex is he is a douche. The game wants you to feel sorry for him via cut scenes or scripted voiceovers. Yet the man has no trouble killing hundreds of pedestrians and eating them for health. The man can attack a 80 year old lady and feel no remorse then go "I hope I can save the city." Being the hero…you are doing it wrong.
Dragon Born (Skyrim PS3,360, PC)
Now before you all flip out on me let me explain a few things. I LOVE skyrim the game is my new baby. Yes the game is all about choices and blah blah. Yet there are some quests that you do that you have no control of. Like for example I somehow some way ended up eating someone's flesh by luring him to a secret hideout of cannibals. Another was I had to murder a group of people because a person told me to. Now I know I could refuse this, but these weren't misc quests they were side quests. These things are fun to do in Skyrim and I avoid at all costs to beat the game and want to complete almost all side quests and the only option to beat certain ones are to murder good people and eat the flesh of others which makes me think what type of hero am I?
Serious Sam (serious Sam 1,2,3 xbox,PC,ps2)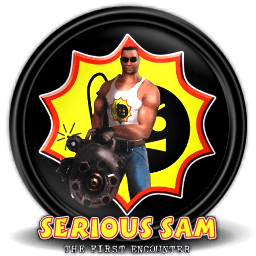 To me Serious Sam is not a likeable hero at all. To put it bluntly he is annoying. Even in the newest Serious Sam game with the same voice actor the man isn't funny or wise or anything. He is just a annoying and his one liners grow very old very fast.
The Belmont family (castlevania series various consoles)
"Is it me or they just get more and more emo?"
The Belmont family has done nothing but kill Dracula since the 80's I am pretty sure it's time we let Dracula finally rise and see what he will actually do. I mean every castlevania game I have ever played Dracula gets revived and just chills in his castle. He never really does anything just relaxes enjoys being alive and *BOOM* a random Belmont runs into his main chamber and whips him to death.
Well that's it for now have you ever encountered a protagonist you never liked? Do you think I am wrong? Do I smell? Leave a comment I will respond to all 3 of you thanks for reading.