Not sure how much traffic I see come through here, but my wife has designed and is selling "I will fight you for bacon" t-shirts on etsy.com. Full link to the shirts can be found by clicking here I will fight you for bacon t-shirts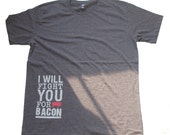 They're really nice t-shirts, high quality and the image is screen printed so you shouldn't have to worry about the image fading, rubbing or flaking off.
If you enjoy bacon and like witty shirts and want to let others know you mean business when it comes to bacon, then look no further.