I was BEYOND bored at home, so I decided to hook up my tablet and mess around with some digital drawings. It has been a while since I exercised any sort of artistic talent, so I chilled out and drew something random instead of making some epic masterpiece. I'm utterly horrible with colouring anyway, so I can either just sketch or do linearts. Honestly, I love linearts, which is obviously influenced by my love for comics so that was what I did.
Based off of my figure of Bishoujo Emma Frost because of the BA pose: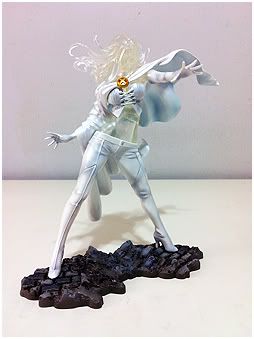 Obviously it's not accurate, because from where I was sitting, the bottom of her cloak was covered by another figurine so I didn't notice the actual flow of it. I'm actually a bit annoyed by it, but I'm too lazy to make changes right now. Drawing eyes suck and I'm a cheater, so it's shadowed. I might have made her boobs a bit too big but F it, it's Emma Frost so fanservice y'all. Otherwise, I think everything else is proportionate.
It was a fun couple of hours, and I miss drawing a lot. (Although omg boobs, y u so hard to draw?) I'm gonna try to make this a somewhat regular feature on my blog, especially since I don't want to let my blog stagnate for too long without any gaming or life updates.
Not sure what I'll draw next but I'm looking forward to it. I'm actually worried though, because I've barely drawn enough in my lifetime to create my own sty.le, and I don't want it to devolve into some generic anime-looking types. I've done enough of that in secondary school while I was crazy over manga.
Meh we'll see.
------------------------------------
Gaming update time!
I've beaten all Borderlands 2 DLC except for the latest, Digistruct Peak Challenge. Currently have spent 141 hours to reach where I am, which is a level 61 Siren and a level 14/whatever Commando. Fun times.
I've also acquired a bunch of games thanks to Humble Bundles, in which most notable are FEZ, Mark of the Ninja, and Shadow Warrior Redux. I'm already stuck in FEZ very early in the game, and I'm ashamed of myself.
Other than that, I've been playing Katawa Shoujo, a free visual novel "game" set in a school for disabled kids. Apparently it's very good, and also morbid. Stellar combination right there. I'm pursuing Lilly because all the other girls annoy me. Hyper? No. Tsundere? No. Painfully shy? No. Sporty? No. Aloof? No. Give me the calmest, most sane girl, thanks. Of course me being female myself hampers my taste in girls, and I just really dislike those stereotypical high school anime girls. Granted Lilly is a stereotypical tea-drinking, class president who is also a foreigner with blonde hair, but she feels the most normal.
That is all!