Kingdoms of Amalur: Reckoning is an amazing action RPG and worth every penny. From superb graphic design to fluid gameplay mechanics, it offers a vast amount of content.
There are tons of sidequests, and much like the Elder Scroll series, there are also a variety of factions which you can join while (or after) you work on the main quest. The premisse is interesting; you start the game "walking from the dead" and soon discover that you are the only person who can actually change his/her Fate. In the world of Amalur, every person, every event is pre-determined to end in a specific manner, and there are even certain people called Fate Weavers who can "read" your Fate, seeing what you are destined to do, how you are supposed to die, and etc. However, you soon start traveling through the world, and people realize your actions are actually affecting and changing the outcome of events that were once, "set in stone." Unfortunately, I believe the storyline fell short throughout the game; I felt like the dialogues and characters involved in the main quest were somewhat superficial and the story lacked depth.
At any rate, this Fate ties down to the very character creation and development process. You have a few basic "Fates", or as the game calls it, "Destinies", which are cards that will power up your character in a specific direction. You will have a card "Rogue", in which you can develop it further by leveling up and unlock the card "Scout", which will grant you more skill points and ability points to spend either on your "Finesse" map or, if you decide to improve the other two areas "Might" or "Sorcery", possibly unlocking different cards such as the hybrid "Disciple", a "mage-rogue" mixture. Overall, the system is very flexible and fun to mess around with; rpg gamers will definitely enjoy leveling up their character and crafting to their needs.
The gameplay is so much fun! My character was primarily a Mage build, and I had spent a lot of points on the Chackram, which I loved using in conjuction with my magic (not to mention juggling enemies around with it.) It's a combat system that made me feel powerful and always rewarding me with tons of loot. There are many options for the 3 main abilities and they provide quite a few combos. Leveling up is not a chore; the combat is very smooth and fast. A few bosses here and there might give a bit more of a challenge, but overal I found the game to be pretty decent in difficulty. There's also a Hard Mode for those wanting a bit more challenge.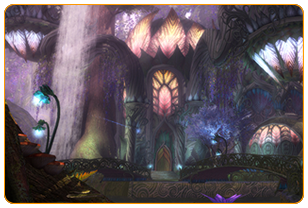 The visuals in this RPG are insanely beautiful. I never got bored at looking at the scenery and environments. The dungeons were fresh and different from one another, even if all of them (or better yet, the entire game) is very colorful. Unlike the Elder Scrolls series, which devides each game to a specific region in Tamriel, Amalur provides the entire world at your hands, even if not in the same huge scale of the TES. But to me, the ability to be able to explore all different areas in one game was much more to my liking, because the regions vary so much (be it in the overall feeling or aesthetics that it shows.) I thought the characters were very vivid and lively, and the monsters also varied in shapes and forms a lot, as well as battle manouvers. The art design in the game is trully something to be looked at, and I actually enjoyed seeing the loading screens artwork, so beautiful they were.
On the background of it all, there lies the soundtrack and sound effects. It's all orchestrated, and gives you that "fantasy world" sense of exploration and wonder. The music is soothing when it needs to be, and engaging when it needs to pump me up for an epic battle. It made my travels in Amalur much more enjoyable.
I thought that, for a first game in a series (the next one, set in the same world is supposed to be an MMO), this game is a great achievement for 38 Studios and Big Huge Games. I didn't like their partnership with EA in publishing this game (there is even a game breaking bug unfortunately, but so far no patch has been released. At the same time, EA has already put out 2 DLCs, so why is this not being addressed?), and I hope they don't on their next. Browsing their forums, it's clear that the developers want to do things right, but are impeded by bureaucracy from EA. I also hope that when I they are done with the MMO, they can start working on a single player sequel, maybe with a more indepth main storyline and more dialogue choices. This is a must for any TES fans out there, and for fans of action RPGs in general who love a good combat system experience and loot.






DEVELOPER: Big Huge Games, 38 Studios
PLATFORM: PlayStation3, Xbox360, and PC
RELEASE DATE: February 7, 2012