Lucky ☆ Star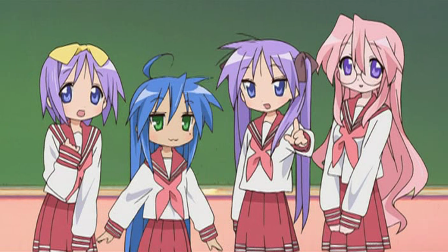 Plot: Lucky ☆ Star's story portrays the lives of several girls attending a Japanese high school named Ryoo with a very loose sense of humor. The setting is mainly based on the city of Kasukabe in Saitama Prefecture. The main character is Konata Izumi, an athletic and intelligent girl who, despite these attributes, is not in a sports club and has low grades. Her laziness at school is due to her love for anime and video games and lack of interest in anything else. The serialization began with the four main characters in their first year of high school: Konata Izumi, Kagami Hiiragi, Tsukasa Hiiragi, and Miyuki Takara. As the story progresses, they move on to their second and third years.
Genres: Comedy, Satire
No. Episodes: 24
Original Run: April 8, 2007 - September 16, 2007
Opening theme:
"Take It! Sailor Uniform" (もってけ!セーラーふく, Motteke! Sērāfuku) by Aya Hirano, Emiri Katō, Kaori Fukuhara, and Aya Endo (episodes 1 - 23) view

Ending theme:
Lucky ☆ Star doesn't have one consistent ending theme, instead using a diferent one in each episod
My Opinion:
Characters................................ 10
Music....................................... 10
Plot......................................... 10
Design.................................... 10
Value...................................... 10
Points 50 - 100 Masterpiece
Final verdict: I watch a lot of anime, BUT Lucky star is my favorite
Konata Izumi: Nicknamed "Kona-chan" by her friends, she gets bored easily when something doesn't interest her. She can be smart, but she hates studying, thus her grades are a bit uneasy. However, she is an expert in pulling an "all-nighter". In contrast to her studying habits, she loves video games, to the extent that she can compete against Kagami Hiiragi on trivia games. In addition, she loves anime, which is also due to her father, Sōjirō Izumi's influence, along with the games. He buys ero-games for himself, so she is able to play and enjoy them. In fact, when she became eighteen, Konata was overjoyed, since she could now go buy and play ero-games legally. In the anime, Konata constantly refers to or parodies several popular games, anime, and manga (much to the annoyance of Kagami), but her favorite franchise seems to be the Haruhi series, as she has many Haruhi figurines and decorations that makes her room, and even once went to the Suzumiya Haruhi with her friends. Interestingly enough, her voice actress for the animated version, Aya Hirano, is in fact the same person who voiced Haruhi Suzumiya in The Melancholy of Haruhi Suzumiya anime; other voice actors from the same series make guest appearances during the course of Lucky ☆ Star.
Voiced by: Aya Hirano
Kagami Hiiragi: Kagami Hiiragi is the older fraternal twin sister of Tsukasa Hiiragi. In school, her grades are excellent, as she studies very hard, and was elected cla.ss president in her first year. She is in a different cla.ss than Konata Izumi and Tsukasa, but she frequently comes to their cla.ss during lunch time to eat with them. Kagami, occasionally referred to as "Kagamin" by Konata, is a bit egotistical, and not as good a cooker as Tsukasa. Konata loves to irritate her, and their arguments act as one of the main factors of comic relief throughout the series. Kagami is usually annoyed by Konata's constant references to her otaku interests, but usually has an idea on what Konata is saying (most likely because she is a very enlightened and intelligent figure) and is a fan of the Full Metal Panic! series.
Similarly to Konata, Kagami likes video games, but plays a different genre than Konata: shooters and RPG. She loves to read light novels, but is lonely, as no one around her has the same interests as her. Both Kagami and Tsukasa are left-handed.
Voiced By:Emiri Kato
Tsukasa Hiiragi: Tsukasa Hiiragi is the younger fraternal twin sister of Kagami Hiiragi and lives in a six-member family household with her parents. She is in the same cla.aa as Konata Izumi. She isn't good at studying or at sports, but excels in cooking. Tsukasa often depends on Kagami for help on her homework, like Konata, but their reasons are different: Tsukasa easily forgets her assignments, while Konata is just too lazy or preoccupied with her hobbies to do them herself. Unlike some of the other characters in the series, Tsukasa has not shown any particular interests in video games and anime, but she does like the Sgt. Frog series.
Tsukasa's physique is a little smaller than average. She has short, purple hair with a ribbon like a head band in it. Her eyes are droopy and she is portrayed as a stereotypical klutz. Tsukasa once received a mobile phone for her birthday, but didn't have much luck with it, as the phone was taken away by using it in cla.ss and mistakenly ruined by putting it in the laundry, along with her skirt. Once, she left instant yakisoba alone after pouring hot water in it, only to come back later discovering there was no water left to drain. Unlike most of the cast of Lucky Star, Tsukasa is a heavy sleeper, and cannot wake up at a set time, even when someone is present to do so. Both Kagami and Tsukasa are left-handed.
Voiced by: Kaori Fukuhara
Miyuki Takara: Miyuki Takara is a "young lady" from a wealthy family, who is also beautiful, smart, and well-mannered. She was the president for her grade level in her first year, when she became friends with Kagami Hiiragi. Presently, Miyuki is in the same cla.ss as Konata Izumi and Tsukasa Hiiragi. Nicknamed "Yuki-chan" by her friends, she is seldom a victim of her homeroom teacher, Nanako Kuroi, for going along with Konata (in sharp contrast to the large bump on the head that Konata receives from Nanako). Miyuki is more relied on by her cla.ssmates, in helping their studies than Nanako. Miyuki is extremely polite, even to her best friends, and has shown to tolerate Konata's constant verbal sexual harassment on her for her moe-like character (although it may be because she is not a sharp or straightforward character like Kagami). She is portrayed as a stereotypical meganekko.
Voiced by: Aya Endo
FUn stuff
Lucky☆Star OP Full Dance by Zombies view
Ask me for good fansubs