Busy...Blah blah blah... I'm back again! I figure you guys are use to this by now. :P
Hope you've all been happily gaming! I got swept up with my new job and some other life issues so I let GS slide once again. I dusted off all my consoles today so I'm jumping back into gaming. :)
Splinter Cell: Double Agent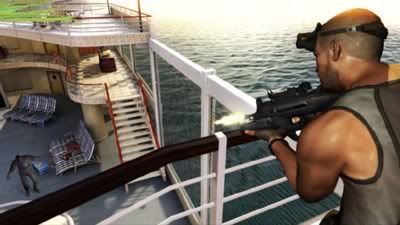 Hiding in broad daylight just doesn't work...
On one of my breaks at work I saw this game in the discount bin at a local drug store. It's been out for a while so it's about time I got it :P It's pretty good but I'm a bit bored with it now. Guess sneaking around gets old after a while. I should get around to beating it soon.
Best moment So Far: Dragging an enemy underwater through a sheet of ice.
Progress: Just beat the cruise ship mission.
Next Goal: Beat JBA H.Q III
Achievements:
Red Dead Redemption
Howdy.
I've been dying to get this game for a while now! I still haven't bought it, but a friend at work let me borrow it. I can't believe I waited so long to play this!! It got off to a bit of a slow start for me (rounding up cattle just didn't excite me :P), but eventually the massive game world alone was enough to get me hooked. It's so easy to head off on towards the next mission and get side tracked by helping random people. I'm not letting myself play it again until I buy it. Otherwise my friend will never get it back :P
Best moment So far: Everything!!! (besides rounding up cattle :P)
Progress: Just finished raiding Fort Mercer with a machine gun.
Next Goal: Buy it.
Trophies:
Beware of Kittens!
In September, I picked up these two cute little guys from a friend here. My landlord let me get them even though my lease says no pets. They've been keeping me pretty busy destroying stuff in between their many naps but they're too cute to be mad at! I didn't even mind cleaning up all the wires on my computer since they love chewing on them for some reason... Everyone at work says they're abusing me since I'm covered with scratches :P
Here they are the day after I got them (8 months old). The black ones name is Thumper and the tan ones name is Stuart. Don't ask. I didn't name them :P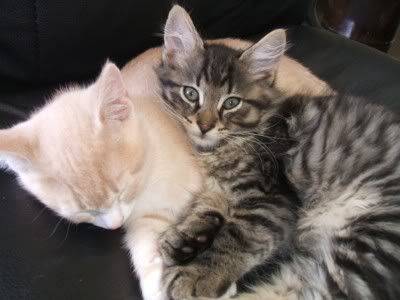 Here they are a few weeks ago. They grow so fast!
Here they are today and caught in the act of destroying my junk closet :P
I could ramble on a bit about work but I'm sure you guys don't want to here about lead free process design and surface mount PCB assembly :P
Have a good week guys! Feel free to point me in the direction of anything important I missed here over the last few months.
Quote of the Month: It is impossible to keep a straight face in the presence of one or more kittens. ~Cynthia E. Varnado