Although this blog doesn't have anything to do with her, I just want to mention that Anita Sarkeesian has a new video out, Damsel in Distress: Part 2. Unsurprisingly, a lot of the games discussed are Japanese. Well, since coming to Japan, I've been visually bombarded by suggestive drawings of barely legal girls on every corner. They sell that stuff in every convenience store, right next to normal magazines and groceries, so that any family or kid coming in can see it. Living here is probably the main reason why lately, I've been thinking/writing about feminism and women in games (and visual culture in general) so much. 
So I will try to explain my conclusion for why is this so ever-present (my source for most of this article is the magazine Cinephile, Vol. 7 No. 1, Reassessing Anime).
Short explanation of terms:
Otaku - a person who is heavily interested and invested in a particular topic, bordering on being obsessed. It could be planes, trains, insects, manga, anime, or whatever. The word is often used to describe one's 'obsession' with something, and doesn't neccessarily have a negative connotation (I'm Otaku for this series, or that show, or studying animals).
Still, it's mostly used to refer to a certain type of Otaku, a subculture of guys who spend a lot of money on collecting manga/anime merchandise, are socially unadapted, don't go out too much and roam Akihabara in unfashionable clothes (with a big backpack for all the stuff they buy), looking like insecure stalkers but mostly just being harmless nerds that keep to themselves.
Kawaii - the Japanese word for cute, except it encompasses a lot. In Japan it's very normal to like cute, childish things (toys, accessories, anime, whatever), even if you are a guy. It is also what you scream at babies and fluffy animals.
Moe - more on that in the following text :D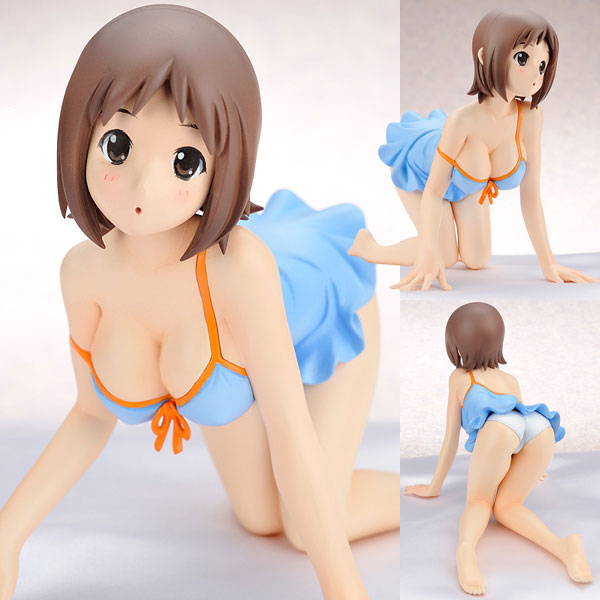 1. Definition of Moe
Moe is central to the Japanese Otaku culture. But what is it? Defining moe is not an easy task. Usually more than one answer will be offered, and none of them will include all the aspects of this phenomenon. The origin of the name is defined in various ways too, but most convincing one is that it comes from the verb moeru (1. to burn; 2. to sprout).

The easiest definition for anything of interest to Otaku might be 'concentrated appeal'. If this is true, then Moe would most definitely be the concentrated appeal through fetishized imagery which evokes a sense of vulnerability. One can come up with any number of scholarly definitions, but imagery and symbols of Moe will usually consist of scantily dressed teenage (or younger) girls in various contexts. While most defenders of moe merchandise (particularly people producing it) state that moe is fundamentally asexual and innocent (thus distancing it from the more explicit branches of Japanese pop culture), we should not hastily take this for granted. The concentrated appeal in Moe most definitely has some (implicit) sexual elements, albeit suppressed. So how does this work, and in what ways are the sexual and asexual elements intertwined? More importantly, why is there a high demand for such products?
2. Structure of Moe
First, a quote from the science-fiction writer William Gibson: 'Humans are pattern recognizing creatures.' Having this in mind when observing pop culture in general, we can without hesitation say that any and all pop culture is consumed for it's never ending appeal of endless recombination and redefinition of tropes. Because, if we go beyond narratives in culture products (movies, books, comic books, videogames), within that world of pictures and words we will discover a rich web of symbols which evoke a wide range of emotional reactions in the consumer. Let's shift our focus back to moe.
Moe evokes a sense of vulnerability. This vulnerability can be physical (the character is physically weak or disabled), mental (the character is young, etc.) or situational (the character is in the role of a servant, maid, etc.). These vulnerabilities are conveyed to the Otaku consumer in two ways, which are two different aspects of moe. The first one is narrative moe; this moe is derived from character's actions and personality, basically from everything that's identifiable only within the context of the story narrative (therefore not easily reproduced in a single still image). The second one is non-narrative moe; this is the still image, a set of specific visual characteristic not dependent on the story.

'Moe is not a simple act of empathy, but a post-modern consumer behavior.' How are we to understand this quote? Otaku consume manga and animation as a kind of 'database', cataloging and recombining various tropes and character traits. This affective response to images leads on to consumption of more images, becoming organized as repetition compulsion. Therefore, the most important element of moe is not narrative, but forced repetition of character traits.
If we really focus our attention only on the narrative moe and the mental vulnerabilities of characters, moe indeed seems rooted in empathy through a fatherly/motherly instinct. But if we take in account the non-narrative moe and the fetishized imagery too, we cannot but ask ourselves: how deep does the rabbit hole go?
3. Why are Kawaii and Moe ever-present in Japan?
When talking about origins of the phenomenon, Moe is probably best described as an outgrowth of kawaii, which is the apparent obsession of the Japanese people with the 'cute' and childlike. Both are in no way a product of recent Otaku culture - they can be found as early as 1948 in Osamu Tezuka's work 'The Lost World'. Sharon Kinsella explains that this aesthetic 'celebrating sweet, adorable, innocent, pure, simple, genuine, gentle, vulnerable, weak, and inexperienced social behavior and physical appearances (...) saturated the multimedia and consumer goods and services whilst they were expanding rapidly between 1970 and 1990 and reached a peak in the early 1980s'.
Miki Kato claims that kawaii and the child-like behavior associated with it are 'inherent in the Japanese character' and a consequence of the social and psychological pressures of modern Japanese society. She writes, 'kawaii gives people a way to hang onto childhood and thereby postpone the pressures of adulthood'.

What about moe itself? Similarly, we might view the post-millennial moe saturation of anime as a result of social issues, especially regarding male identity, caused by these societal pressures in post-war Japan becoming more forceful and overpowering. Japanese males are now increasingly looking toward the fantasy world to supplement and correct their perceived inadequacy, using the cute to escape. Realizing that a place in the 'proper' society is unachievable, they grasp a different reality through the Otaku identity.
A significant portion of consumers in the moe-targeted market consists of unmarried males in their 30s. Since these men are beginning to see a lack of purpose in their lives and the 'window of fatherhood slowly closing', they are creating an emotional state of nurturing affection while maintaining a subliminal sexual affection towards a certain object, symbol, idol. Moe products are surrogates to fill a gap in their emotional being.
To summarize: If kawaii is a way of hanging onto childhood, then moe is a way of hanging onto (and in some way realizing) the repressed sexuality (frozen in an immature, pre-adult state) while dealing with a growing nurturing affection ('longing for fatherhood').


And that's why we have 50-year old businessmen going to AKB48 concerts, cheering to a bunch of 12-18 year olds dancing in skirts. And nobody sees anything wrong with that.