Hi everyone! I've always wanted to do this blog post, and now that my MIA-ness has caused me to be stripped of my editorships I guess there's no time like the present. I'll be breaking it up into two blogs, first my shows then my people. Without much further ado, I present the guide to my guides!
SHOWS
The Insider - Celebrity scoop delivered nightly, formally hosted by Pat O'Brien and Lara Spencer.
The Megan Mullally Show - Fresh off her run as Will & Grace's Karen Walker, Megan returned to television (albeit briefly) in this charming talk show.
The Oblongs - A short-lived but much-loved animated comedy, The Oblongs took family dysfunction to a new level.
The Real Ghostbusters - Who ya gonna call? The Real Ghostbusters took place where the original film left off, continuing the paranormal adventures.
The View - TV's pioneering gabfest has been a daytime television staple for 15 seasons (and countless disagreements).
The Wendy Williams Show - How YOU doin'? Radio personality Wendy Williams brings her unmistakable voice to television syndication.
thirtysomething - Love it or hate it, thirtysomething brought to light the trials and triumphs of a group of yuppie 'thirtysomethings' in the 1980s.
Trading Spaces: Family - This spin-off of the original TLC series allowed larger teams and children considered too young to originally participate.
Under One Roof - Flavor Flav starred in this offensive, forgettable fish-out-of-water sitcom
I'm a Celebrity, Get Me Out of Here! - Celebrity Survivor with lots of camp
Legally Blonde The Musical: The Search for Elle Woods - MTV launched a reality show competition to replace Laura Bell Bundy for the role of Elle Woods on Broadway's Legally Blonde - The Musical.
MADtv - FOX's answer to Saturday Night Live, MADtv brought the irreverent humor of MAD magazine to this fan-favorite sketch-comedy show.
Old Bear Stories - Based on Jane Hissey's Old Bear and Friends books, this quaint children's series followed the adventures of play room toys.
Rock Me Baby - A shock-jock and former exotic dancer discover the misadventures of child rearing in this short-lived UPN sitcom.
Space Ghost Coast to Coast - Irreverence is taken to the next level when former superhero Space Ghost settles down and hosts a talk show
The Anna Nicole Show - Former Playboy Playmate Anna Nicole's drug-filled 'fat years'
The Bad News Bears - In television's buried tradition of unsuccessfully adapting movies to television series, The Bad News Bears followed the 1976 film in a tamer sitcom format.
The Bonnie Hunt Show - Actress and comedian Bonnie Hunt brought her signature wholesome wit and candor to afternoon television.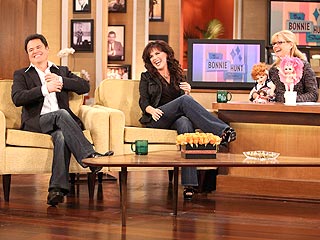 Wicked Wicked Games - A personal favorite, Tatum O'Neal starred in this MyNetworkTV telenovela about an insane woman out for vengeance, a similar show to ABC's current hit Revenge.
And that's part one! Stay tuned for part two, it might take awhile since I was editor for a lot more people then shows but it will be coming shortly. Hope everyone's having a happy first day of Spring!
Dave :)