A month believe it or not has passed. Don't "boo" me! Anyway moving on to the blog.
Energy: Tropical Citrus (b+ guarana)
"They say a little energy can take you a long way, and if there's anyone who knows that, it's our all-american girl Carrie Underwood. She's gone from rocking out the church aisles in Checotah, Oklahoma to taking over the spotlight in the world's largest arenas. So how does Carrie dazzle adoring fans, smile in hi-definitiion, and still manage to go multi-platinum twice. She grabs this bottle that's packed with b vitamins and gurana...it helps her keep a grip on the wild carnival ride she calls life. Aside from all those trophied, its earned her nicknames like "care bear", the "horse whisperer", and "bottled lighting", and you know what they say down south..."The smallest chillies pack the biggest punch."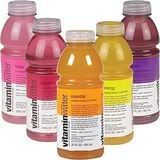 Defense: Raspberry-apple (c+zinc)
If you've had to use sick days because you've actually been sick then you're seriously missing out, my friends. See the trick to stay healthy and use sick days to just umm, not go in, and this combinatiion of zinc and fortying vitamins can help out with that and keep you healthy as a horse so drink up. Remember don't overdo it on the coughing and sniffling (big rookie mistake) Just stick with the ever elusive "24-hour bug." The symptoms are vague and people will actually encourage you to stay home.
Formula 50: Grape (50% Daily Dose)
Thanks to this formula that's packed with 50% of your daily dose of key nutrients, 50 cent is able to accomplish anything he sets his mind to. That said, there's a discussion that needs to happen now...Would it be "President 50" or "President cent"? Now President 50 has a nice ring to it especially there being 50 states and all (purely coincidental) On the other hand, President Cent would work perfectly with the slogan "The buck stops with the cent." While you, the people debate this, 50 will be working on more important business...getting his platinum records framed with the presidential seal.
Revive: Fruit punch (b+potassium)
If you woke up tired, you probably need more sleep. If you woke up drooling at your desk, you probably need a new job. If you woke up with a headache on a ferris wheel at the Idaho state fair, wearing a toga, you probably need answers, not to mention this product. It's got potassium and b vitamins to help you recover and feel refreshed- kind of like in those old irish spring (registered) soap commericals. If you're like our boss, Mike and woke up married to an Elvis impersonator, you probably need a lawyer.
Well until whenever I blog again, later.