After 28 years, Tron is finally getting a sequel.
I don't think Tron is a great film, but it's an important film that's worthy of admiration for its visual and storytelling ambition. It had a profound impact on me as a child, and, I think it's safe to say, on many members of my generation. Misunderstood at the time, it's a surprisingly complex film for one marketed and released by Disney as a family adventure. It left parents, who weren't prepared for a science fiction film with political and religious undertones that actually takes place inside of a computer, scratching their heads, while the children who were dragged to the film (like me) were deeply affected by it, but in ways that we wouldn't fully understand or be able to articulate for years to come. Now, the things Tron deals with--video games, computer programmers, software companies, cyberspace--are all a much bigger part of our collective social consciousness than they were in 1982. In that sense, Tron is almost a bit prophetic, or, at least, ahead of its time.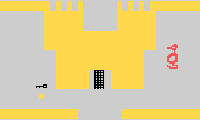 Before seeing Tron at the age of five, I was already an avid player of video games, and while the experience of playing games has changed so dramatically in so many ways since then, in my mind one difference is more significant than all the others. In the early 80s, you had to engage your imagination while playing games. If you were going to become invested in the Atari 2600 game Adventure, you had to meet the game 98% of the way, agreeing to accept that the little dot you moved around was a brave hero and that the duck-like creatures who attacked you were fierce dragons. You created the world of the game in your mind. Today, for the most part, games are so richly detailed that you don't have to put your imagination to work at all. It's not unlike the difference between reading a book and seeing a film. When you read a book, you collaborate with the author in creating the movie of the book that plays in your mind. The author's words form a basis, but you cast the parts, you do the set design, you direct the film, and the film that plays in your head is different from the film that plays in the head of any other reader of that book. With a film, we all see the same thing. With games today, all players see the same world, but in 1980, one player's imagination may have been engaged by Adventure in very different ways from the next player's.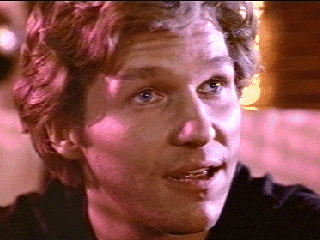 The point of all this is that, when I stepped into that movie theater in 1982, I had already spent a great deal of time imagining that the actions happening on the screen when I played video games were, in some sense, real, that stuff was happening inside my Atari (or, if not there, then in some unknowable place). So when Tron showed me computer programmer and video game hotshot Kevin Flynn (Jeff Bridges) playing an arcade game and then cut to the action "really" happening inside the machine, I was ready for it. I was thrilled by it. And although I came out of the film with only the haziest understanding of its plot, its visual style shaped how, for many years, I envisioned what was actually happening inside of computers, to the point where even when I read William Gibson's landmark sci-fi novel Neuromancer as a teenager, Tron's depiction of a realm of computerized information influenced how I imagined the cyberspace of his book.
The years since have tried to provide us with other cinematic cyberspace messiahs. The Matrix trilogy's Neo, in particular, is a cinematic Christ figure for the cyberspace age. But in my own heart, nobody has ever been able to compete with Kevin Flynn. Terrific at video games. A brilliant and somewhat arrogant programmer with a rock star charisma. He's like Bill Gates, if Bill Gates were cool. (Neo, on the other hand, doesn't even have the charisma of Bill Gates.) And it's no stretch to call him a messiah figure. Tron is replete with religious undertones and imagery. The relationship between users (people) and their programs is a spiritual one for the programs--when one program mentions his user, he's called a religious nut, and Flynn, a user called down from on high, walks among the programs, for a short time, anyway.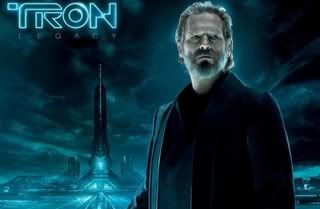 Now that those my age, the first generation to grow up with video games as a normal part of life and who saw Tron as young people, are adults, the time has come for a sequel. (How fortunate that the actor to play Flynn wasn't some actor who would soon be forgotten, but was Jeff Bridges, one of the very best film actors of the past 30 years.) Of course, the sequel could be terrible, but I have to admit that, when I see that they've taken the concept of Kevin Flynn as a messiah figure seemingly as far as it can go--in one trailer, a character calls him "the creator"--I get very excited. I hope that Legacy is the sequel Tron deserves; not just a sci-fi action spectacle, but a serious piece of cinematic mythmaking, one that may influence the next generation as much as the original influenced mine, or, at the very least, provide for me and my fellow Tron fans a rich and satisfying continuation of the story that has resonated in our minds for so long.
In the trailers, I especially love the shot of Sam, Kevin Flynn's son, returning to Flynn's arcade, a location bustling with life in the original film, and seeing the machines shut down, their screens covered in dust.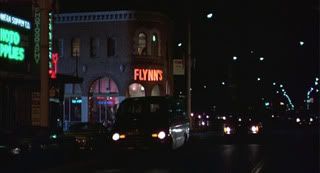 The era of arcades, sadly, is over.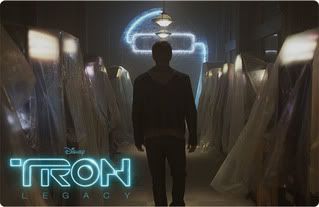 But the era of games has only just begun.
I'll see you on the game grid.