Well, school has been canceled due to Hurricane Irene which a couple of hundred miles off the coast of South Carolina right now, so I figured "why not continue with my characters countdown?" We're getting close to the grand finale, so let's not waste any time and go right into the list...
#30:


Mordin Solus (Mass Effect 2)
While on the outside, Mordin is one of the upbeat and enjoyable characters in Mass Effect 2 with his lightning quick speech, experimental approach towards missions, and quirky but violent attitude. But beneath his humorous shell is a person whose emotionally conflicted over created a massive genophage to stablize the population of the Krogan species. While the genophage has crippled the Krogan, it was necessary to save the galaxy from a universal Krogan revolution. He knows that what he's done is both right and wrong, but you're never entirely sure how to feel about the genophage because Mordin isn't sure what to think himself. This creates a character that can make you laugh and keep you entertained, but is also one of the deepest characters in the Mass Effect universe.
#29:


Hopper (A Bug's Life)
A Bug's Life has always been one of my favorite animated movies, and my favorite thing about it has to be the main villain, the leader of a swarm of tyrannical grasshoppers named... well, Hopper. What makes Hopper such a great villain is that he's ruthless, tough, intimidating,uncaring of everyone but himself, and scared. That's right, what makes him so great is that he's scared. He's fully aware that the ants could take out the grasshoppers if they worked together, so he uses his own fear against them. The grasshoppers rule over the ants is clearly a metaphor for slavery, and Hopper is a great representation of the people in charge. And he gets bonus points for being voiced by Kevin Spacey.
#28: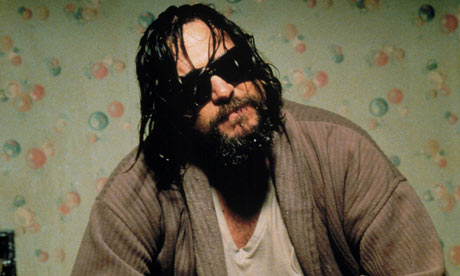 The Dude (The Big Lebowski)
Well of course The Dude is on this list. Seeing as I'm a definitely a member of The Big Lebowski's cult following, The Dude was guaranteed to be on this list from the word "go". The Dude is one of the laziest human beings ever conjured, given that all he does is get high, drink White Russians, and go bowling. What makes The Dude such a great character isn't that conflicted or misunderstood or anything like that, he's just a lazy guy in a crazy world who says hilarious things... that's it! But it's Jeff Bridges' performance that makes him such a great character. He executes every word perfectly, and if anyone else had been cast in that role, The Big Lebowski wouldn't be the monumental movie that it is today.
#27:


Bonnie MacFarlane (Red Dead Redemption)
I've talked a lot about this character, but I can't ignore the fact that she's one of my all time favorites. As I've said before, what makes Bonnie MacFarlane such a strong character is that she's a young woman living out a man's life in a man's world. This was one of the most dangerous time periods, especially for women, but Bonnie never seems to let any of that get to her, she just keeps on moving. She's also one of the most likable people in Red Dead Redemption on a human level. She's a tough, no-nonsense woman but she's also kind and witty. She's the kind of character that you wish you knew in real life, which is an a pretty uncommon in most modern video game characters.
#26:


Raplh Wiggum (The Simpsons)
Ralph Wiggum is probably the most quotable characterin television history. The things thathe says and does are just sorandomly funny thatno one could possibly resist loving him. That's really all there is to the character, but the timing and delivery of all of Ralph's jokes are just so perfect that even though there isn't much to him, he's still one of my favorite characters.
#25:


Hans Gruber (Die Hard)
This guy is... too much. Hans Gruber is without a doubt the most entertaingly lovable villain ever put on film. He may notquite be the greatest or most complex villain out there, but he'scertainly the most entertaining. Hans is the leader of the European terroristgroupthat's taken control over a major building in Los Angeles,and he's done this for two reasons. To break otherimprisoned terrorists out of jail, and to steal millions of dollars from the building's vault.And of course, he's Alan Rickman, so that makes him twice as entertaining. He's clearly a little crazyandruthless, buthe has so many brilliant lines and mood swings that you can't help but love him.
#24:


Garrus Vakarian (Mass Effect)
Garrus is one of the best representations of a hero with a heart of darkness. While he's very likable and fun to have a conversation with, but he's also overly violent and reckless. You get the sense that while he and Shepard are very close friends, Garrus is sort of an apprentice to Shepard, and he shows those signs through his recklessness. Which makes him interesting to watch, because while his motivations can be a littleshaky, you still feel thedetermination that's constantly driving him.But that doesn't stop him from being one of the most likable characters in the Mass Effect universe.
#23:


Deadpool
Besides having an awesome costume, awesome weapons, and awesome fighting skills, Deadpool is probably the most clever of all comic book characters. He's not necessarily a hero, but he's not a villain either. He's technically insane, but still knows what to do and how to do it perfectly. And of course, he's hilarious. He's a combination of everything that's great about comic book characters. Deadpool is a perfect blend of the ridiculous abilities, dark pasts, and clever fourth wall jokes that make comics a major piece of pop culture. Now, I'm not really a comic book guy, but I've read a little Deadpool and know enough about the character to consider him one of my all time favorites.
#22:


Beast (X-Men)
I know that I just said that I'm not a comic book guy... and I'm still not. All that I know about Beast comes entirely from the 1990's animated X-Men show and the live action movies. I've never read an X-Men comic in my life. But to get back on the subject, what makes Beast such a great character to me is how he's both an unstoppable and raging animal butis alsohighly intellectual and peaceful. I've always been a sucker for characters like that, and youdon't findmany characters more true to that description than Beast.
#21:


Hannibal Lecter (The Silence of The Lambs)
While he's one of my all time favorite characters, I've been entirely sure what to think about Hannibal Lecter... but in a good way. Of course he's a deranged killer and a cannibal at that, but honestly... I really find him to be entertaining and almost fun. The way that he speaks and moves is just mesmerizing, and even when he's brutally murdering people he does it in an almost poetic way. One of my all time favorite movie scenes is his infamous escape scene, in which you're almost rooting for him... but why? That's just the genius of the character, I love the guy to death... but I don't know why.
Part VI with numbers 20-11 will be up by next weekend!
.........................................................................................................................
Song of the Day:
Nada Surf - Weightless
http://www.youtube.com/watch?v=uAtsZwoT_pU
Picture of the Day: