Yo people. Been a long time since I blogged. I've been so busy with college its like someone hit the pause button of all the things I love to do.
Heres what I've been doing in the meantime.
Being a computer major, as part of our college project, we had to start a blog of our own in the internet. I made one about anime, comics and games and stuff. You can check it out here. I felt it was a real drag at first and was doing it for the sake of the grade. But now its starting to grow on me. I'll keep posting there regularly. You can follow with you gmail account or subscribe to the RSS feed.
I was also busy messing with my PC, trying to modify everything and anything. I came up with an Iron Man theme at first. Pleasing to the eye and pretty handy too. Heres a screen (click to expand in new window).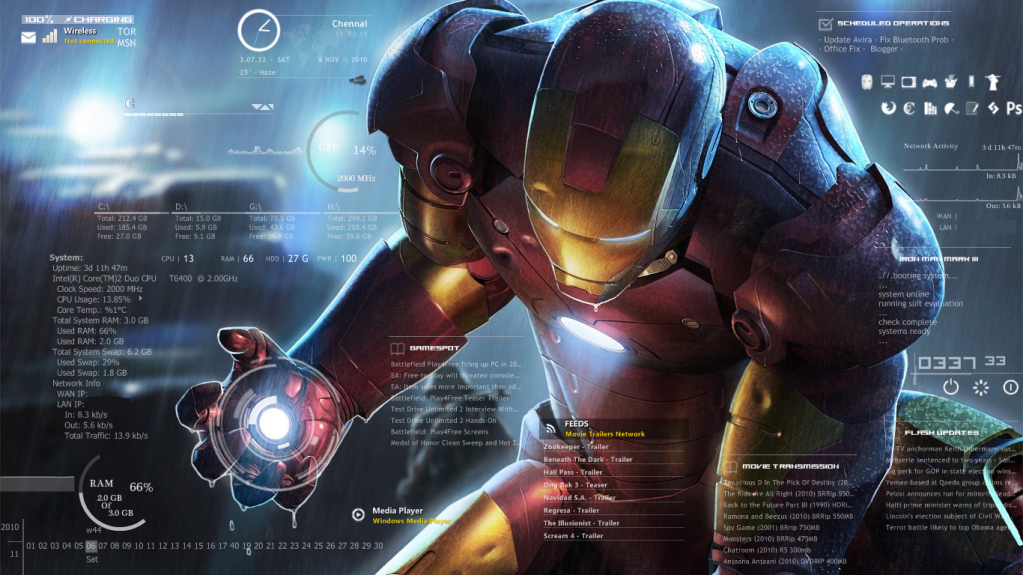 The circles around his palm rotate all the time. You click on the repulsors in the palm to toggle on/off the icons. It was pretty cool. I'm currently running a Bebop theme.
I slowly finished Baccano!. I havnt been able to read any manga at all. Since all manga sites were blocked along with GS. I also watch Cromartie High School when I feel like it. Damn funny at times.
For movies, I recently saw My Sassy Girl. A pretty good korean romantic comedy. I'd recommend it to fans of the genre. I'll be seeing Inception tomorrow. Late, I know.
Havnt been gaming much. Actually I havnt sat down and played a campaign for almost a year now. Hmm...what else. I'm getting really good with basketball. Only thing that keeps me going in my dull dorm life.
And heres some good new, I'll be moving to a room in the city soon after the new year. I should internet access again and will plenty more time and resources on hand to finally focus on something and hit that play button again.
I'll be leaving on the 14th and I shall be back for the winter holidays around the 23rd.