Commander Khan is making a fool of himself! Why is he dancing around like a cheerleader! :P
So yes in case you haven't figured it out I finally conquered Elite Beat Agents on Hard Rock difficulty! This is the highest difficulty setting and has you dancing as the "Elite Beat Divas", female cheerleaders. The mode is very hectic because the hit markers are smaller and the timing to hit them is also decreased, and they appear much faster.
It seems SOOO impossible, but after multiple retries and much crying you'll finally pass it and feel like you've just done the impossible! It took me literally over 10 tries to beat the final stage on Hard Rock mode.
After that you unlock a very cool extra. It's not a new difficulty setting but if you hit the Commander Khan button that appears on the difficutly select menu screen it'll add Commander Khan as the middle dancer! This is hilarious because you've never seen Commander Khan actually dance, or do anything outside of the view cut-scemes that he appears in. GO COMMANDER GO!:D
If you want to check out my review of Elite Beat Agents, give it a look here.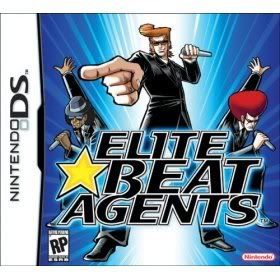 Elite Beat Agents is pretty much the start of previous games that I had started playing but never either beat or finished. With Elite Beat Agents I of course had beaten the game to write my review, but I never completed it. Now it is conquered! All that's left is to raise my ranking by beating my previous scores on levels. Right now my rank is "Hero's Hero" and I have "44,101,497" points needed to raise to the next rank!:?
I also finally beat Resident Evil 4: Wii Edition. I had beaten the GameCube version of RE4 before but not the Wii version, so I finally beat that and wrote a review for it, which you can you read on VGB here.
For my review I beat the game on normal and also beat all the extra modes: Assignment Ada, Seperate Ways and the Mercenaries mode. Seperate Ways was an awesome mode. It adds so much to the story with the additional chapters and it's a very long mode, it took me like six hours to beat it! I still want to go through the mode a few times, with the unlockable outfits and guns I've already gotten and then beat it on the Professional difficulty setting.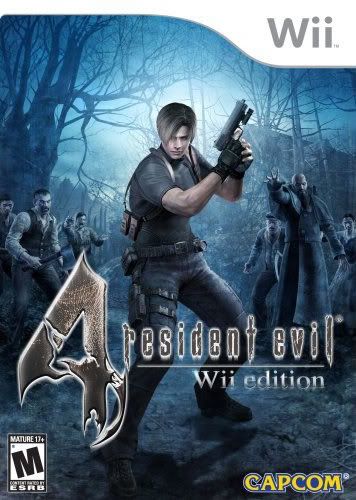 I do still have a few games that I need to finish though.
I also started playing Lost Planet: Extreme Condition for Xbox 360 which is the first Xbox 360 game that I've played and we've had the system since Thanksgiving or so (Black Friday) and I have yet to really play anything! We also have Assassin's Creed and I can't wait to play that. As well as Conan, which my brother who bought the 360 bought it as a gift for me and i still haven't played it. lol. Which I didn't do on purpose it's just that I've been busy playing other stuff.
I really like Lost Planet so far, it's a very fun game and it's a lot better than I was thinking. Also a lot different, it's more of a shooter and kind of has the feel of a first-person shooter but in third-person, and much different than the aforementioned Resident Evil 4. Strangely, I also find the whole winter/ice/tundra environment to be refreshing. Since it's not an environment you are used to seeing. And then of course you have the massive boss fights which are incredible! My main beef with the game though just comes from personal taste, and that is: I don't care so much for using the mech-like robots. I prefer the on-foot shooting . . .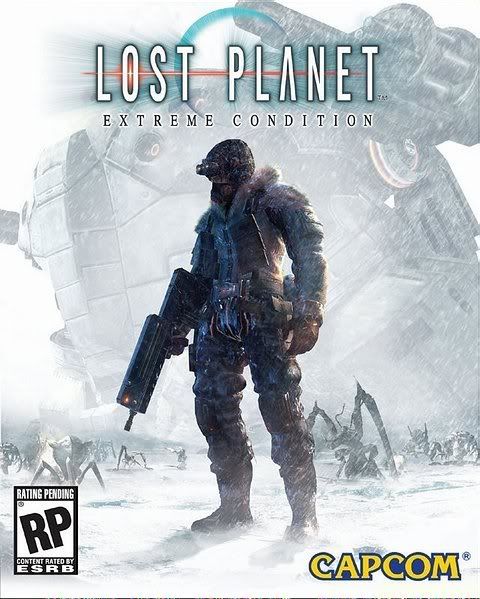 And last, but definitely not least, I have been playing . . .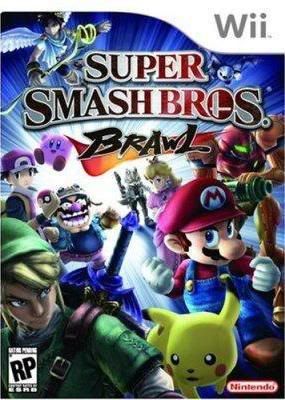 Yup! I got Super Smash Bros. Brawl as a gift from a friend who's web-site I am working on (www.playersinformed.com) so I can review it.
The game is AMAZING. The graphics are so much better than what I had expected, it's literally like going from Street Fighter to Street Fighter Alph. The intricate and very busy backgrounds do wonders! It really makes your jaw drop. The single player Adventure Mode is also insane! I've barely touched the service of it as I'm only at like 6%, but my friends boyfriend has been playing it and she says that he played it for over 6 hours and still isn't finished! That boggles my mind. :D
I also already played an online match with my aforementioned friend (some of you may know her as Angelbabe531) and while it was awesome to finally get to play an online game with her, it really sucked for me because it was SUPER laggy. The lag was so bad that it almost broke the game because you could not do all the timed-based combos and attacks that you would in a normal Smash match. Smash is all about timeing after all.
But hopefully that just depends on the connection and it's not always like that.
I actually wouldn't know because I've avoided ALL reviews and articles on the game as to avoid any and all spoilers. I literally know NONE of the secret characters. But it's time to get busy and down to work to unlock them!
Oh yeah and I almost forgot something else in my excitiment! The other newest game added to my collection it this: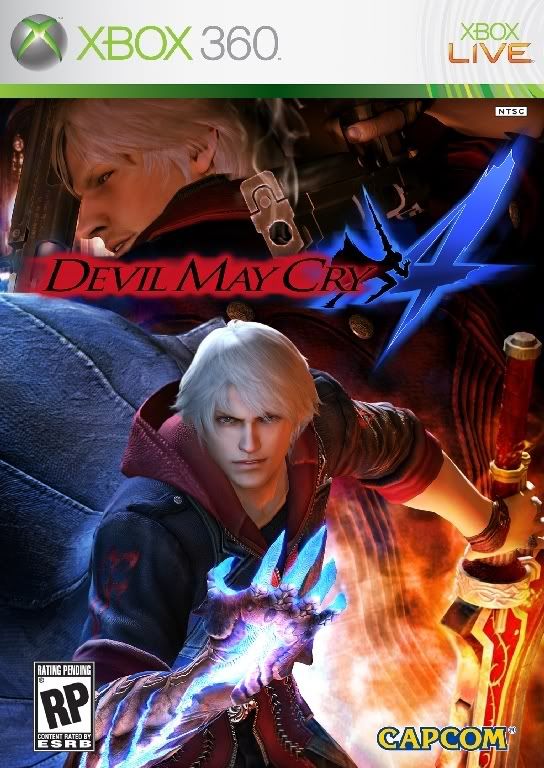 Devil May Cry 4 for Xbox 360! I got this game from Capcom to review for VGB. I've only played the first few missions and my early impression is . . . It's Devil May Cry! :P Really, surprisingly nothing has changed outside of the visuals. The addition of the Devil Arm is interesting, and it really adds a cool element for battles, but outside of that it's all what you'd expect and doesn't seem to try anything new. But we'll see if that changes later on. I have a feeling it won't though. It's actually kind of funny too considering how much Nero even LOOKS like Dante.
The opening moments of Devil May Cry 4 are AWESOME btw. I mean amazingly awesome. Oh and I do have a major beef. The voices in this game are EXTREMELY low, so low that it's hard to make them out and nearly impossible if there are other sounds/music going on in the background. Thank God for subtitles, but it does surprise me how badly the audio has been mixed. It's very annoying. Might as well not even talk! :P
And with that I'm off to play some Smash! Take care everyone!
Oh and by the way, if you wanted to read my Turok 2: Seeds of Evil N64 review, which is what I was talking about in my last post, you can give that a look here.
If you have problems connecting to the site btw it's because the server load is insanely high do to so many visitors (over 200) reading the site at once, mainly the Super Smash Bros. Brawl articles!:shock: So try again later.