Well, well. After 3 months I've finally written a new review. It's not so good must say, I had some problems with formulating my sentences properly, I repeat a lot and it's once again much longer than I wanted it to be. Oh well, maybe it's because I haven't written any review since three months now.
Anyhow, here's my original review, and please rate it if feeling like it.

--------------------------------------------------------------------------------------------------------------------------------

"A gigantic world and lots of freedom are only a part of what makes Skyrim so outstanding."
Difficulty: Just Right
Time Spent: 40 to 100 hours
The Bottom Line: "Amazing"

I still remember the first time I started Skyrim on my PC as one of the first PC games I had bought. Quite some time has past by since I've done that. But no wonder, after being astound by the visuals, I found out what was so amazing about Skyrim: I had never seen such a huge world within a video game before. After the introduction and first few hours with the game I knew I wouldn't regret the purchase of Skyrim.
---Presentation---
Skyrim gets a lot right, that's for sure. For one, the story is very entertaining and quite gripping. You play a character who was accidentally accused by the empire, which rules Skyrim, for belonging to the enemy (there's a war between the empire and rebels) and is supposed to lose his head. He/she gets saved by an sudden attack of a dragon, a creature that is actually said to be extinct, since the chaos the dragon causes gives him/her the chance to flee with the help of some other people. During the story you'll find out that the Dragons are back to take over Skyrim, and as it comes your character is the only one able to stop the evil dragons from mischievous plans. It's an exciting story that evolves in a good pace.
Of course, the main story is only the core foundation of what is to happen in this game. Along your way, choices you make affect the story a lot. Actually, you are the one who can decide how the story shall go on. While the main story will end the way it is supposed to end eventually, you may decide how your relation ship to different people are, are able to make crucial decisions that make one group of people to your friends, and another to your foes. And of course, you may decide whether you'd like to be on the good side, or the bad side. You even decide if you want to become a warrior, magician or even a thief. Skyrim has a lot of freedom where you self are able to decide what kind of person your character is, and are able to create your own story. With that said, while it is nice to be able to make such big decisions, the consequences of a few of the little decisions aren't always fitting. The majority yes, but sometimes the consequences of decisions you make are quite incomprehensible. Other times it also felt like the developers had squeezed in one or two too many different decisions to make, when multiple decisions had the same consequence, even though they were two quite different decisions made.
Another reason why Skyrim is gorgeous are the beautiful visuals. The many landscapes of Skyrim are beautiful to have a sight of. There's an incredible amount of details in the world of Skyrim, which can be considered surprising since Skyrim is so huge. Textures are also mostly good, though taking a close look at some objects might end with some unpleasant pictures. Despite some rather muddy looking objects, it's still an outstanding looking game. The same can't be said about the soundtrack. It contains some great tracks, but not very many memorable tracks. Actually there isn't a hell of a lot of music appearing in the game, a lot of the time there isn't any music at all to be heard, and it seems quite random when the music does appear, which does make for some unfitting moments of when the music suddenly starts to play again.
By all means though, what really makes Skyrim so special is that it presents us such an lively, beautiful and exciting world to explore. The world brims of charm, the game represents so many different areas, among them very different kingdoms, so many different characters with personality and other life; it really is amazing what Bethesda has done with Skyrim. They have put so much effort into this game to really give you the feel you're exploring a real, huge world. Not unexpected, but unfortunately, there are quite some glitches and other issues that hold the world of Skyrim back at times. The misleading consequences are only the beginning of many little annoyances that ruin the immersion of Skyrim's world at times. Glitches like getting stuck in environments aren't too common, but they do happen. I don't know about you, but I do perceive it as darn strange when a Mammoth suddenly takes off into the air and lands safe short after the take off. Also, while many people in the game have quite some personality to them, I did encounter people who all shared the same sentences. Which isn't really anything bad, though it also seems very weird when over twenty guardians all seemingly have a cousin who is allowed to fight dragons, meanwhile they have to do their generic, average job as guard. Well maybe they all share the same cousin, an unlikely but still possible solution. Another situation that bothered me quite a bit was the one time where an old lady had died and was lying in the middle of a street. After I had once left and then come back, the lady was still lying there. But the stupid part is still to follow: Whenever a guard who walked along the pathway came along the dead body, he said something like oh geez, what happened here, knelt down, then stood up again and walked further on. After turning back and coming along the dead body, he did the same thing again. The chances you notice something like that isn't high, but if you do, it really does ruin a bit of the immersion of the world for you. The same goes for dead Dragon bodies, that like to lie in the middle of a way quite some time. Sure, this doesn't have to be unrealistic, but when people suddenly walk through the bones and pretend their isn't anything lying in the way, you do get an awkward impression.
---Gameplay---
Despite my complaints about the presentation of the game, it's still outstanding in general. The same goes for the Gameplay. Right from the beginning you'll be involved in some great action, with battles that look and play great. The main Gameplay aspect of Skyrim is simply traveling through the world and finding all the different areas, always finding more and more content as if it seems that the game does not know what an ending means. And in actual, it doesn't. There are so many different places to find, and so many different missions to complete, that I hardly believe anybody really is able to complete the game with a 100 %. And even if you do have found all locations throughout the whole entire world of Skyrim (which, again, is very unlikely), there are still the many different attributes of your character that you can always improve until there isn't any more to improve. And I'm sure there will always be some foes to have a fight against.
Of course, the game would probably wear out sometime. The main reason why Bethesda had put so much work into creating a world as huge as the one in Skyrim isn't because they expected their player's to explore every single spot in the world, but that players get the feeling their adventure is taking place in what could be a real world, which also leads to even more motivation exploring at least a part of the present world. And it really works. Whenever I come across yet another cave leading into the undergrounds, it's hard to resist for me not to take a peak into the cave. And mostly it ends with me going through the whole cave, beating the baddies that get in my way and coming out with yet another completed mini-adventure that might even be very likely a part of an mission you don't even know about yet. And it's always good to find more and more places since you can fast-travel to any of these places whenever you need to. Also, seeing always more places popping up on your huge overworld map is quite satisfying.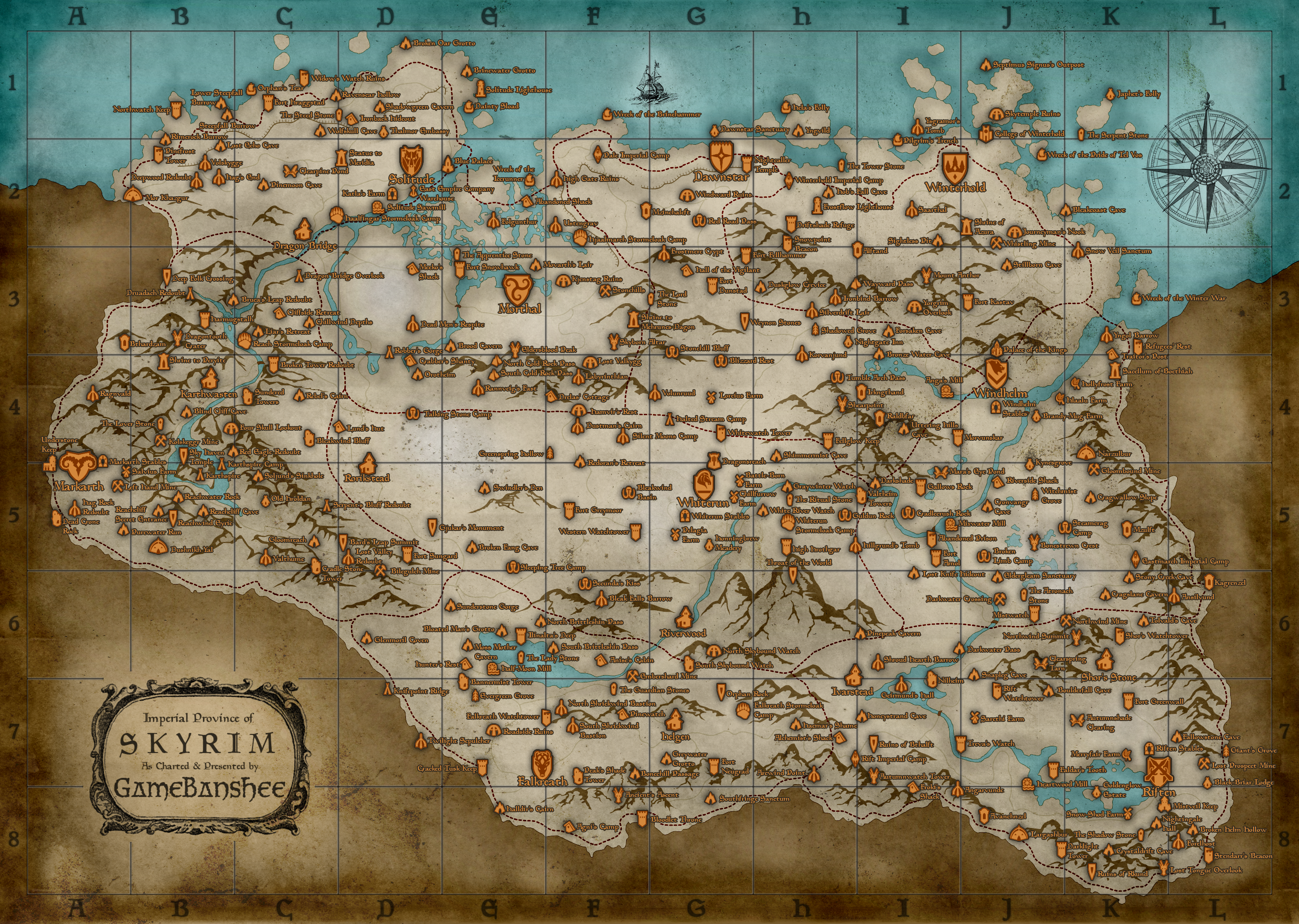 It's just such a huge map!!

The amount of missions is just as mind-boggling. Granted, I don't know how many there are in numbers, but I know there are a lot. I've got many on my to do list, I have done already a lot, and I'm absolutely sure I haven't even seen a quarter of the missions in Skyrim. The missions are also very varied. Find someone or something, bring an object to a specific place or clear off a cage from all monsters in it, these missions are varied enough and most of them are entertaining, at least the ones I've played. The game also always indicates where exactly to go to complete the mission, which guarantees that you won't be stuck on missions because you don't know where to go. That is, except when a glitch appears that let's the arrow disappear, which should normally indicate where to go: then you've got a problem. Luckily, this glitch is a very rare one.
Of course you've got the freedom and can mostly decide which mission you want to do and which not, except the missions that are required for the story mode and other missions that are part of another type of a adventure you choose to take. The freedom of the game really is an awesome part of the game. For instance: you get to make the crucial decision whether to become a magician, thief or warrior. To become a magician for example, you'll have to visit the magic academy, which will then start a kind of totally new adventure for you, that's totally separate from the main adventure, which will then confront you with many more, new missions that become mandatory if you want to end that adventure as well. It really is fun to decide what your character shall become, and to create your own story of your own character.
Wanting to become a magician?? Then go visit the magic academy!

One thing I didn't talk about yet is the combat: a very important aspect of the game.  And it's fun generally. There are tons of different weapons, armor and other spells you can learn to help you in battles (you've guessed it, you can even make your own weapons and armor), and it's really fun using the many different attacks against your enemies, finding out which one's are the best. And combat is quite satisfying as well. No matter with what you battle your enemy, seeing him finally fall is pretty satisfying, especially when special death-scenes occur. Just watch out, as you never know if you're already powerful enough to battle against a specific enemy, or not. It probably won't always end good. Combat isn't masterful though. Without a lock-on system, it's easy to miss your enemy when in a steamy fight, which can make up for some briefly frustrating moments. What really can get a little frustrating however is when you slash right through an enemy and he doesn't take any damage. Doesn't happen too often, but the collision-system isn't always precise.
If there's anything I really have to complain about the gameplay, than it is the check point system. Since there isn't anyone, actually. The game saves automatically whenever you enter an area, house, cave or whatever. But otherwise, there's no automatic saving. Sure, I know, a proper check point system wouldn't be easy to do in a game like Skyrim, but always having to think of saving the game yourself can become a tiny bit annoying, and maybe even interrupt the gameplay a little bit. The real problem of this is simply that whenever you die, you get sent back to your last saving point. And if you have forgotten to save during a long period of time, you might just have to replay a whole lot you had played before. It happened to me once or twice and it wasn't a nice experience. Not at all.
---Verdict---
The Elder Scrolls V: Skyrim is an exceptional game. Exceptional when it comes to size, freedom, imagination and design. The main story will lead you through many exciting locations and moments, and it's only one little fraction of what is to be found in the game. But instead of just squeezing in a lot of content into a game without giving it a lot of thought and attention, most of what is to experience in Skyrim is a simple joy, with incredibly lots of content and lots to do, may it be exploring the huge world or trying to pump your many different attributes, and the game makes sure that the game still has a lot of content to be discovered after you finally get tired of the game. Put all remaining issues together in one game that mar Skyrim and you will be confronted with some of Skyrim's weaker moments not too rarely, but compare it with all the positives in the game that deserve to be mentioned, and the issues of the game seem undeniable tiny. No matter how long you expect the game to entertain, you'll be satisfied in the end. It is an everlasting game.
The Good
An absolutely gigantic, lively and gripping world that will always have much more content to be discovered than you plan on to discover

Huge number of missions with lots of variety, most of them entertaining

Beautiful visuals

Good main adventure that should keep you hooked until the end

A lot of freedom that lets you create your own story of your character

satisfying combat with many, many different fighting options

Overload on content that you will most likely never ever experience totally
The Bad
technical problems and other weird moments ruin a bit of the immersion Skyrim's world creates

automatic saving system barely even exists
-