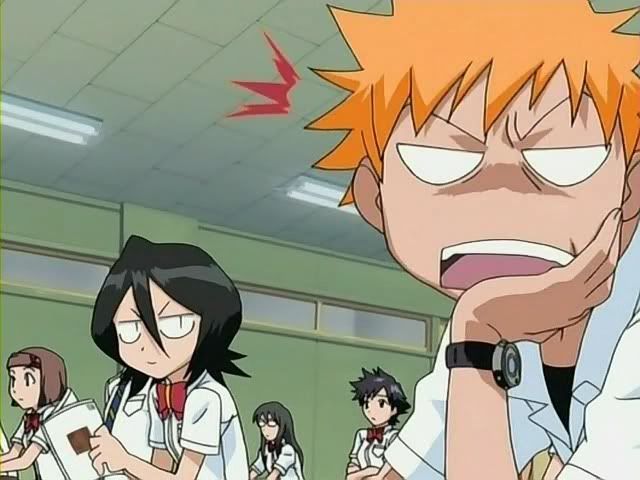 Valentines day is upon us and to celebrate it, I though I should post something relevant to this fine occasion( but really, I'm just bored as hell:?).
Since love has never been a strong suite of mine, I figured it might be better just to talk about how certain relationships have impacted some of the games I have played in recent history, for better, or worse. Here is the list of a few games that relationships with certain characters have altered my experience with the game greatly. Note: Given in no particular importance over another.
1. Castlevania: Lord of shadows - Gabriel Belmont and his wife ummm....
"Oh my wife, my poor.....er what was her name?"
Here is a fine example of how relationships can go very wrong. I don't mean wrong in they argued a lot. No, I mean the relationship Gabriel had with his wife was so boring and forgettable that I can't even remember his wife's name despite me only finishing this game last week. Lords of Shadows was a really good game, aside from it not really resembling previous Castlevania games. However, it no doubt suffered storywise because of the shallow connection created between Gabriel and his dead wife. As a player, I was not even remotely interested in his reason to go on a journey to revive his wife because her alive was the same as her dead. This relationship showed me just how altering a relationship can have on a story.
2. Borderlands - Player and Clap trap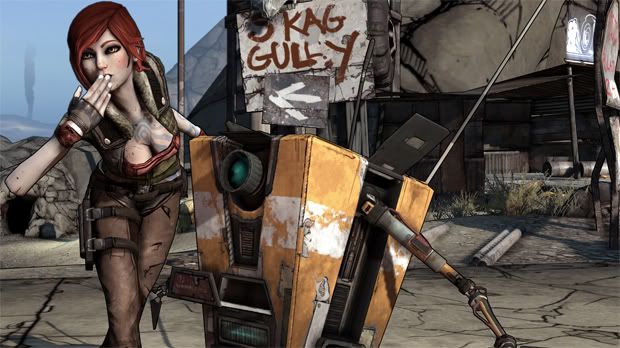 "Everyone deserves a little tough love"
I must warn you, this relationship is not of love. No, it is of something far greater. It has been a long time since I felt this way about anyone. I think.....I......I.....Hate Clap trap. I want to kill him so bad. No not like your typical annoying character. No, I think I want to REALLY kill him. It has become a strong desire of mine and that damn game wouldn't let me do, more often than not, I had to help his irritating @#$. I don't know why everyone thinks he is funny, NO he is a criminal and needs the death sentence. I'm even more upset that after I traded the game in, turns out there was a dlc that would let me murder him:evil: My dream so close, yet so far away:cry:. Relationships like these can make you really hate a game. Oddly enough, I still liked borderlands despite a certain robot who needs to die a painful death. This shows if nothing else, that some games can still strive even with demented relationships.
3. Enslaved: Odyssey to the West - Monkey and Trip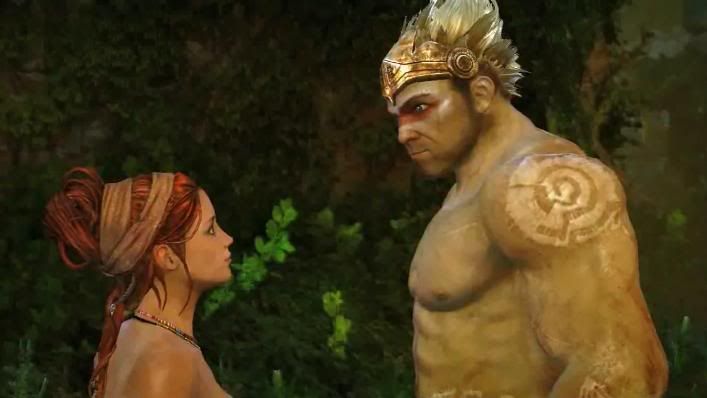 "Does the term "shirt" mean anything to you? no, good"
After that last affair with Clap Trap, I thought all hope was lost. Then I meet Monkey and Trip. Man what a pair. I never grew so quickly attached to someone before. I felt like a stupid teenage girl who just got to talk to my first crush for more than a minute:oops:. Enslaved was an okay game when it comes to gameplay, nothing too spectacular, but Ninja theory has always been good when it comes to story. It came to the point where I was desperately trying to progress just to see what happens next. Unfortunately their story ends with so many unanswered questions. Sure I could use my imagination to fill in the blanks, but I need the closure from Ninja theory themselves. How does monkey get his hair to stand up like that:shock: These are the important stuff that was missed. That aside, Monkey and Trip's relationship turned an alright game into something epic. Now that's how you do a love story.
4. Uncharted series - Drake and Sully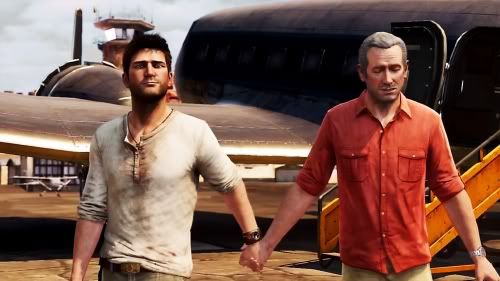 "Uncharted 4: The Truth"
After that last romance, I didn't think anything could top that, I was wrong. After searching high and low, I found a new love. There is no doubt that Drake and Elena's off and on relationship is touching and something that really added a lot to the series, especially in UC2, awesome ending. Surprisingly, something that added even more to the series, especially UC3, is Drake and Victor's secret affair:P Lol no, nothing sexual(that I'm aware of) unfortunately:( It is something more platonic. Its a connection so great that really pushed UC3 forward. Without that bond, I don't think UC3 would have been even remotely memorable. So Thank you Naughty Dog, you showed me that a relationship between two characters can truly make the difference between a flop and a masterpiece.
5. Last Gaurdian, FF versus XIII - The love that may never be
"Im afraid I might have to let you go......over a cliff"
This last one is not really one that is ingame so to speak. It is a love that is one sided at the moment. My love that is fading for games such as the last gaurdian and versus XIII. You may ask why this is on the list with the others, but there is a reason. You see, I feel like I have been waiting for a long time for these games to come out. Hype for games are normally a good thing, but if you let hype go on for too long, the final product will never be able to match it. I pray that I will receive love back soon or I'm afraid I might find another. These two titles have shown me that love is always fleeting. Grab it while you can, else the experience will be tainted.
---------------------------
Now that I got that out of the way, how has everyone been? I know I have been silent for quite some time. I have just been going through a lot in my life. Hope you liked this blog however simple it was. I just felt I needed to blog about something soon. Hopefully I will blog again if I can think of something. Now to end this blog with a question:
What was your favorite relationship in gaming last year?