Hey, everyone. I haven't posted anything in a while so I decided I would. :) Today, I thought I'd share my entertainment realm with you. This is something I've been wanting to do for a while, and since I just recently got a 42-inch LG LCD HDTV, I thought the time was right.
Here's an establishing shot from the couch: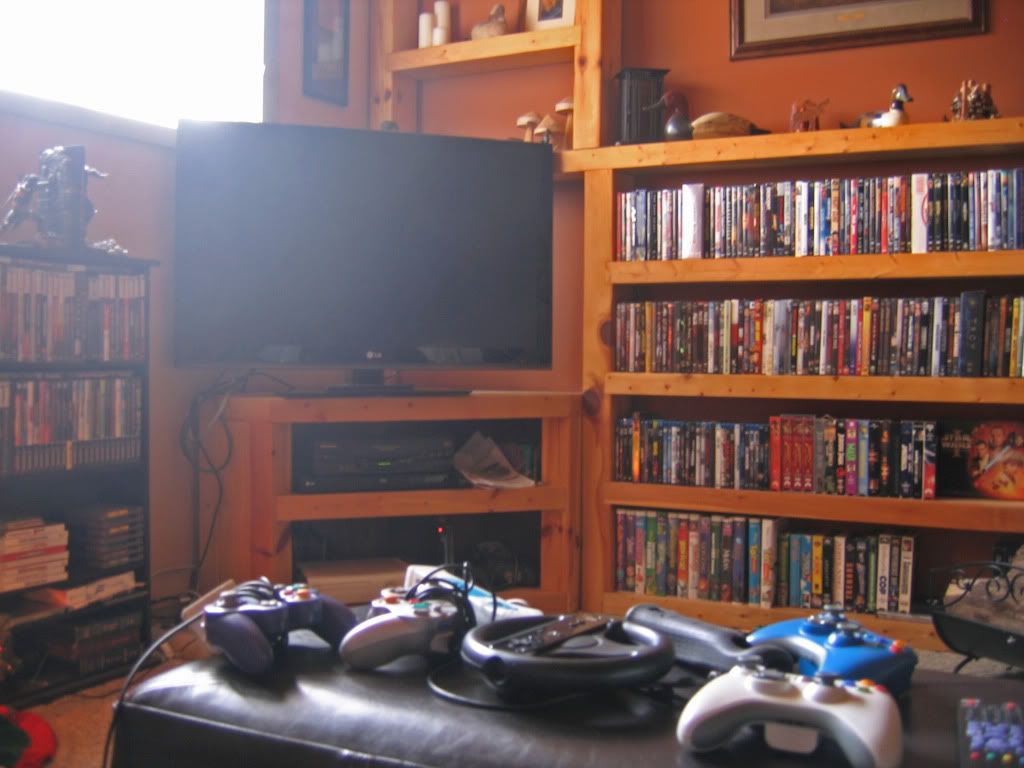 About the TV: It's remarkable, even though a techie from LG had to come in to fix it twice after we kept getting this problem where we would only see the backlight and no power was running to the screen. Now that's it's fixed, however, I can't get enough of the crystal clear picture! Biggest purchase I've ever made, and I don't regret a single penny.
My movie shelves:
Well I don't go to film school for nothing; I love watching movies. Not all of them are mine, though, some belong to my brother. As to who owns what, well, let me just say the good movies are mine and the crap ones are his ;). And yes, I do still have a VHS player and I do watch some once in a great while.
Games shelves:
I'm running out of room, aren't I? These are just my Xbox, Xbox 360, Wii, Gamecube, and NES games. My N64, DS,3DS, and miscellaneous Gameboy games are in other spots.
Well I hope you enjoyed this liitle peek into some more of my life. Thanks for reading. :D