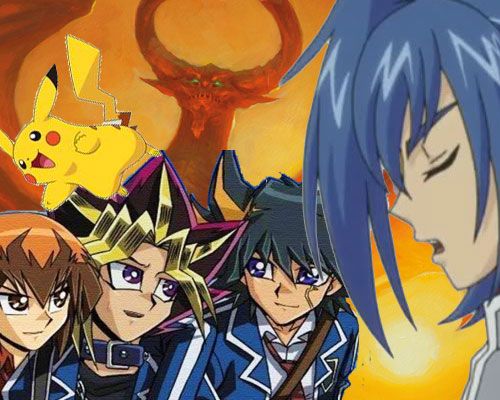 For the past I dont know how many years, Ive been quite the card toting warrior. Battling mostly friends and the occasional friendly match with a stranger in Magic the Gathering, Yu-Gi-Oh!, and good old Pokémon.  As I grew older, some of the games seemed less engaging. Pokémon felt stagnant and Yu-Gi-Oh!, well it had run its course for me. But MTG was always there for me, with something new and shiny (mostly shiny) and some new way to experience the game. In that horizon comes with a lot of fears and hopes.
            Now, all I play is Magic the Gathering, however Ive seen a vast emergence, I do use that word lightly, of trading card games. Some are physical but most are digital. Games like Rage of Bahamut, Cabal, Deity Wars, Shadow Era, Carte, the list goes on and on. People complain about the whole paying to win aspect of these digital card games. But thats what the card game is about, buying and trading cards to get ones to fit a players style or even just to collect. Personally Im a player and collector. Mobile card games, these are a very shady bunch. They require players to spend money on so few cards and have a very low chance of obtaining a really good ultra-rare card.
            Rage of Bahamut was the first one I tried. It was fun, but felt more like an RPG rather than a card game. The interphase was card focused but more on leveling monster cards, fusing them and enhancing them. To win against other players and quest bosses, it all came down to numbers. Is a players monster card team powerful enough to take on the enemy? It wasnt all that competitive, more recruitment based. A player joins a guild, randomly accepts or adds other players to get points to spend for free on card packs where they get an insane amount of the weakest monster in the game. Once in a blue moon getting any variety. Rage of Bahamut is not the only culprit, Deity Wars and other such games have the same model with a different paint of coat. I realize its all dependent on the player whether or not to spend money on them, really my fear is that this is what people are going to think of when they hear Trading Card Game. And in no absolute way is there any real player interaction other than people asking to trade and join their guild or be in their friend list, for the sole purpose of increasing their own wealth. No hate to those games listed beforehand just business practices like that really hurt the honor of the card game. (I think that sounds like a martial arts movie)
            Some people complain of expansion packs for card games and how its hard to get into them with so much that has already been released. I will agree with them, but offer the alternative of wikis and guides, as well as asking other people. The card game community isnt based on elitism; people are generally nice during matches and when spectating. Also they do offer trial decks at comic shops.
            As mentioned before there are digital card games that do not suffer the whole money-grabbing tactics of the companies. Hero Mages, is a bit like Dungeons  & Dragons. Shadow Era, does have an in game currency but it offers the RPG feel where you duel characters and after you win you get experience and gold. As you level up you get 25 shadow crystals, the currency needed to buy packs and digital card sleeves. What Shadow Era does right is that it doesnt require too much money to be put into it. Players can sell cards they used shadow crystals for to gain gold from the merchant. Then can purchase cards using that gold. So it balances itself out, players dont feel to shamed to be putting money into it. That system also gets rid of any feeling of rushing players to buy more now. Carte, a pc only card game, had a great system, brilliant card art, but failed in the marketplace. It was easy to get single cards in the game. But packs required a lot of cash, and when it was just starting out it was an overload of packs and cards. And for a digital game it didnt have much of a tutorial or guide on buying cards, it felt that way. Digital card games cant make players feel too overwhelmed to buy or purchase in bulk at once just to enjoy the game.
            With Pokémon not doing so well in sales from what I gather. Yu-Gi-Oh!, is still going to be around, even if it isnt as strong as before. Magic, need I say more? There is a young cub entering the card game ring. Cardfight Vanguard, or simply Vanguard to players, it has the same humble beginnings as Yu-Gi-Oh!, where players play the game thats played in the anime. Only one difference makes Vanguard more interesting is that if a person watches the anime, they actually learn the real rules. This really impressed me from watching nearly all of Yu-Gi-Oh!, with most of the stuff they do that really isnt in the actual game. Cardfight Vanguard, follows a fantasy story in a reality setting, but puts the card game as a card game not the means to saving the world or sucking away peoples souls. The card games in the anime do get pretty tense, I was watching them as if they were real games. Not wanting to spoil the plot or story but it is highly recommended. Watching the anime made me go through nostalgia with Yu-Gi-Oh!, and I have been considering purchasing a starter deck or two to check it out. Its fan base has been growing since last inquiring about it. Im actually glad that another well-crafted card game can stand up to Magic, Yu-Gi-Oh!, and Pokémon, while its basically in the infantile stage. 
            Card games are going through a massive change now that phones and tablets can handle a lot more now. People are missing a lot of good stuff with these Ponzi scheme built mobile games, and are being cheated on most (not all obviously) digital card games. The ratio of getting foils and rare cards drops significantly because its computer based. Shadow Era, for the record has a good ratio for getting good cards and being able to profit from useless ones is good. One game I should have addressed is Eye of Judgment for the Playstation 3, and that one just failed. It seemed like a good idea, had potential but didnt quite get enough people. There is another game called Elemental Monster Online. $5 gets you a booster pack of 24 cards, it seems decent.
  (Shadow Era is a bit reminicent of MTG, but with a class focused twist.)
Of course within card games and gaming itself people are going to have to give in some money to buy cards. Its a matter of Is it worth my time to get better at this game? As with any competitive game there are tricks and the like to use. No person should feel burdened to buy a card pack or two, rather fell excited to buy something new to see what they can get and a new deck to utterly own against their opponents. Hopefully Vanguard can stand the test of time and be in the big leagues. And when that happens, I want to be right in the fray.