Breaking the Seal : C9: Continent of the Ninth Open Beta Thoughts
I am not going to lie nor deny that I love MMOs. Not many people like them or get tired that the video game industry is literally crawling with free-to-play games. And it?s hard to find the right ones that appeal to everyone. With the current release of TERA (The Exiled Realm of Arborea), DC Universe online, and Vindictus, MMOs broke new ground with a more action oriented play style. Now it seems everyone is getting in the mix.
Story:
Enter C9: Continent of the Ninth Seal, a world fraught with hulking monsters and dangerous traps. Much has not been going well in the world of Glenhiem, monsters are overrunning cities and it?s up the new recruits to put a stop to their infestation. It?s pretty much the same thing you?ve heard many a time. MMOs never really have a good story as their selling point but try to engross people in them.
Character Creation
Character creation is okay. Only gripe is there isn?t enough faces. Only about 3 with small variations, however they do have tattoos that can be placed on the face to make each character a bit more unique so that balances out the lack of actual different faces a little. To note it was pretty awesome seeing Heath Ledger?s Joker make up under the tattoo tab. ?giggles-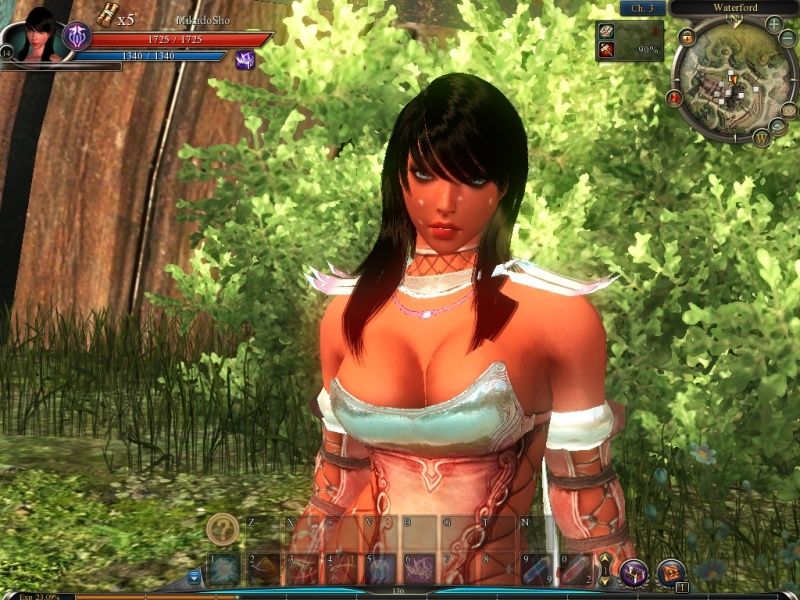 Your first few steps:
The game opens up with an in-game cinematic which is surprisingly well?dull. You see a huge beast with his minions attacking helpless soldiers. And your character ends up meeting their class trainer who guides them through the basics of combat (which will be talked about in detail more). Then after rescuing a main character?s sister and fending off remaining monsters you are then transported to the main city of Waterford and begin you quests to well do what you do in any other MMO.
Combat:
Here is the glimmer of awesome about this game, it?s combat is much like Vindictus where you use ?WASD? to move the camera is controlled with the mouse and attacks are used with left and right clicks. However C9 does something different where there are also number keys to use skills as well as ?Command? skills which are skills used a combination of mouse clicks and ?WASD?. Combining command skills and number keys is a very unique mechanic. The game offers tutorials you get from your class trainer. The tutorials do offer experience once they are completed. If you fail don?t worry, you?ll get the timing and button presses down to a nice smooth rhythm. Boss battles are challenging at times. Leaving you to figure out when to strike and when to read your opponent?s movements carefully.
Classes:
There are Hunters, who use bows. Fighters, who use short swords and shields. Shamans, who combine magic and staffs. As well as the unique dual wielding-magic-flinging, Witchblade class. I chose the Witchblade class for my first character for obvious reasons and a Shaman as my second. Both do feel different in how combos are pulled off as well as their dodge animations. There is a Berserker class coming out, which for the Open Beta either they forgot to put him in or are implementing him later. Also Classes are gender locked, so if you want to play as a male Witchblade, you?re out of luck.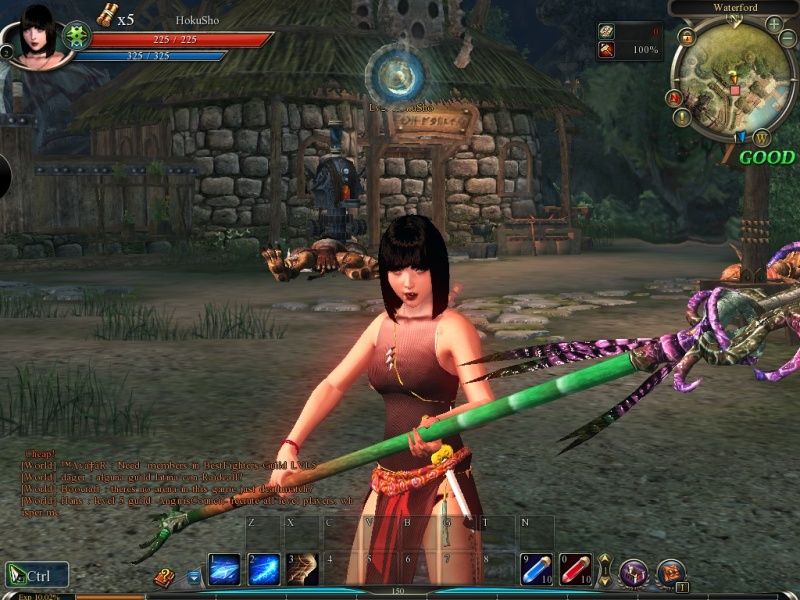 Graphics:
They are surprisingly nice for a game that can run on Windows XP (which is the minimum requirement to run the game). Colors are very vibrant. Textures are nice and glossy. Animations are fluid as characters transition from one animation to the next. Environments are small which give you time to look at the details and such.
Quests:
Quests take place in dungeons, all with varying difficulty of Easy to Master. Completing a dungeon leads to a screen with your rating in various areas such as skill and amount of kills. Ratings are important as they are dependent on how many keys you get to unlock chests for some equipment. A rating of ?Good? which is the standard rating only gives 2 but anything above gives more. Once finished you can restart the dungeon or you can return to town. The fact you can restart if one is easier is a nice addition to farm items and gold. It is possible to find a party to bring along. I didn?t bother since the ones I am on now are a bit simple. But I am guessing once I get to a higher level I?m going to need some other people to help me out.
Sound:
Hearing swords rip across enemies and magic dazzling them with surprise is a treat. The music is very well done. But if anyone is not a fan of power rock will probably want to turn the sound down. Voice acting is great. I was fairly surprised it was done well. Even the character voices are pretty cute.
Overall:
It?s a fun game. Combat feels like second nature once you get used to combos and such. Boss battles are fun and provide excellent challenges. The community at the moment is littered with gold bots trying to make a sale. Which can be a bit annoying. Gear is a bit overpriced. Even if you do get them from quests, they are way too overpriced. My mouth dropped at how expensive they were. I still haven?t completed my armor set so hopefully I will get my last piece through a quest. So far C9 has really impressed me. It?s like a free version of TERA almost, even though I really wanted to play TERA. So sad my computer can?t handle it, which is good about C9, if one doesn?t have the capabilities to run TERA then C9 is a good place to experience the thrill. I look forward to seeing what C9 has to hold in the future. Only flaws are what the usual MMO cons are. It?s worth taking a look at if fast paced MMOS are what you?re looking for.