First b-day blog I post on GS, hopefully not the last. Will try to make this a yearly thing as long as I can. My b-day was pretty relaxing. Watched Hellboy 2 and Step Up 3 again in the morning, then headed out with family to restaurant at noon, and finally did some shopping. What did I get? For one, I got...
Got it for $50 at Walmart. Guess I got lucky because I read weeks ago that this babe was near $100 average without discounts. Getting back into Street Fighter so I figured why not get the Arcade experience. The second thing I got will either piss you off, make you happy, or just make you "meh".....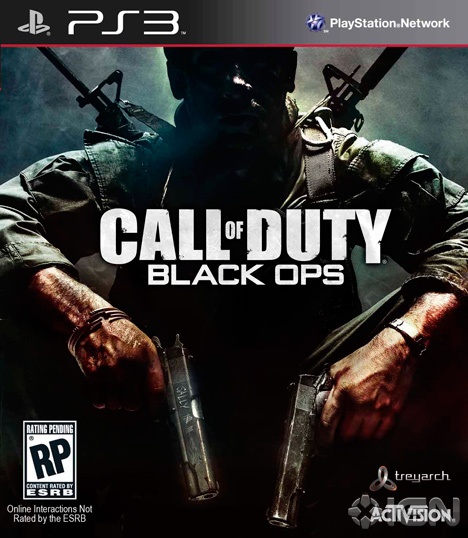 That's right, none other than Black Ops 8) Played this game at my cousin's house this past Christmas and I liked it for the most part. Doubt I'll play too much of it in my upcoming schedule though so I can't guarantee full time playing obviously. Still, if you're on my PSN Friends List and see me playing Black Ops, don't hesitate to send invite. Most likely I'll be up for some Team action then 8)
One more thing to add about my birthday, and it shouldn't be much of a surprise. Got a lot of phone calls. Big family on both sides so it was expected.
Now moving on to the second part of the Blog, the recent event, WWE Royal Rumble. Pretty much my 22nd birthday gift, and enjoyed it for the most part. To quickly highlight this event...
Heavyweight Champion Edge retained his title against #1 Contender Dolph Ziggler. This match was pretty long, as a good number of people could agree, but it was good overall. Ziggler showed once again that he could sell moves to the crowd (receiving a move like a DDT for example, in case you were wondering what it meant :P ) As to my reaction goes, I was originally rooting for Ziggler, as I felt he deserved this push to the max. In the end, wasn't disappointed much even though Ziggler lost. Both men gave us a good match and that's what really counts.
Second match of the event was WWE Champion Miz vs Randy Orton. The outcome of this match wasn't surprising to me. Instead, it was what led to the outcome that surprised me. The revamped RAW group known as the New Nexus interfered during the match and distracted Orton, only to have the group's leader CM Punk come from behind Orton and assault him. Miz, the opportunist that he is, took advantage and covered for the win. I have lots of respects for Randy Orton, but expecting him to win the title was just out of discussion, especially in this PPV.
The third match, which in the end led up to be the most disappointing part of the night, was Divas Champion Natalya in a handicap match against LayCool. Before the match began, it was changed by the RAW General Manager. Now it was a Fatal Four Way between Natalya, Michelle McCool, Layla, and now Eve. As soon as I heard Eve's theme song, I knew something bad was coming. She too played the opportunist in the match. Landing a moonsault to Layla and covering for the win. The controversy of this was that while Eve was pinning Layla, Michelle McCool had Natalya in a roll-up pin. You'd think the ref had seen the second pin, but he didn't. Don't know what WWE was thinking by giving Eve the title. If you happen to be an Eve fan, you might want to skip this next sentence. I think she's useless as a champion, end of story.
The final part of the event of course was, the Royal Rumble. 40 Participants this year, making it the biggest in its history. It was a match of surprises pretty much all over the place. CM Punk was the first participant and Kane ended being the last (#40). Daniel Bryan, being entrant #2, gave a good performance in the Rumble, which I believe was his first time. Eliminating 2-4 Superstars and lasting for about 20 minutes. That was of course until the New Nexus ganged up on him and threw him out. Punk, along with his loyal followers dominated for about 10+ minutes, throwing about 5-7 Superstars in a row. Even the surprising return of former WWE Champion Booker T wasn't enough to stop them, but the "Five Time WCW Champion" gave us a good performance and went off in $tyle. The unlucky number for the Nexus Domination was #22, which gave us John Cena. Cena managed to clear out Punk's reinforcements by himself, leaving Punk helpless. From then on, Cena and Punk faced off the Smackdown Superstars that would come out. Another returning Superstar made his appearance. That man was none other than "Big Daddy" Diesel. Also known as Kevin Nash, this man took over the ring the minute he got in. Unfortunately, his time in the ring was short, and with no eliminations in his record. Corre members Wade Barrett and Ezequiel Jackson made their presence known nearing the final times of the Rumble. It was so much as having Barrett last until the Final Four. Barrett though, ended up being eliminated by Randy Orton, who quickly eliminated by Alberto Del Rio afterwards to win the Royal Rumble. Alberto thought he had the match won, but apparently, Santino Marella wasn't eliminated. The Italian Goofball took advantage and gained momentum. When it looked like he was throwing Del Rio over the ropes, the Mexican Aristocrat reversed the throw and got Santino eliminated. Alberto won a well-deserved chance to main event Wrestlemania. Congrats to him on the win.
Even with the disappointing conclusion, or should I say overall set up of the Divas Title match, I still give this PPV a great score.
Well guys, hope I didn't bore you with my writing, assuming you managed to read it all :P Feel free to comment and have a good day 8)