Admit it.You miss me.You wish I would come in every month to make a blog about what happened each month because you think my life is so awesome.
Well,I hear you.As I said,i'm not done with blogging completely,although its not going to happen that much...but I will try to make a blog like this around the begining of each month or whatever,starting..now:
Purchases since last time:
Because some people care, Ill list whatever I purchased this month in these blogs. But not the entire month in this one, just from Sunday.

Super Luigi U: Of course I got this at launch, it celebrates the Year of Luigi,Mama mia!

Xbox Gold 3 months: Needed it for DoA5U,plus Gold for Games makes me interested.

Dead or Alive 5 Round 3 dlc: Ill talk more about this later.

Dead Rising 2 and Case Zero: Free games from Xbox Gold for Games this month. Ill try them out some other time.

Dead or Alive 5 cheerleader dlc, Hot Getaway dlc, and Christmas set 1 and 2 dlc:Because costumes are F***ing awesome. The only packs I dont have(which is actually still a lot) are unlockable in DoA5U,so Ill pretty much have all the DoA5 dlc when I get that game, although thats excluding the Amazon pre-order stuff, and the swimsuits thats in the Japan only CEhopefully theyll release those soon over here, because I want swimsuits for Momiji and Rachel.

BlazBlue Calamity Trigger Picture Pack 2(XBL): Chibi Noel Vermillion avy. Soo Kawaii :3

Virtua Fighter 2: I bought it since I had leftover cash from the DoA costumes, so I decided to use it on Virtua Fighter 2,and I think its obvious how those two series relate.

Thoughts on news this month:

Since I wont be here to comment on gaming news all the time, I shall just mention it and what I think of it here each month:

Xbox changes currency from Microsoft Points to local currency.
Praise the gods, now I know how much I actually paid when I spend 1200 Microsoft points.


2DS:

No 2nd circle pad build in? AKA the add on people keep talking about that only 4 games use? F*** this s***.

In all seriousness, I dont think its a bad idea. There are some people who pretend to have no interest in 3D, so it seems like something for them with the cheaper price point, plus its not here to replace the other two 3DSs anyway. As long as developers dont think this is a reason to stop supporting 3D, and Nintendo doesnt start selling the Wii U with no Gamepad, theres no real problem with it.

Wii U price drop:
It was pretty much a must, so its great to see Nintendo have it.
Ambassador program? The 30 cent VC games you didn't get say hi.

Mighty Switch Force 2 coming to Wii U:
Hell yes! I had over $12 saved on the eshop for when it comes here :3

Future stuff for this month (September) :
Each month, something epic happens, so Im sharing my hype train here:

Super Smash Bros character prediction of the month:

Since it looks like a character is confirmed as a newcomer or returning character in SSB each month, I shall hype by predicting who the next confirmed character is next month:
[spoiler] But for this month, I predict a character to be de-confirmed.

And thats obviously Ridley. He's slow, hes OP, and, as we all know, he's too big. Rumor says his in the Other M stage, so it probably wont be long before we see him there. [/spoiler]

Most hyped game coming next month:
I wont be on a hype train if I dont talk about my most hyped game.
 Next month, there is really one that I am hyped for the most,it aint Rayman Legends, or the Wonderful game coming out September 15th,or the Car Jacking game people stab for, its: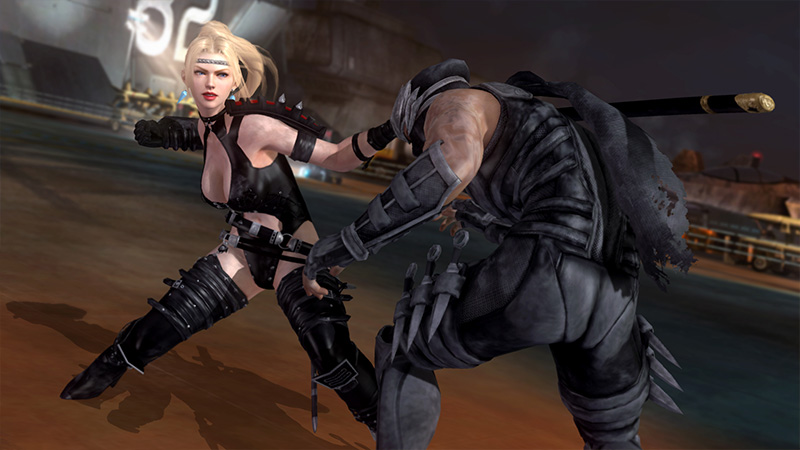 Dead or Alive 5 Ultimate.
Dead or Alive 5?We call it The Showdown!
I have been hyped for this game for so damn long. 2 great DoA fighters return,2 sexy Ninja Gaiden girls join, and the Race Car Virtua Fighter guy joins the battle.
What have I done to hype for this game?

-Obviously played a load of DoA5 and other DoAs.
-Went and beat Ninja Gaiden to hype for Rachel.
-Bought the leftover dlc costumes I was lacking that aren't unlockable in DoA5U.
-Got over $15 of MicroSoft cash that Im saving for future dlc costumes
-Made this buttocks filled avy.

Oh, and I also finally watched this:

Actually,I didnt watch it yet.Ah hell,Ill watch it right now.

*watches*

Ill post my thoughts on that movie in a minute.
Eitherway, As you can probably tell:my body is ready.
Are you one of the worlds greatest fighters?Then get your ass in the tourney!


DoA Movie thoughts:
When I was first watching it,my thoughts were like"Im 17 years old and what is this?"
But at the end,it ended up being a movie I hated yet also really liked,therefore am somewhat split on it.

Hated:
The way most characters were portrayed,and some disturbing story differences:I get that movies have to have somewhat different plots from the main game series,but in this case,they went to the point where fans will have to moan about it in their blogs,like right now:

Kasumi: Her personality is really contradicting to hers in the game in this movie.
Ryu: I dont want to get into how not-Ryu he is in this movie.
Ayane: They made her over 30 years old.Wut.
Helena: Shes kind of hot in here, but shes way more like Hitomi then Helena.
Christie: Her personality is somewhat true to her original personality, but Im somewhat disturbed by her being friendly in here.
Bayman: He's really been demoted to a idiot henchman, I dont need to go here :P

Oh yes,and Ayane isnt Kasumis/Hayate's sister: Instead,she is Hayate's lover.
I just..had to shut my eyes when they kissed,I cant stand the idea.


Liked:
The way some characters were portrayed:
With that said,Zack,Bass,and Tina were portrayed pretty real to the way they actually are in the game. In fact,I like Tinas personality a lot in here,she has the cowgirl personality,but not the totally annoying kind,and Id actually prefer if DoAD/5 had her act that way in English.

The fighting scenes:
I have to say it here,I actually really liked the fighting in here,it seemed pretty loyal to DoA at some points,you have things such as a reference to multi-tiered stages,to objects and walls getting smashed like they do in DoA,and fighting that actually looks like DoA. Most fighting game movies dont really have that feeling from the game in them, but thats present in here.

The humor:
Let me say it here..this movie is stupid.But its so stupid.that its funny in the good way. Comic style sound effects occasionally being heard,and simply hilarious scenes are actually kind of more funnier then some of the DoA cut scenes. Such asBaymans ball-cracking fight,which I sadly cannot find a clip of.
Theres even more parts, such as when Bass is convinced his Daughter is in Lesbians with Christie and Kasumi.

Characters interacting:
Continuing from what I said earlier,thats another detail that I liked,you never really see characters like Tina and Kasumi hanging with each other in the games story,since Kasumi is too busy hanging with her Ninja people,so it was actually pretty fun to see stuff like that.

Sexyness:
And then, of course,the movie is super sexy. Theres a load of cleavage in here, and they even have a Vollyball scene. This clip from the movie sort of reminded me of Ayane taking care of guards in NG3RE:

Oh,and whoever played Kasumi is cute.Me want :3

Overall..even though I hate the way some characters were portrayed,the fun parts actually outweigh the low parts, and it is,in a way,true to the actual game series. I only rented it,but I may buy the Blu-ray now,since it is a pretty sexy film.


Games completed:
I suppose I should also throw this in here, since I'm used to posting impressions when I beat a game.
With that said, Im only starting from the beginning of last week to today Which means:

Virtua Fighter 2:
All I have to really say here is:


The game has aged, although I wont say it has aged to the point where you cant play it, but titles like DoA or Tekken 3 have defiantly aged better then it has, although I guess those are more modern anyway. But even then, its frustratingly frustrating, and I question how people could stand this game and its awful, awful ring outs.
Its not a popular opinion, but I honestly prefer the other $5 Sega Fighter on the Market, Sonic the Fighters. That game is simply more fun.

Ninja Gaiden Sigma Plus:
Ninja Gaiden is a flippin awesome series,and Sigma is an enhanced port of the first game in the modern NG series,and Sigma Plus is a portable port of an enhanced port of the first game in the modern NG series,making it a port of a port.
Its somewhat a shame they didnt finally give the game NGII mechanics,but I suppose thats too much to ask for.Sigma Plus is still a godd port of the original, not to mention it finally features an easy mode.

Now,I have to admit I hate framerate drops,but this game doesnt have that. It runs at 30 fps at all times,unlike Sigma 2 Plus,which suffers from framerate drops. Like most portable ports that have a framerate cut (like DKCR3D),you wont notice unless your used to the 60 fps console version.although if youre a NG vet, then that difference will really suck.

Its also worth mentioning the Plus exclusive easy mode also sort of gets rid of some of the fun in the game. Difficulty is one of the big things in Ninja Gaiden that makes it fun and rewarding, but the hero mode is way,way too easy with its automatic dodging and the like. I do have to admit to using this mode, but only because I dont really have the time to dedicate myself to the game enough,since I did rage quit NGS last yearNGII is better anyway :U

Games almost beaten this month:
Because I dont feel like beating everything right away,but want to get my impressions out,Ill post my thoughts on games Im super close to beating,as in, gimme 3 more hours and its beaten:


Super Luigi U: This one was actually really awesome, not just because it has Luigi as the one who rescues the Princess, but because of how hardcore it is. 90 seconds to complete each challenging level, and a world map as big as NSMBU,it definitely makes up for NSMB2 and its stupid dlc.

Ah,but wheres Mario in this Luigi U game?Easy,easy question.


Thats pretty much all for now,sorry for any typos,I mostly copy from a big works document.Ill be making another blog like this sometime next month.