What exactly does that mean? Well, nothing much really, except for the fact that I got a new 1 Terabyte external HD drive. Not justone, but two :D. I must say that it's awesome. My dad happened to pass through Dubai on his way back to India and he got it for me at my request. It's a Western Digital HD drive with shock proof casing and a nice glossy black finish.
It has lots of "nice" little features. The suite software that comes preloaded into the HD gets installed automatically. It appears as a virtual drive each time the HD is connected to the PC. The interface is sweet and has plenty of one touch options including a complete segmented backup of all the files in my computer (it basically segregates my music, image files, movies and videos and documents all by itself before backing them up). Also, there's a nice security code option which can be accessed only through the smartware. The only downside is that out of 1024 GB, I only get 940 >_>. That's a straight near 90 GB drop in capacity but I guess it can't be helped ;_;.
Now why exactly do I need two of these babies? It's simply cause of the fact that my downloaded files (music, anime, movies, cartoons, games and my documents) occupy over 2.5 Terabytes and the measly 500 GB on my PC's HD and the 500 GB external that I have are just not enough. So yeah, this eases all the trouble of having to backup my stuff in DVD's. Now I just have two little black boxes and one of them is already filled with 921GB of anime:D.
The other will besoon. The other good thing is thatboth HDs togethercost just180$. No holes in my dad's pocket that I need to worry about :P.So that's a pretty good deal. From now on, I shall never be bothered bythe tedium of having to backup my data onto puny little discs.I say, good riddens!! And oh yeah, in case you're wondering what it looks like, here's a sneak peek. :D. Don't mind the quality. It was taken on a mobile camera.
The 1TB monster.......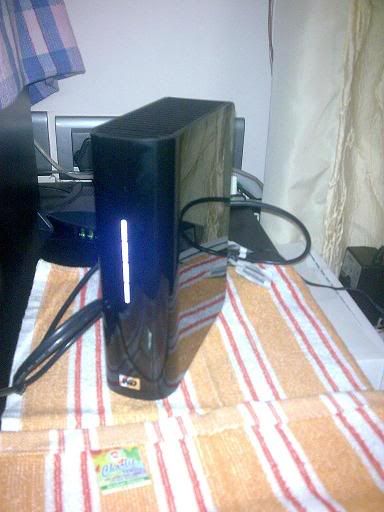 A toast to the coming of new technology :P. Cheers :D.
~DEATH (the techno reaper :P)