Hey GameSpotters,
The last few weeks have been completely insane. My boss left for another great opportunity and I was mentally bracing myself to help pick up the slack until we found a replacement, but I was asked to take on the role of Editor-in-Chief. (!!!) It took me a week to let it all sink in. After having worked closely with Ricardo here at GameSpot, I knew that this job was not going to be easy and that I will likely be stressed out permanently. (but I still love it!) To be honest, when I made the decision to switch careers and move into video games, I really wasn't gunning for any kind of position. I just wanted to be surrounded by games and talk about games all day. Turns out I am pretty organized and apparently management likes that ;) I've been so incredibly lucky and blessed, and I wouldn't be where I am today if it weren't for the wonderful people I've worked with at GameSpot, especially Ricardo, who taught me almost everything I know. (about yelling at people mostly. lol, just kidding. No not really.)
I still really like this community and I've been a part of it for so long, it's hard to leave but I'm excited to see what my team at GR can do. I'm on Facebookand Twitterso please stay in touch, and if you want to keep up with Bailey, he's got his own Facebook page and Tumblr too.http://thingsiputonmydogshead.tumblr.com/
Even if I'm not going to blog here, I will check PMs and lurk on YOUR blogs. Those of you who have messaged me in the past, know that I will always respond :)
GamesRadar has a lot of exciting plans in the next year, so I hope that we cross paths again on the internets!
http://www.gamesradar.com/ping-radar-letter-editor/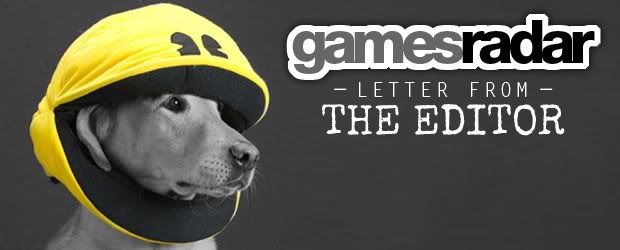 xoxo
Sophia & Bailey