"And the Grammy goes to.........."The Suburbs", Arcade Fire!"
This was the fueling power I needed to check out this album. I expected heart-pounding. I expected awesome lyrics and powerful chords! I expected.......not to fall asleep. Here is the review of Arcade Fire's "The Suburbs".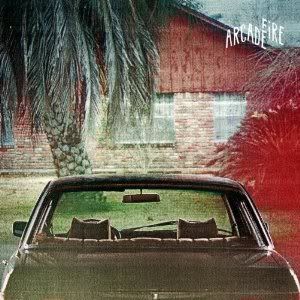 From the beginning of this album, you hear a nice little jingle in "The Suburbs". Yes, this is the name of the song. It sounds like a nice little song, and so maybe you finish it. Then you turn to the next track, "Ready to Start", which is supposed to be Arcade Fire's first single off this album. A creepy vibe to start it off, then an indie sound you would only hear from iTunes' artist that are "on the rise". And yeah, that is exactly what this album sound like. An album that iTunes would promote the hell out of if given the chance. And once you've heard the first verse and chorus of "Ready to Start", you've basically heard the entire song. This is the problem with Arcade Fire, EVERY song off this album gives you it's entire song within the first verse and chorus. Not once does it change tempo, change melody, change chord progression, nothing. It's the same beat and chord progression throughout the entire song. Then we go to "Modern Man", which sounds like something Modest Mouse would write. Already, the drum beat sounds like a beat is missing when drumming, which throws me off the beat and enjoying the song. AGAIN, this song gives you the entire song within it's first verse and chorus. Nothing changes. Then it's off to "Rococo", where apparantly, they like to tell us that Harlom kids sing "Rococo-cola" all day long while the music sounds like you should be on an acid trip. I would review the entire album, but right now, i'm cuddled up in a blanket and switching to interesting music like Pantera and Green Day.
Sonic Says: Overall, this album IMO should NOT have won "Album of the Year" at the Grammys. And after watching the clip where they won and then "wanted to perform another song", I truly think the Grammys GAVE them the award, just so they could let Win Butler give the final word by saying "Everyone, please leave to this song". What a joke. I have no problem though. This band will be like every other band who's won "Best New Artist" at the Grammys - They win and never return to the mainstream, which is fine by me.
Overall: Arcade Fire - "The Suburbs" gets 2 "shove this award up your candy canadian asses" out of 5.