Oh, wow. I haven't blogged for a while. I even missed my three-year anniversary here.
Well there's plenty of excuses but one stands out. Assassin's Creed Revelations. Even before the game released I was so excited about it I sort of neglected the internet. My bad?
Would it make up for it if I lied and said I missed you guys? :P Well enough of that, I have to start this blog, sicne I have a lot to update. Let's start with music.
Evanescence released a new album back in October. It's pretty awesome. I've also been listening to a lot of other music recently, some that I liked before, and some new ones. Like Fireflight, Paramore, Flyleaf and Trust Company. It's been helping me write (especially Evanescence) and so I present to you Chapter III and Chapter IV of Project Colossus. Let me know what you think. I also picked up the deluxe edition of Breaking Benjamin's Shallow Bay/Best of album but I'll talk about that another time (dammit where is Evil Angel and Had Enough?).
So I'm going to a concert tomorrow. Simple Plan is playing and my friend got us tickets. I'm really excited to go, since it'd be the first concert that I'm going to for a band that I actually *like.* Even though I haven't listened to Simple Plan for a while I like a lot of their old songs so I can't wait.
Hm, let's see... My parents got me a Dragon Age II shirt a while ago. It's like twice my size but it's pretty cool. They got it from the Gamestop Rewards thing. And remember when I went on vacation? Yeah, when I went, I had a temporary tattoo on my arm (lame, I know) of the Hyrule Royal Family's crest. I got a tan while we were there. Then the tattoo came off... I tanned around the tattoo. It was pretty cool. :lol:
We went to the PA Renaissance Fair, too. That was *amazing.* But that's just me, since I'm into that sort of thing. :P I got pictures with all four knights from the Jousting Tournament, and the Ultimate Joust was EPIC. My parents took me, my brother, and my two best friends. I kind of feel bad because I saw this awesome messenger bag but it was $48 and my parents still bought it for me, saying it was an early birthday gift. They's so awesome. They also bought me a necklace and my friend bought me a green feather-flower... thing. It's really cool even though flowers are stupid. :P Here's what my parents bought me:
Pretty cool right? You're jealous, I know. :cool: In case you're wondering, the thing in the background is my Kingdom Hearts blanket. You can sort of see Donald and Mickey. :P
I've also been reading a lot. Not only have I finished every Ranger's Apprentice book, but I've re-read the entire Warriors series. Right now I'm on Warriors: Omen of the Stars: Fading Echoes, or simply the second Omen of the Stars book. I forgot how much I loved these. After I finish Omen of the Stars (currently Erin Hunter has four books out I think, so hopefully the final two will be out soon) I want to read either Maximum Ride - which I promised Ams I'd do for a while now - or John Flanagan's new series, Brotherband Chronicles.
Video games! Oh! That is what this site is about, right? I beat some good stuff since my last blog. Zelda: Ocarina of Time 3D, Zelda: Four Swords, Prince of Persia: Sands of Time, plus Shadow of the Colossus and ICO. All amazing games, especially the last two. I had a lot to say about them but that's for another time I guess. I can't go into much detail about anything right now if I want to spend all my time talking about AC Revelations. :P
So. Revelations. Assassin's Creed. After beating the story mode on Monday at about 10pm all I have to say is this: Wow. It's just... amazing. The best game in the history of ever. To be honest I can't decided if it's better than Shadow of the Colossus or not because I claimed that to be my favorite game after I beat it. And now I just don't know.
Well, anyway, it all began with the multipayer beta. Oh, my. Not only was it better than Brotherhood's, but there was a bonus! I got to assassinate our friendly neighborhood Nintendo-naut! (See what I did there?) Like everything, though, it came at a price. One dreadful night I had to spend the time (IIRC, it was 11pm-2am) actually speaking with Naut. Now, I don't have a PS3 mic or anything, so I would usually use messages or text chat. But that night I had used my headset with my laptop and MSN, and actually had to *talk.* Blech.
It wasn't all bad though. It was kind of fun insulting him verbally. :D
To hell with that, onto the actual game. It was *amazing,* for lack of a better word. The graphics were great - Constantinople is so full of color and life in the game, it felt real. Not only do you get to play the main story as Ezio, but you get to play as Altair every time you collect a Masyaf Key, which is basically the point of the game - collecting all the keys so you can open Altair's Library under the Masyaf Castle.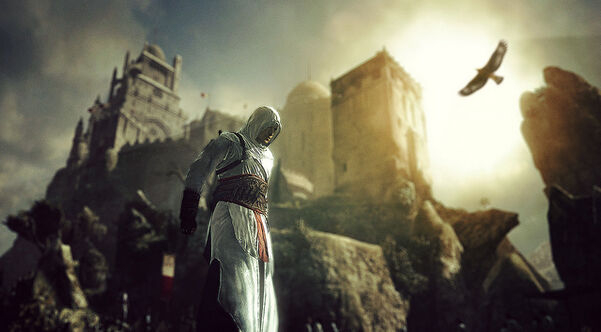 As well, if you collect at least 30 Data Fragments, you can play all of Desmond's Journey - basically Desmond's backstory mixed with a crazy platforming-type of gameplay new to AC - back on the Animus Island. These were especially great for me because I love Desmond. :P And they were really fun to play, not to mention it was interesting to learn more about Desmond. And of course, Subject 16! Oh man! It was great to see him. He has a face (and so does Altair!) at last. I love that guy even more now.
And the ending. Damn. Another AC cliffhanger. Ubisoft are a cruel, wonderful people, and I've said it more than once. Needless to say, now I cannot wait until Assassin's Creed III. I hope it focuses a little more on Desmond, because he's the frickin' main character and he always takes a back seat to Altair or Ezio. So yeah. More Desmond is *always* a good thing. :3
I want to say more but I don't have the time. I couldn't even find a cake for my GS anniversary. Oh well, another time I guess. :P So how's it been with you guys? Anything cool going on? Let me know in a comment or something. Ciao!
Le's bounce, yo! Peace out! ~V
~Slyfur