well i temporarily canceled my subscription to Star Wars. I'm just a little busy with work and when i play games i've been playing other ones - namely Battlefield 3. Though i do 100% want to return to this MMO, as i am actually enjoying it.
well i got this message today that made me laugh and put a smile on my face.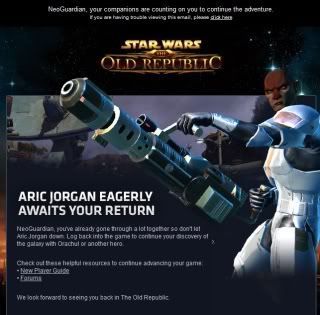 "NeoGuardian, you've already gone through a lot together so don't let Aric Jorgan down. Log back into the game to continue your discovery of the galacy with Orachul or another hero"
Now for those of you who don't know, Aric Jorgan is my first and main companion for my Trooper character. I've gotten other companions but Aric is the one i travel the most with.
I've always liked Bioware's companion characters (at least the vast majority of them), so them emphasizing this does tickle a bit of amusement for me.
Of all the MMO's i've played in the past Star Wars has been the best one, but i got PS Vita, Syndicate and Mass EFfect 3 coming up. but when i finally hit the duldrum period i'll break out Star Wars and continue on my quests in a galaxy far far away.