Last night I had a couple of weird dreams.  Not often I get back to back weird dreams, but last night was one of those nights. So I thought I share them with you guys.  Unless you're not the type to listen, or read about these kinds of things then that's fine.
Dream #1: This dream started off in a town with all of the building having a bright white color to them. And the sky was dark blue, even though it wasn't night time.  Made me think this is the new look for the movie Sin City. Anyway I was at a night club with my oldest niece, who brought along someone she just met. She introduce me to the person, who kind of looks like George Michael when he was young. Then she said that she dumped her boyfriend over for this fellow chap, because he's a vampire.  And they plan on getting married. I was fine with the idea it's her life after all. The GM look alike said he has no desire on tainting my niece, because she's precious to him when he lay eyes on her. He also wanted to call me uncle now that we got acquainted. I said, "Well okay, I guess."  After the small talk the two love birds (well bird & bat) went off to the dance floor to get their groove on. Over the course of the dream the vampire kept nagging about me not liking that he wants to call me uncle. I did say I'm fine with it, but he said, "But your heart and soul say otherwise. And I'll not give up until you "fully" agree to allow me to call you uncle! And after that me and my precious will get married!~~<3<3<3" What is this a ritual? What kind of a ritual involves a vampire requesting a family member to "completely" allowing him/her to call them by their title in order to marry a blood relative of theirs. It's like some FF XIV Online player deciding to defeat the most powerful boss in the game by him/herself, and then marrying another player, who they have never before online, as a celebration. I did say I'm okay with the idea of them getting married, but that doesn't seem the case for him. Besides he should be asking her father for her hand in marriage, not
me!
Fast forwarding in the dream I was leaving my room, and was about to go out. However Mr. GM vampire was sitting on a bar counter chair in the center of the living room basement, arms folded, and waiting for my response. I was thinking to myself, ":evil:How the hell am I gonna get rid of this guy?! He's blocking my way! And he's not gonna let me through, until I "fully" allow him to call me uncle! Damn it the stake is upstairs and he knows about it! If I try to make up an excuse just to get it, he gonna go up there immediately and destroy it! I gotta find some way to distract him... Oh that's right! I have THAT!" I rushed back into my room to grab a spray can full of holy water. BTW the cover of the spray can look like it was made by the Assassin's Creed, since the can is white and had red lines on it. Anyway I went up to him and said, "There's something wrong with your hair, so I want to fix it for ya." He was checking his hair and said to me, "There's nothing with it.:|  I styled it earlier." I grab is shoulder with this response, "I sorry I didn't mean your hair.  What I meant to say is... YOUR FACE!:twisted:" I spray his face at full force, and he was screaming in pain. Again I was thinking to myself, "Okay once I melt off his eyeballs I'll run upstairs, grab the stake, come back down, stab him in the heart, and go out for the rest of the day!:cool:" But for some odd reason he was enjoying it as he was yelling, "The Pain!:twisted:  THe PaiN!!:twisted::D  THE PAIN!!!!!!!!!!!!!:twisted::lol:" All of a sudden he transformed right in front of me! His face was a crossover between the Hobbit Bilbo's scary face!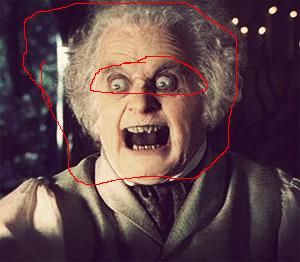 With this monster's eyes and hair (longer than in the pic) from Where The Wild Things Are!
And his hands were huge with his skin being chocolate chip colored. His finger nails are 20 inches long, teardrop shape, and pitch black! As shocked as I was by his appearance I kept my composure, while spraying him in the face. Unfortunately he was grinning while screaming as the pain got him all worked up. And the spray can was over half empty. I didn't give up no matter what as I kept on spraying him! The scenario went on and on and on... until I woke up.
That was the first weird dream. I decided to stay up for a little bit, before I went back to sleep for...
Dream #2: This dream started off at a high school gymnasium, where a concert was taken place. A friend of mine informed me on short notice that I'm performing with him. I panic for a bit, but as the same time got excited by the the fact I was performing on stage. I told him I need to get ready, and he said that we'll be next shortly. So I went back to the dressing room, which ironically is in the same room where the live performances were held (of course there were curtains surrounding it), to put on a jacket and some wrist bands I made for myself. As I went out of the curtains I saw my friend already doing his performance with one of my high school classmates, and a bunch of little kids all of them dressed up in cowboy outfits, while dancing to the song Cotton Eyed Joe by Rednex. It only took me 30 seconds to get ready, and the song is already at the half mark. While I was upset that I ditched for someone else I couldn't ignore the fact the performance was awesome, since the crowd was getting into it. As I was watching the performance I notice something weird was happening. And as I was trying to talk I notice my voice sounded like a kid. Then I realized that I turned back into a 8 year old kid!:shock:  What even weirder is that I got transported from the concert to a giant superstore that was in it's final sales event.
I was wondering around the giant store looking around. The place was almost completely empty, and all that left was stuff you can get at a dollar store. Then a kid showed up next to me and he was following me around the place. I didn't mind, but the feeling did irritate me a bit. A couple of parent saw us and the mom said, "Are you two lost? Where are your parents?" I got angry and said to her, "I AM NOT A KID!!:evil: And I don't who this person is!" The mother was shocked by my response and nod in disappointment. "Oh my temper temper young man!~" The husband told her, "I think he's trying too hard to be a man at a early age dear." Well "I'm sorry" that I'm like this ma'am & sir, if it wasn't for that hill billy house club song from 1994, and a bunch of kids in cowboy outfits dancing to it! After the parents left I turn to the kid and said to him, "Why don't you go with them?! They'll be good parents to ya! Just stop following me already!" The entire time the kid had a straight face like he was under hypnosis, but he spoke to me with these words, "I know how you can go back to normal.0_0" All this time the kid following me around had to say that! I didn't get mad at him and I told him to lead the way.
The kid lead me all the way to a nice beautiful house with a fence surrounding one side of the house, while the other side had a drive way. There is a front door, but there's no knob to open it. An old lady walked up to us and said, "So you're here to get the antidote little on. The only way you can get into the house is climb this part of the house, get over it and into the small window that leads to the basement." She even shows me a map of the place. The window has a small pavement that is surrounded by clean cut grass. I asked her if I can just go to the other side of the house. She said to me, "Well deary those who have turn back into a child must earn the antidote... the hard way.:) And my husband doesn't like people walking on his grass.:) He like to roll around on it.:)" So I had no choice but to climb the weird looking arc ladder. Kind of reminds me of a jungle gym ladders that are connected to a circle shape ladder in the center to climb down. Anyway as I was climbing the old granny kept saying that I should be careful not to fall, and making all these scared expressions. When I made it to the top of the house I looked down, and saw an old man (her husband) sleeping on the grass in an odd position making him look like he wants his belly rubbed... like a dog. I made it down to the window with no problem and as I got inside there was a bright white room that look like someone's art studio. On a cube shape table I saw a plate of nachos and cheese dip, a napkin, and a lid white candle. I didn't think for a second as I started munching away. A few seconds later a half corpse swam zombie appeared in the room, and it was crawling it's way towards me. Either I fell for a trap, or it's POed that I ate it's nachos and cheese dip. Besides do swam zombies even eat nachos and cheese dip?:p Anyway I grab the lid candle and tossed it at the zombie. It got set on fire and I used the table as a platform to jump over it to get out of the room. I entered a hallway filled with tainted ghosts. As I ran pass them and turned a corner I saw a old vampire, who look like Albert Einstein, standing in my way and he said to me, "Are you here to see Master Robocop?:twisted:" I ran away and kept going regardless passing by ghost, zombies, giant spiders, and so on... until I woke up.
After that dream I decided to stay awake, go finish off my shift, come back home and write this blog. So if you enjoyed reading this, then good. Glad that my weird dreams entertained you. Anyway that is all hope you all hago! Later!