Depending of the stage you're at in life--high school, middle school, college, after college and jobless, after college and got a job, family man, family woman, a bum under a bridge--your perspective of video games IS going to be different.  I've said this time and time again, my tastes in gaming have changed over the years.  Certain titles that I used to love, I still love. Some, quite the opposite.  
"Many gamers don't realize, twas' I who cut the cheese."
My roommate has a PS3 and a Gamefly account.  For the past 2 months we've been checking out some PS3 games I've been missing out while I was away in China for 2 years.  After we got through a few games I went searching through the entire PS3 gaming library for games that are just good old fashion fun for two people that are sitting in the same room. And frankly, there isn't many.  Most Sony games want you looking like this: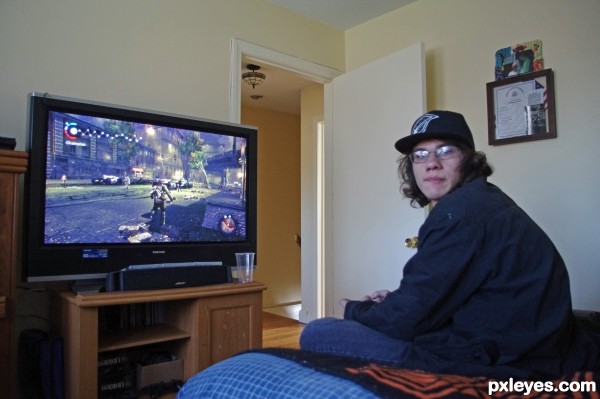 If you think I have bad posture now, wait till you see me in 20 years.
So we do what we can and take turns playing single player campaigns like Infinite, Metro, Tomb Raider, Just Cause 2, Dark Souls, The Last of Us...you get the idea.  And now we just wait for the next Grand Theft Auto and a couple other odd balls.  
Yesterday I was making dinner and I heard my roommate come back from a day out at his friends house.  Immedietly he brought up the Wii U.  Now, he shart talks the Wii U like the best of anybody, saying the same nonsensical things that most gamers say on the internet about the Wii U:  It's a stupid console.  However he comes back and admits that, yes...the Wii U is fun.  Why?   Because they have games that are fun to play that can be played by more than one person at a time.
Beam me up, Scotty.
 NintendoLand.  The game that keeps on giving.  The dream that keeps on wetting your sheets.  The potato that keeps feeding the kids.  The computer that keeps your dad occupied while you steel booze out of his liquor closet.  The tie that gets you all the ladies, cluding, the bride, while you're at your best friend's wedding.  The sunshine that makes all the ladies take their shirts off on the street. 
Look no further, climb no higher, swim no deeper, this is a blog gone wild.