In my last issue, I mentioned my epic armor in Too Human (that I'm oh so proud about). My reasons for playing through the game one final time included "Get to see my epic armor in the numerous in-game cutscenes." Stay with me here, because the following is really dorky. It annoys me when my character looks stupid in cutscenes. This is usually a result of using my in-game character model for the cutscenes, versus pre-rendering them. This sometimes results in my looking strange.
Here's Baldur from Too Human in the opening game cutscene: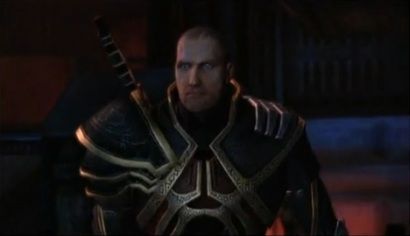 Then, in the next cutscene, when you start the game, he's wearing this armor...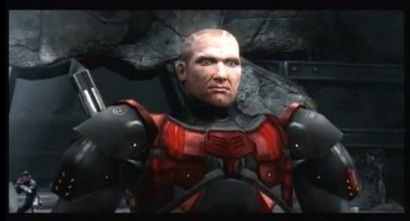 ...which looks completely different. It also totally sucks. What's more, the other gods in Too Human are all dressed in a certain fashion, which looks nothing like this red armor. Here's Heimdall, Freya, Thor, and Frey:
There's a common motif to their outfits. Now here's Baldur, in a mid-game cutscene, wearing some random armor found in a level: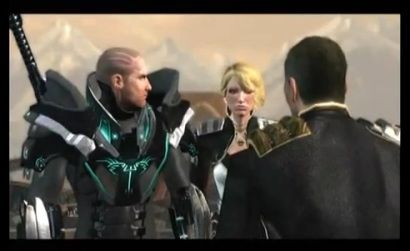 It doesn't look right! My character doesn't match the other gods. It looks odd, and it takes me out of the scene. And at least the armor he's wearing there matches itself, if not the other gods. Actually playing the game, you'll be pulled into these cutscenes wearing a red breastplate, yellow shoulder pads, and green gauntlets, because you haven't had time yet to go back to base and color your armor.
On the other hand, here's my epic armor:
It's identical to the opening cutscene, and what's more it matches what other gods are wearing. It has the same color sceme, and the same signatures, like the metal epaulette and the gold trim. My character looks RIGHT in the in-game cutscenes; he looks like he belongs. I'm a weirdo, and probably the only Too Human (or any game) player to think about this, but I wanted to share it nonetheless. I think with that I am officially done talking about Too Human. Next issue will be about annoying achievements.