What can I say? It hasn't been the best of weeks. I've sent my PS3 away to Sony and am awaiting a replacement (no idea how long that will take). So to fight the boredom, I've been jamming on the PS2 with Metal Slug Anthology and Gunbird. That should keep me busy, right? WRONG. Picked up my DOA5 CE today and not being able to play it is torture. Oh well, lets unbox this stuff!
(Whilst I was hoping to do this in video, it really wasn't working out too well, so I opted for photos. Will try to do unboxing videos when I get CE's in future.)
Viola!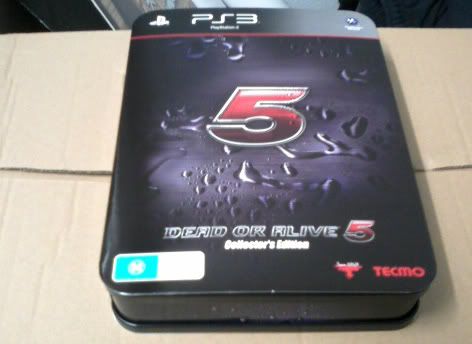 Sealed Game
--- And Back
Art Book
--- Inside A
--- Inside B
Poster (Shame it was folded. I don't know if I can get those creases out.) D:
That's pretty much it for this week. I've bought some stuff on eBay, but most of it won't arrive until mid-next-week. So next week will be a busy one.