I just finished reading an interesting editorial at another site (which you can read here if you are interested) and it got me thinking about my own personal influences with gaming. Now a slight disclaimer before you continue. These are my personal influences. So if you happen to notice some more notable games omitted it's simply because I never played them, thus, I can't have been influenced despite their rampant popularity in the gaming world at large. There is no Mario 64 or Ocarina of Time on this list. If that offends you then may I be the first to say tough !@#$ And yes, I know what you're thinking: "Why eleven?" Well upon reminiscing on my gaming past I couldn't narrow it down to just ten, nor could I think of fifteen. So eleven it is. (And with honorable mentions it's actually 22 so nyah!) This is part one of a three-part blog. Off we go!

---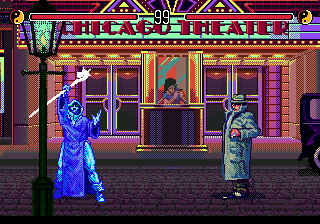 11. Eternal Champions, Sega, 1993, Genesis

Mortal Kombat was undoubtedly the king of fighting games back in the day. However, I found skill and proficiency with a generic title that was no doubt trying to cash in on the success and popularity that Mortal Kombat had attained. This is the one and only fighting game that I can confidently claim I was ever good at. Really good. Let's just say that fighting games are not my forté, but that wasn't the case with Eternal Champions. When I played it felt so natural that pulling off moves flawlessly became second nature. The funny thing is I learned the combos through trial and error (read: button mashing) since these were the days before the Internet was ubiquitous and a part of our every day life. There were no guides to consult, per se, and if there were I sure as heck didn't know how to get them (I was only 12-years-old at the time). On the off chance anyone here is familiar with this game my preferred fighter was Xavier (pictured above on left). He was my main man and the only character I ever used. Why did I choose him? Well I always liked the name Xavier, and the character's outfit looked pretty cool…and that's about it.

*Honorable mention* Mortal Kombat, Midway, 1993, Genesis

Mortal Kombat on the Sega Genesis was the most badass fighting game I had ever seen. The level of gore was unprecedented. The blatant, in-your-face violence was exhilarating. I sat enthralled as the life-like characters on screen punched, kicked and eviscerated their opponents. It's the one fighting game that made me love fighting games for their brutal nature. Sadly, it's also the same game that made me realize I suck at fighting games and something at which I do not excel. The intricate button combos that allowed other players to pull off such amazing moves so fluidly and almost choreographed proved too much for my mind to absorb and, as such, I found myself relegated to meer spectator whenever the game was played. I still had fun even though I wasn't directly controlling the wanton carnage on screen choosing instead to get my thrills vicariously through whoever I was watching at the time (usually that other person being my best-friend).
---
10. Resident Evil, Capcom, 1996, PlayStation
"And Jill, here's a lockpick. It might be handy if you, the master of unlocking, take it with you." A line that will live in infamy in video game culture as one of the cheesiest, most absurd, downright ridiculous lines of dialogue to ever appear in a game. Aside from the laughable dialogue the game itself was a true gem, and it single handedly launched a new genre that heretofore had never existed: Survival horror. I remember the surprise and creep factor when I came across that first zombie feasting on a person's remains; or the panic I felt when I tried to get a bead on those wily zombie dogs with my pistol and the grim realization that each shot missed was one less round I would have for later and not knowing when I would find more. In Resident Evil, careful conservation of your inventory was vital because death could literally be around the next corner. No other game presented such a claustrophobic, tense and foreboding atmosphere that Resident Evil did. And though I may have never beaten the full game it nevertheless left an indelible mark on my psyche--not only on me but on the industry as a whole--as one of the most influential games to ever come out.
*Honorable mention* Silent Hill, Konami, 1999, PlayStation
While Resident Evil ushered in a new genre, Silent Hill quickly capitalized on it. Gone was the claustrophobic mansion and flesh eating zombies replaced instead by a deserted town that makes living in Seattle look like living on the surface of the sun; that is to say the town of Silent Hill was bleak and dreary. I also felt the enemies were more disturbing than anything you ran into in Resident Evil which gave the town an even more damning personality. Now honestly I played even less of this game than I did Resident Evil, but I was primarily interested in the narrative which I thought worked on a deeper, more cerebral level than the zombie-infested Resident Evil. Combat was less of a focus here and the game play was geared more towards a spooky detective story as you had to really think about some of the clues you found and the puzzles you had to solve to progress. Inventory management played an even bigger role than in Resident Evil more often than not leaving you with the better option to flee from enemies entirely rather than take a stand.

---
09. Gran Turismo, Polyphony Digital, 1998, PlayStation
It's hard to believe that at one time this game's graphics was considered cutting edge. More than that, Gran Turismo offered for the first time a true driving simulator that attempted to replicate real-world physics into an accessible driving game. If you owned a PlayStation then you should have owned this game. This was the first game I cut my teeth on in the racing genre. I didn't know jack squat about cars at the time but I didn't need to, and that was the beauty and appeal of Gran Turismo. Hardcore gearheads could enjoy this game and tweak their cars to their heart's content, and goofy high school kids like me could enjoy it as it allowed me to virtually drive expensive cars I would never have a snowball's chance in hell to drive in real life and not worry about insurance. Gran Turismo is still an authoritative game that stands for quality. The grand daddy of racing sims that set the bar enormously high for every racing game to come after it.
*Honorable mention* Twisted Metal 2, Singletrac, 1996, PlayStation
On the other side of the racing spectrum we have Twisted Metal. I remember many an hour was lost to this treasured game back in the day with me and my best-friend playing match after match against each other as we drove maddeningly across each map trying to blow the !@$# out of each other. No such thing as broadband or online gaming, boys and girls. Nope, if you wanted to play multiplayer it involved actually having friends and going over to each other's house and playing split-screen. But I digress. This was one of the few games I was actually decent at competitively speaking. I remember my chosen vehicle was Warthog because I just loved his barrage of missiles you could shoot that were pretty effective if you scored a solid hit. What he lacked in speed he made up for in firepower. I also remember the distinct accompanying jingle each time I fired off a salvo at my friend that was music to my ears and a clear auditory warning to my friend that he was about to get blown up.
---
08. God of War, SCE Santa Monica, 2005, PlayStation 2
Ah, what can I say about one of my most beloved action-adventure series? A game that was the motivating factor behind me finally purchasing a PS2. I really love God of War and the subsequent sequels. The epic story telling, the grandiose scope of the environments and compelling game play all added up to a bona fide hit with not only me but a lot of other gamers as well despite all its pundits and naysayers crying foul because it was a "Devil May Cry rip-off." Really? What game in the history of games hasn't copied the games that came before it in some form or fashion? For some reason, though, success has a nasty habit of breeding contempt in some people and that's exactly what happened after the success of God of War. But I didn't care one bit because I was happily slicing and dicing enemies with abandon and having damn fun while doing it. So many holy !@$% moments in this game it would take a whole other blog just to talk about. Needless to say I was thoroughly impressed with Kratos and his tale of vengeance as this was the game that really got me back in to console gaming full time after years of a self-prescribed hiatus.
*Honorable mention* Uncharted: Drake's Fortune, Naughty Dog, 2007, PlayStation 3
Of course I would be remiss to list an action-adventure game and not mention Uncharted in there somewhere as well. What's not to love about this game? (OK, the tacked on SIXAXIS controls could have probably been left out and thankfully they were for the sequel.) Sporting gorgeous visuals, an edge-of-your-seat story and heart-pumping game play, Uncharted was poised as the killer app that the burgeoning PS3 so desperately craved. It contained just the right amount of combat, platforming and puzzle solving so that I never felt bored or lacking a challenge in some way at any time. And did I mention it's a gorgeous game? This was the game that made PS3 owners (and a fair amount of non-PS3 owners, I'm sure) swoon over it. Now we could proudly show off what next gen tech was capable of achieving. A new star had been born into the pantheon of triple A games as Naughty Dog introduced to us gamers and the industry how "easy" it was to create a brand new IP and have it flourish as both a fun game and a technical achievement; less of a miracle as it is a testament to Naughty Dog's talent as a developer.

---

That does it for part one. Stay tuned for part two!