No .. not out of my mind :x
I've been out of my mind for ages now :P
I'm talking about the freakin' 30s here on Gamespot !! Up till level 37 it was cool but after that I really wanted to get out of the 30s .. Sadly it took waaaaay too long . Specially that idiotic level 39 that just seemed to go on forever .
For some reason ever since I joined the site , the 40s to me represented the old wise members .. well maybe not wise but it just seemed that those over 40 were the veterans .. of course people over the past years have levelled way beyond that and have reached crazy numbers but still . Getting to the 40s means you've spent quite enough (*cough*waytoomuch*cough*) time on this site . Now that I've hit 40 , I can sit back and let the level up meter go as slowly as it wants :)
Ahem ! A wild random picture appears !! :D
On another note , even though level 40 clearly says Abobo , for some reason it's just tied in my head to Aladdin !! Not sure if it reminds me of the monkey Abu or Jafar's mocking of Aladdin's prince name "Prince Abubu" but hey , Aladdin ftw!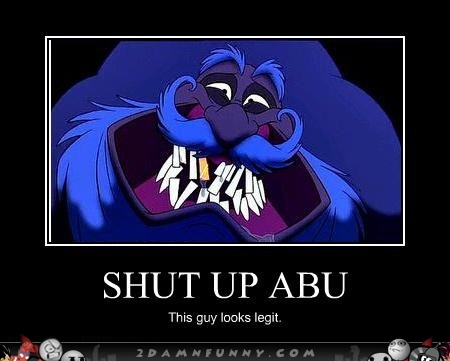 ==========================
Ok I'm out !