Hi fols its been a while, i know but now am gonna post more updates much more...
I wanna ask a question... what games that are not available on your gaming system you would like to come to your gaming system...i got a small list here...(unwrapping list)
Lets see Battlefield bad company, killzone 2, mgs4, Army of two, Uncharted drake's fortune ...mainly warfare games or games with good combat system like uncharted....
I don understand its beeing a while but ill ost more updates more often from now on...
Ok lets start
SCARFACE
Its a game similar to vice city starting with the vity of miami, the main gameplay is that you character needs to take over anything so you start and figure out that your character has a terrible movement in the game and moves pretty bad, the mouse aim is broken, you can hardly aim in the game, you also have auto aim but if you use it you get less points when shooting at diffirent enemy body parts, with those points you feel a bar and unleash a devastating first person mode that you cant die and you have infinite bullets, also enemies die with one hit, each time you kill someone you fell your own health. The health goes down pretty fast however and the game is very difficult at some times the enemies will kill you right away so you got to run around and headshot multiple times.
In the game the weapon soudns are pretty bad and perfom kinda crap.. you shoot and jump around but nothing beats the crapy mouse aim, you get points in the game by killin enemies and when you shoot them you can press a button to taunt them and call them names...which is pretty funny and cool, especially if you got nerves and wannat unleash your rage... but the enemies are not kidding they weill kill you for sure, latter on they got machineguns and grenade launchers or rocketlaunchers...
SOME OF MY FAVORITE TAUNTS (with the M and the MF words in the BEEP section)

" YOU DIE BEEEP"
" WHY YOU HIDE FROM ME MAN, YOU BEEEP SCARED ILL WAIT ALL NIGHT IF I HAVE TO KILL YOU"
Or while you hit people and you are inside a vehicle:
"WHAT AM I A DUMB BEEEP MAGNET?"
"YOU BEEEEEP COLOMBIAN BEEP"
Pretty funny quotes... you can also talk to peopel with taunt key and start some pretty funny conversations... when you reach an amount of those points you find a girl and get it to your mansion,,, and tadda you get health upgrade. There is also driving which is very easy and driving missions are easy but they get amazingly hard and idiotic challenges latter on..
The game works like that... there are four areas in the city, each area is a chapter.. in those areas you capture enemy gang territories and do random sidemissions which are infinite and can doen and redone to get money.. with them oney you get you buy fronts which are shops that you sell your drugs, once ou got them all you capture a storage and make a phone call to contact a drug supplier, you go there and hold the taunt key till it reaches the center of an indicator to get a great deal with many drugs... if you dont hold it that long you get less drugs, hold it too long and you piss them off so they will attack you and if you kill them you wil get heat. In any cse after that you get the drugs to you safehouse and you distubute them to you fronts adn get many, then you go to the bank to store them, if you dont , you will lose them if you die...Sometimes around those missions you get story missions to progress the story, its pretty cool how the game is not only in miami but in islands too to get drugs.
Every time you do stuff you get points and you adavce a level, when you do, new stuff became available to buy, like new cars upgrades, or stuff like a space suit to put in your mansion :lol: which is even more impressive than vice city you also get a assasin or a driver and a enforcer, you can use the enforer to do sidemissions and kill gangs to lower you heat, if your heat is too high you will die for sure... eg too high heat with the cops and they wont let you go away, which is the fact that the cop cars dissapear after a while but the higher the heat the more cops are spawn near you...
The good
Making money by drugs
nice driving
Taunt and calling names the enemies when you shoot them....
islands :)
You can buy anything in the world, including incas mummys
The bad..bad.. bad points in the game..boo bad game.. bad.... :(
You cant kill civilians
You cant kill cops ( if you dont run away a counter appears and when the time runs out "YOU ARE BEEEEEP" appears in the screen and you die, what kinda crap is this? long live gta...)
The heat thing
Riddiculsy and unfair hard some times...
FINAL SCORE 6.5
Pretty good ideas but the bad points are painfull annoying and the game needs fixes"
JUST CAUSE
It amazes me that a such an old game has so good graphics
This game has the best water i ever seem...unfortanly you cant see it here :(
The idea of being in a huge jungle and island worldmap was great the game looked great , the main idea of a cia agent that can use a hook to grab a flying helicopter and get in, or a vehicle that speeds awat is epic , syo your character can pull he self on the vehicle and jump in, unfortantly it doestn always work good, the gunplay is kinda weird, some times its way too easy as people said sometimes way too hard, people said its too easy... i doubt they even bother to play it more before they review.
Another good idea is the ability to call for vehicle drop eg a james bond sea vehicle or an suv vehicle with machineguns and rocketlaunchers, unfortantly or vehicles drive awfull bug am talking about the worst vehicle driving i ever seen, completly undrivable, if you play the demo the game qualirty will seem good but theactual missions are pretty borring and bad in quality...
There are 2 factions, guirellas and drug dealers.. you liberate enemy bases or amry bases and you get safehouses full of new weapons and vehicles, the game has 2 tanks and 2 anti air tanks, also 3militart hoppers with no weapons, 4 choppers with machineguns and rocket launchers and 4 aircrafts with rockets.... holy damn so many military vehicles... click here for a list
the map is huge and full of great areas plus cities... however the game is crap, the sequel is on the way
The prons
The grappling hook that you can grab youself to chopppers
The heavy lock and loda military tanks and choppers
The setting
the cons
Awful driving and completly undrivable vehicles
Weird gameplay at some times
very short
bad quality missions
FINAL SCORE 6.0
Believe me it worths it.... but again check the ratings of those games in gs and ign, see completly difirent... GS 6, IGN 8.5 , GS 7.7, IGN 6.
SHADOW OPS RED MERCURY
Shadow ops red mercury is a fps that features very impressive blockbuster movie story, you start every mission with specific weapons and few shots are enough to kill your enemies, the game plays really fast paced you ahve to run around and shoot and there is no innacruracy a faster cod4 experience since cod4 was short well this game is not short it has nice and diffirent levels and you play fast to survive, honestly i think it would be better if it played slower... so its a nice game but nothing amazing, but a good generic linear full of action fps... my favorite
FINAL SCORE 7
Also if you like cod 4 mabe you wanna try rainbow six lockdown or frontlines fuel of war...
QUANTUM OF SOLACE
Ok so the james bond game is not bad, its about 6 hours, unfortantly it maybe uses the cod 4 engien and has similar loadscreens the gameplay isnt full of action and shoting liek cod4, just not a game that you should pick if you are a cod 4 hardcore fun... not a bad game but nothing amazing, the graphics in the beginning were pretty bad but they got much better later on...
The game maybe looks like a fps but its not if you look at the screen below you will see that is very hard to aim with weapons in first person view plus that few shots will kil you right away
The game must be played by 3rd person and gears of war ****of combat, by the way if i have to choose for the best take cover game that will be quantum of solace it has the best take cover combat, stand up shoot and nto a red screen, take cover and as you shoot the weapons show recoild also enemies die fast....
I can easilly say its the best on that, also in some leves you can go on stealth and if you want, also the explosive action moments of cod4 are here and the inrto after the first mission is awesome...so if you like linear generic shooters or looking for a gears of war ****game its defently for you... ht ps2 version is more tactical , 3rd person withdiffirent level :shock: why did they fo that?
FINAL SCORE 8
I was thinking of a 7.5 but what the hell 8 it is...
SPLINTER CELL
Honestly i got a bit dissapointed a bit from this game, dont take me wrong its a very impressve game for 2003 i was highly impressed, well its a stealth game with nice levels i got to say let me tell you what i didnt like:
1 you have to use the mousewheel to move slower and sneak behind someone and grab him, but if you accelarte at the last second your character wont grab the enemy and will alert the enmy :(
2 i am using a pistol but its very weak very innacurate if i move or even if i stay still, still the bullets hit always outside the aiming reticle :( can you say crap?
3 why because i shot someone in a dark room everyone knows where i am and shoots me? :(
4 If you dont hide the bodies and you move further in the missio, no matter if you killed everyone still an alarm will appear because you didnt hide the bodies in the darkness :(
5 why the pc version has harder levels than the consoles version? are we some super heores and console users are noobs? i highjly dissagre about it i want them to be like the console verions.. why?
Console version: move forward and go up th ladder,
PC version... move shoot the lights, kill the patrol guard without letting the civilians see you from their balcony (and why THE HELL THE CIVILLIANS GOT AN ALARM BUTTON IN THEIR APARTMENT?) get passed the "patrolling" civvilian a and then as you go up the stairs the civvilian b.... and the stairs are at a different area... jeez why all that crap :( so its ok but i dont reccomend it.
FINAL SCORE 7
The sequels are better however...
PRNCE OF PERSIA WARRIOR WITHIN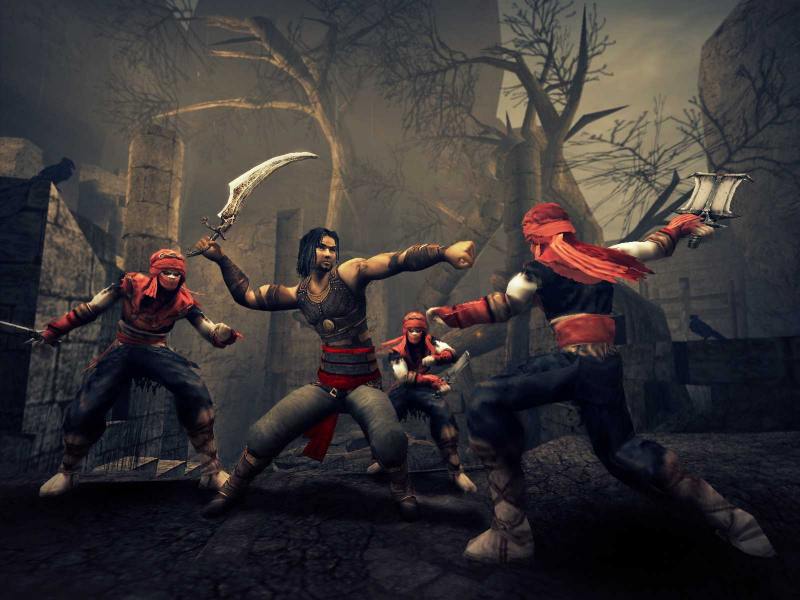 Easilly this is the best prince of persia but i havent played the two thrones yet... when i started playing the game i didnt like it so much and i experienced some epic control fail and the camera sometins was tricky.. but all round it was great latter on, unlike the previous game that was like disney Warrior within is more bloody and it has better combat, the respawning monsters from sands of time are gone, so did the hundrends of traps placed everywher, now the levels are awesome and combat even more awesome this game is so epic, epic story epic gameplay epic areas epic all theway, even the size of the game is long, unlike many games.. i was confused sometimes of where to go but still this game is so epic..
Also the soundtrack from Godsmack is awesome
I dont understand why people are calling him emo, he stands alone and fights for his life...do fie haters...
FINAL SCORE 8.5
Ohh and it worths every single point of it....as for people who got dissapointed, dont worry ill am working on some weird shooters right now...