Hey guys (and gals ;)) There is a "new" console in town - The Gp2x F200!
I say "new", It is actually a refurbishment of the Gp2x (F100) released some two years ago. But its new facelift lets is be a serious contender for handheld and electronic lovers alike. Boasting more internal RAM than the last model (great for emulation) and a TOUCH SCREEN and revised D pad (its not a nipple on a stick anymore).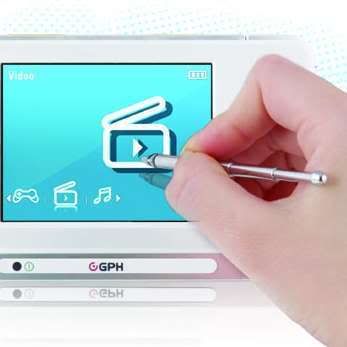 So yeah, I am very excited about it. But what is it? Where can you get one? Is it even legal? How come you never heard of it before? Well! Your imaginary questions will be answered by none other than.. ME :D The Gp2x F200 (I will just call it the GP2x from now on). Is white in colour (as you can see), it has touch-screen controls aswell as an 8-way D pad (like the PSP, but better) 4 face buttons (like the Ds and PSP) and two shoulder buttons... (ahem, like the DS and psp). What else does this have in terms of TECH SPECS? Well, it has a slot for an SD card, storage capacities going up to a massive 32GB! You can pick up a 4gb card for about £25 if you search about online, but usually they go for about £30, or about $40 - $45 (USD). So... um.. what the heck is this console then? Well - You know the Nintendo virtual console? Its pretty much that, and then some. You won't see Nintendo 64 games on this (or any handheld for that matter) but anything BEFORE the Playstation era is there for you to enjoy. Perfect emulation (as perfect as emulation can get) of Nes, SNES, Genesis (megadrive), NeoGeo, Atari St, Amiga, Atari 2600, Sega CD, Master System, Gameboy Advance, Gameboy colour (and mono), PC Engine... oh the list goes on and on and on. If you own the cart, you legally have the right to play the game on the gp2x - its as easy as that. If you own the game on a compilation or virtual console - you can play it on gp2x legally. Simple. In terms of emulation (everyone should know this by now) you can download games, music films and things like that - if you own the original in some shape or form. Its like that for all kinds of media, games is no different. Now that is out of the way - WHAT THE HECK IS THE CONSOLE (again) ??
Well the GP2X emulates just about all the old stuff, near perfectly. And better than ANY psp homebrew can muster up. The dedicated RAM, Dual Core processor and 2D Enchanced GPU - not to mention the perfect screen aspect ratio (no abnormal software stretching here) - make it perfect for everything 2D. The Touch Screen makes on-screen keyboards for those old computer games (atari st, amiga, amstrad etc etc) that bit more accessible. And it has its fare share of over the counter goods ;) Official games like Payback (its like GTA, basically, and its awesome!) and loads more keep the content fresh. What else can this do, does it just play games? HECK NO! It plays music, right from your SD card (cheaper and more accessible than memory-sticks), it plays DIVX and XVID movies (and then some!) at perfect aspect ratios, full speed, awesome sound. You can view photos, ebooks... and because the console is TOTALLY OPEN SOURCE and Linux based - the amount of apps that can be made (and already have been made) are astounding. No more shifting around "hacking" into a consoles firmware, the console is designed to be hacked! You turn on the console, it boots up, and you have access to all the content that you want. In effect, its a mini-pda-handheld-mediaplaying-games console :D Not only that - it is a MEDIA HUB aswell! With the optional DOCK accessory, you sit the console onto the dock, plug it INTO YOUR TV and watch all your Divx movies, play games, view photos... (etc etc etc etc etc etc etc etc!). All you do is drag on the divx files - no stupid video converting here guys - you just drag it in.... just draaaag it in.... Because the files are uncompressed (the console adjusts the image to fit, naturally - no obscurity) when you play it through a large TV set - the console sends the original file image at its original size through to the tv - so you see the perfect, undistorted - dvd quality - image on tv. - full speed, perfect sound... what else could you want?!! UMD?!?!?!? Dont make me laugh!.... ... too late... AAHAHAHAAAHHHAHAHA HAHAHH AHH heh ehehe ehe heheh eh.... eh...
Anyways! :D WHAT ELSE DOES THIS DO?! I hear you cry! Yes, it does more! It fits in your pocket! ;) Its white and stylish, it has pda functions, touch-screen... the possibilities are endless. And the thriving community involved with the handheld is constantly being nourished and is growing extremely quickly. Over just 2 years we have seen near-perfect emulation, fantastic applications... And now with more ram and a touch-screen - you will see even MORE of this kind of thing. The advantage? Well - all those apps are absolutely free. FREE FREE FREE FREE FREE FREE FREE. Shall I say it again? Oh ok then... "FREE" !! You simply go onto a website, look at APPS and then see the massive list of stuff to download and look forward to. The list just gets bigger and better each week. The console itself is run by TWO AA batteries... yeah, I know... old school... But because of the nature of the beast (you can overclock the cpu for those extreme apps that you want to try out) and the many features that it has, and the portable nature of it - you will want to swap the batteries around. When on a train, or long journey - or simply a boring day at school/college - the batteries run out. So what are you going to do next? Simply plug the unit into the wall and recharge? How is that portable then? How can you retain your identity as a good student?! :P AA batteries, rechargable (you can plug the unit into a wall socket, of course). But you can batch charge a bunch of batteries, keep them in the consoles case - you will then have access to battery life as long as you have batteries at your disposal. And with 5 - 10 hours of battery life to play around with (per 2 AA batteries). You will never be put off by a battery going dead. The PSP is plagued by low-battery life. A hacked PSP uses nearly double the battery life, and watching movies on UMDs and things gives you only a few hours to play with. Then, you have to purchase £10 - £15 battery pack, which you can't batch-charge like AA's. Plus, when you are caught short on battery life - there is more of a chance that a shop will sell AA batteries than custom-made PSP batteries (or DS batteries for that matter). Now, whats the price? Seeming as it does everything the PSP can do - for free... (except play the playstation stuff... but then again, if you want playstation stuff, then BUY A PSP, if you want DS stuff, buy a DS--- for everything else, get GP2X!). For around £119.99 (right from the GP2x site) you get - "GP2X Console F200 (Latest version) 4 2500Mah Rechargable Batteries & Stylus USB Cable for PC connection (With 2.0 Support) Preloaded Linux with Media player (MP3, Divx, Xvid etc.) CD with Games, Utilities, MP3 player, Movie player Firmware 4.0 (with built in games) SDK - Make your own games! Full User Manual"... I should add that the console not only plays many many movie formats - it also plays a massive variety of music formats, including chiptunes! :D If you like movies on the go without the bother of converting them, if you like the old retro games, and if you just want something different to show people - get the GP2X. I hope that this blog will help people become in-tune with the device, and know what it is. Currently, the only handhelds out there are super-charged by Nintendo and Sony. They offer nothing for developers with limited budgets or no budgets at all. And you can even have a try at making your own games and apps for this console! It is out on October 10th 2007. If you want to get a gift for someone (or yourself) who loves games, movies, music - This handheld is a real bargain. Get into the community and have a search about what this console is all about. There is surely something there that will interest you. It may not have a trendy name or fantastic marketing, or even official games from big studios like capcom and all the rest - but why should it need that when the other consoles have that already? Want something different from the crowd? Then click on the links I have posted on this blog and read away! And let me know some of your thoughts, hopes or whatever about this console :D http://gp2x.co.uk/ordergp2x.html http://archive.gp2x.de/cgi-bin/cfiles.cgi