I have been a big Playstation fan and Xbox has always been a meh console to me. I think its because the PS2 was a lot more diverse in its gaming library while Xbox was more well known for its shooters. But there was a few 360 exclusives that I really wanted to try out, so for $150, I bought a used Xbox 360 4GB slim model from my local game store. My first impression: Its actually apretty decent console with a few flaws. The menu is nice or the "Dashboard" is nice and easy to use. The downside is that as soon as I turned it on, it signed me into Xbox Live as another user. Probably the previous owner. Fortunatly, I was able to delete him and make my own. Im also not a big fan of the Avatars. They remind me so much of the Miis on the Wii. Even the music is similar. I just want to play games, not make my console into a facebook on steroids. But thats just me. I know many like the Avatar system and Im not blasting them in any way. Thats just how I feel about it. Another downside is the cost to simply play games online. I payed for the console, now I have to make additional payments just to get online? Count me out. Unless theres a game I really want to play online, then I might be tempted to throw my moneys at Microsoft, but right now, no way. But I am enjoying the exclusive 360 games I bought for it.
Ace Combat 6:
Im a fan of the Ace Combat series and Ive always wanted to play AC6 but it never arrived on PS3. So this was one of the first 360 exclusives that was on my mind when getting an Xbox 360. I finished it last night and I think it was awesome. The battlefields are bigger than before and there are a lot more targets on screen. The draw distance has improved as well. It was kind of short but it can be forgiven. The story isnt as good as AC5 or Zero but I still liked it. Im glad I picked this up.
Halo 3
Dont worry, Im not one of those crazy Halo fans. Otherwise I would have Reach by now and I would be preordering Halo 4. I think Halo is a good series but I dont think its as good as all the fans claim it to be. (Just like Black Ops, its a decent game but does not deserve to break sales records.)With me being an FPS fan. I had to try Halo someday and I did play Halo 1 and 2 on the old Xbox. I though Halo 1 was good. Halo 2 was weird and the ending left you hanging. So I got this to "finish the fight" as they say. Even though its been out for nearly 4 years. I am currently playing it for the first time. I like it so far except when Cortana gets in your face and says "I have defied gods and demons" or something like that. Just get outta my face, I want to play.
Gears of War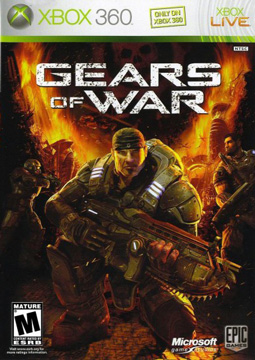 With all the game of the year awards, I am curious. So sice it was only $5 used at the game store, I picked it up. I like the action but Im not liking the characters. I dont know, I was never a big fan of big, buff, cursing space marines kind of characters. But using the chain saw bayonet is a thrill and overall, I like it. I just dont like it enough to be my personal game of the year.
Project Gotham Racing 3
Im a fan of arcade racers and PGR3 has been able to fulfill my inner racer. Not much else to say about this one except that its good.
Well thats what I currently own for 360 unless you count the games that were already installed which were Sonic 3, Sonic and Knuckles and Beyond Good and Evil HD. PS3 is still going to be my main console of course but Im glad that I now own both consoles so I can get 360 exclusives as well.
Xbox Live user name: thedave22
Just for the heck of it, heres my PSN user name:The_Dave07
If you do send a friend request, make sure you say your from Gamespot. I dont take random friend requests.