I recently finished 2 WWE Wrestling games for the XBox 360.
WWE '13 for XBox 360
FANTASTIC wrestling game. I could be a little biased since The Attitude Era is my favorite WWF/E era. But that was, BY FAR, the highlight of this game.
The storyline follows the birth of the WWF Attitude Era. Starting with the birth and formation of D-X, followed by the Austin Era, then the rise of The Rock, and then the Brothers of Destruction (Undertaker and Kane), followed by the many faces of Mick Foley, and finally the lead up to and the actual WrestleMania XV. After you beat all that, you then unlock a sort of "middle-card" storyline of the time right after WM XV. There is also a sort of "be the booker" mode called My WWE Universe. It looks neat, but also VERY detailed and in-depth; so it'll be something I'll have to come back to because I've had my wrestling game fill for the moment.
What's great, is the game gives great detail and background on this history and these matches, including video. So if you want to relive The Attitude Era, this is a fantastic way to do so. And, actually, it's better than the recent "Attitude Era" DVD WWE recently put out (which is a shame).
The controls are bit button-mashy, which I've seen complaints about online, but it's not that bad. You get used to it, real fast. I mean, it's not like it's WWE: Legends of WrestleMania; which brings me too...
WWE: Legends of WrestleMania for XBox 360
The game recreates matches and storylines from WrestleMania I thought XV. There are 3 ways you can play them: Relive (recreate), Rewrite (change history), Redefine (whatever you want, as long as you win the match). I played through all 3. There is also a "climb the ranks" sort of deal, like the old PS1/N64 wrestling games, called "Legend Killer", but you have to use a created wrestler, not an actual roster wrestler. I played through it, I didn't play through all 60+ opponent, but just short of that I earned all the medals/trophies.
What I loved about the game was the fan-service. The history they put in the game including video shorts that would show actual video of the build-up to matches, and of the actual match-highlights before you'd play the match. Not quite as well done as the WWE '13 highlights, but still good. The roster of classic WWF wrestlers was great, too, including alternate costumes. And lots of different match types and areans to battle in.
What I hated was the controls. A button-mashing mess. People complain about WWE '13 being too button-mashy, it's got nothing on Legends of WrestleMania. I was practically slapping the action-buttons on my XBox 360 controller half the time. It really makes your hand tired after long-play sessions.
I also recently finished
Golden Sun and GS: Lost Age on GBA
VERY highly recommended for traditional JRPG fans. Very cool game that is pretty addictive and both come together to tell one epic tale. It also uses a lot of Zelda-like puzzles, which keeps the game from becoming your normal JRPG grind-fest. And it has a large world to explore with lots of secrets to discover and side-quests to be completed.
Get these while they're still affordable. They were Nintendo releases, and Nintendo releases always tend to climb in value.
Halo 3: ODST
A much more character-oriented story than the other event-driven stories in the Halo franchise. A lot of fun and very dramatic. Story is told through a mixture of cutscenes and fallen soldier's personal logs. Very nice graphics. But kind of short.
Halo 4
I went into this, not expecting a whole lot since Bungie stopped making Halo games starting with this one. But luckily, I was pleasantly surprised. It still doesn't surpass Halo: Combat Evolved or Halo 2, but it's a very solid entry in the series and starts an entirely new storyline. New weapons and enemies through-out. And very nice-looking graphics. But it's missing that classic, rocking Halo soundtrack; and the replacement, while still good, just isn't quite as good as the original masterpiece.
Halo: Combat Evolved: Anniversary Edition
Very slick graphics added to an already amazing game. That's really all there is to say about this. If you've played Halo: Combat Evolved on the Original XBox or via XBox Live Download, then you know what to expect here; it just has a pretty, shiny new coat of paint on it. And a neat little feature is that you can switch back to the original XBox graphics at any time during gameplay, if you'd like. The real benefit is that the original game's maps are now available for online mulitplayer via consoles (the original game was not XBox Live Enabled until Halo 2; only the PC owners got to play the original maps online).
DuckTales Remastered for XBox Live Arcade
So much fun! I loved the added content, the voice-overs, and new renditions of the music. And the controls were spot-on, something I feared for before playing it. And dang is that chase sequence hard at the end. A lot harder than a simple rope climb like in the first one. A lot more attention to detail in this one, than the original, as well.
It's totally worth playing through both the original and this remake. They really do feel like 2 totally different games in the same franchise, even though many areas are very familiar.
I want to see a lot more remastered 2D classics like this!
I also just started playing this on my PC today, just because I was bored, and was VERY pleasantly surprised:
Tyrian 2000 for PC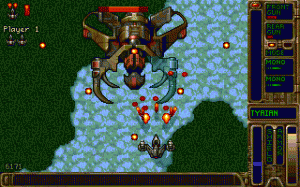 Which is an absolutely awesome 2D shoot-em up with upgradable ships (spend points for upgrades), lots of options to upgrade with, great graphics and nice soundtrack, and lots of levels and unlockable bonus levels! And best of all, you can save your game in-between levels.
Highly recommended for shoot-em up fans!