Now that I've revived my old computer, I've been playing a decent amount of Real Time Strategy Games and Turn Based Strategy games. So without further ado, here is my Top Five Favorite Strategy Games of all time. (on PC, where strategy games thrive)
5.) Star Wars: Empire At War
I'll admit that I found the land battles of this game to be mediocre at best. It is another fine example of a game with tons of potential that just doesn't manage to meet expectations. However, It arrives at number five on my list because the space battles are top notch, the galactic conquest mode is enjoyable, and at any point in gameplay one can watch the battle unfold in a theatrical view, which is a nice touch.
4.) Civilization 3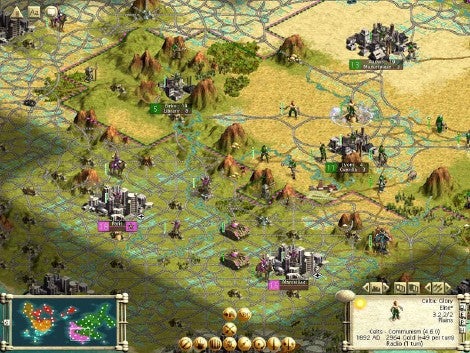 The civilization series is one of my favorites in gaming. Number 3 in particular makes it on my list because of it's perfect blend of fun and difficulty. I must admit, I'm fairly awful at it, but I still find it incredibly fun. This game has a way of devouring your time. I like the graphics of this one over Civ 4, because I find Civ 4 to be too cartoon-like.
3.) Lord of the Rings: Battle for Middle Earth 2
This game takes number 3 on my list because of the varying factions, many playable maps, and custom create-a-hero. One could play as dwarves, Isenguard, elves, men, goblins, or Mordor. Ibelievethere is over thirty maps to play on, and the custom create-a-hero allows you to make a special unit with powers out of anything from a dwarf to a wizard to a troll. Also great about this game is the user created maps online and the online multiplayer, although I'm not sure if the multiplayer is still going or not.
2.) Command & Conquer: Red Alert 2
Red Alert 2 is a terrific game. Excellent unique units, structures, and gameplay make this game stand out from other real time strategy games. The one downfall of this is the awful story. I've read in a few places it's supposed to be terrible, in a way of poking fun at sci-fi movies and such, but I don't see the point of that.
1.) Rise of Nations: Thrones and Patriots
I love this game.Ascendthrough the ages while harvesting resources, warring with your enemies starting with spears bows and javelins and ending with nuclear missiles and machine guns. Several unique units, abilities, and looks for each nation ensure the game never gets old. The thrones and patriots expansion adds several conquer the world campaigns and several new nations.
That's my top five :)
questions and comments are all welcome and appreciated. I hope everyone is good with the world.
Ben