I am afraid I must admit defeat, Nintendo. Never have I encountered a game with such dreadfully thought out controls. Unfortunately I am going to have to give in at the meagre distance of chapter 10, and trade the game in, which is a great shame, I simply cannot play it anymore.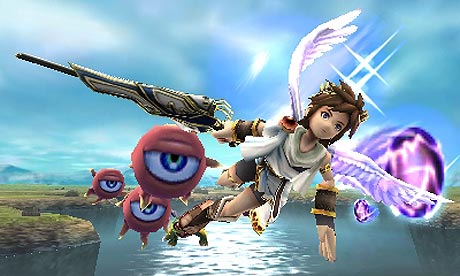 Kid Icarus, in my opinion, is one of the most frustrating games I have ever played. There has clearly been a lot of love put into it; the throwbacks to the original, (which whilst I don't quite understand as I never played the original), are charming...the dialogue is witty, the characters loveable (even the villains!). Furthermore, the on-rails flying portions of the game are great, the customisation is vast, the replayability is very high, the 3D effects are wonderful, the humour is genuinely funny without being crude...basically, there is a whole lot to love about the game.
The problem for me is the controls. Now I know that others have merely seen the controls as teething problems, and will probably say that the controls are my problem, not the game's, but I would have to disagree. In my experience, being 10 chapters in and still finding them cumbersome is a problem. I scoffed at seeing the stand included with the game, but suddenly realised how essential it is, and how inconvenient that is for a portable game. I have been unable to play Kid Icarus on-the-go, simply because I need to be sitting at home on an even work-surface, with the stand, for me to truly play the game properly and without strain.
As many of you know, the stylus controls the reticle on screen and the direction Pits faces; this is a problem, as I have found holding the system with one hand for extensive periods of time to be a strain on the hand. I am aware of the alternative controls, but they did not work for me either. It is a real shame that the CCP, which I did buy, didn't support the second analog stick for movment of the camera, like the second analog stick is used for on the Vita, and on any sensible home console.
It is with great regret I give up on this game, it truly feels like a great game that would have benefitted from the Wii/Wii-U treatment, and I hope there is an installment on either, but the controls have killed it for me, it feels almost unplayable on the ground portions, and that is a real shame.