Well heres another one of my rants. Today is 4-20
4-20:Well for some people, today is National Smoke Weed Day. I don't feel like giving the details, that would make the blog too long. Anyways, I myself don't smoke weed, but I have several friends that do. This part of the blog is dedicated to them. Whether they broke their habit or are currently getting high as s*** right now....I'd like to say thanks for the good times shared. Seriously, some of the pot heads I've met in my life have had a positive impact on my life. Enough about that moving on...........
Virginia Tech Tragedy: I'm sure many of you are aware of what happened on the 16th. First of all, I'd like to give my condolences to all the victims and their family/friends. It was a horrific event and will be in my mind for years to come. There is so much debate as to whom it is to blame, whether or not guns should be banned, Jack Thompson is an arrogant ass, and so on. Its also the 8th year anniversary of Columbine. Violence is everywhere, when it happens it happens sadly. I personally believe we should take a break from this and instead take the time to help those in need.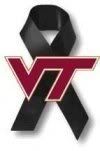 I'll keep this in my sig for some time in my sig to show my support to the victims. It isn't much, but at least its something.
15 Days Left of Senior Year: Yep time sure goes by pretty fast. I have 15 school days left, so thats 3 weeks. Its crazy I can't believe my high school life is coming to an end. Senior Spirit Week, Senior Splash, and Grad Nite "field trip to Disney" are all next week. I honestly can't wait.
Gamespot: I recently reached Level 27 Sheng Long. Quite nice I guess and also achieved 4,000 posts in the past week. I haven't been as active as I used to be on my Unions, but I have more free time this weekend. Woot?