So the Jacksonville Jaguars NFL season is over now, losing to the Super Bowl favorite New England Patriots. They had an incredible run. Damn the Patriots I hate them so much, arrogant pieces of....okay I'll stop whining. On with Jag talk. I'm so happy we finally found a franchise QB in David Garrard. After being a backup for so long to that piece of crap Leftwich, he steps up this year as the 3rd highest rated QB in the league. It makes me incredibly happy. You deserve a contract extension now! Jack Del Rio has been an outstanding Head Coach, picking up the Jags from the mediocore years to now a respected team. Oh and I love the fact the Jags are ranked 2nd in rushing. Gotta love the Jones-Drew/Fred Taylor tandem. Speaking of Fred Taylor, he finally got into a Pro Bowl. Its about damn ****ing time. He joins the 10,000 club as well, now all he needs is a Super Bowl ring. We'll find you one Fred, we'll find you one. After that we'll see you in the Hall of Fame for sure.
The Future:
The Jags had some problems this year though. Injuries to Gerald Sensabaugh, Mike Peterson, and Marcus Stroud really hurt our top tier defense of past seasons badly. I'm worried that Stroud may never come back to his old self. Donovan Darius should of been kept too damn it. I can only hope for a better season in the years to come. Mike Walker our rookie on IR this season, may be our next Jimmy Smith. I can only hope. We need to get a great DE/pass rusher as well. I soooooo want Kansas City's Jared Allen joining the Jaguars in free agency. We have the cap space to get him. Get him now please Jacksonville. Get some good draft picks too. Some of those DEs and CBs are interesting.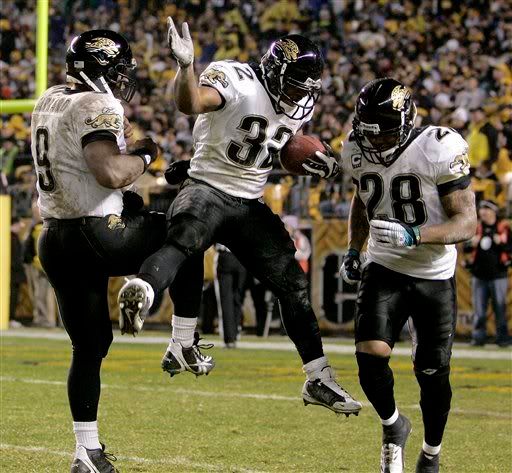 Thanks for the great season Jacksonville. I will continue To Bleed Teal.