Hello, it's Spring and very hot. And windy. And stormy.
I hate the heat.:x
But I also hate the cold. :|
I never win! :cry:
What have I've been doing??
Well, I'm trying to finish Pokemon Black 2.
I finished Sonic Generations 3DS.
Hanging out on tumblr. (I changed my username, I'm now known as ishimaruskinkyboots)
And that's about it.
I went to a Pool Party on Saturday which was fun, and my friend's birthday part on Monday! She liked the presents I got her! :D We watched Dangan Ronpa: The Animation, YGO GX and Grease. :P
For some reason a large amount of ants have appeared numerous times in the kitchen this week.
And my room has random ants as well, but smaller! D:
I might be getting an iPod nano for Christmas.
I HATE the design, but I better off getting that than an Classic, which contains so much space I wouldn't use. That and it's expensive.
I only have over 1,000 songs on my iTunes. :P
UGH WHERE ARE THESE MINI ANTS COMING FROM????????????
THERE WERE 4 ON MY DESK.
So, I killed them. :|
I really want to finish a few shows and play a few vide games.
But I get so distracted and lazy.
Bleh.
I'm so obsessed with Dangan Ronpa (and SDR2) that I've been printing out pictures of the characters and taping them to the insides of my cupboard!
Because I don't think my parents would allow them to be taped onto my bedrooms walls. :P
I do a have corkboard, but it's awfully small.
Speaking of Dangan Ronpa, it's time for today's character! :D
In fact, I'll do TWO CHARACTERS!!!
NOTE: THIS CHARACTER POST CONTAINS IMAGES AND TEXT OF MAJOR SPOILERS FOR DANGAN RONPA. IF YOU WISH TO READ IT, WATCH IT, PLAY IT WHATEVER AND DO NOT WISH TO GET SPOILED, DO NOT READ TODAY'S CHARACTER. IF YOU DON'T CARE, GO RIGHT ON AHEAD.
Today's Characters of the Day are none other then the Super High School Level Hall Monitor, Kiyotaka ishimaru and Super High School Level Gang Leader, Mondo Oowada.
You do not understand how much I love these characters. Ishimaru is what you'd call a 'Prefect' and is a stickler for rules. He is a hard worker, and has studied so much throughout his lifetime, he sacrificed normal hobbies. Due to this conduct, he has difficulty making friends, and at one point he asked the main protagonist of the game, Super High School Level Good-Luck, Makoto Naegi, of what a 'normal conversation' was. Now, Mondo is another character I love. He is the leader of Japan's largest motorcycle gang, The Crazy Diamonds. Now, as you can imagine, he did some pretty reckless stuff outside of Hope's Peak, and uses a lot of swear words. He dislikes being called weak, and aims to be stronger than his brother, Daiya. 

'My name is Kiyotaka Ishimaru! My motto in life is Simplicity and Fortitude! Lets all work together and study hard!'
Now, stuck in a school where the only way to escape is by murder, Ishimaru appointed himself leader to the other students. He ensured the students would show up in time for breakfast, and helped out investigating the school, to find ways to escape. Now Ishimaru, being loud and uptight about public morals, got into an arguement with Oowada.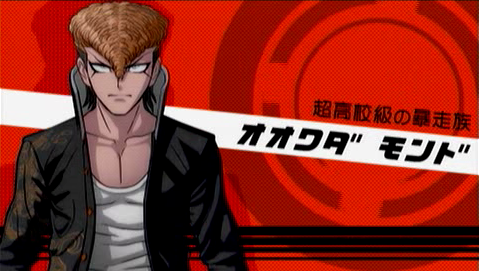 'Y...you f****r... don't overdo it... if this joke doesn't stop right now, I will...'
Oowada is easily provoked by others and can come off as a rude individual. Despite his appearance and attitude, it was revealed during one of the 'Free Time' events in Dangan Ronpa, that he loves all types of dogs, and gets nervous around girls, causing him to shout, thus getting rejected. 10 times in a row! Poor guy. He later on conflicted with Ishimaru as it was a Rule Enforcer VS Deliquent. 
Then then challenged themselves to go into the sauna in order to see which person would survive inside the longest.
Ah yes, my favourite scene.
The next day however, Naegi sees Ishimaru and Oowada laughing with eachother, having a good old time! Even though they did not get along due to their differences, they became the best of friends, and formed a brotherly bond calling eachother 'Kyoudai'. (Which means brother, as in bro).
Aw, look at them.
Now, here's where it gets depressing. The next day, a body is discovered. It is Super High School Level's Programmer, Chihiro Fujisaki. But how ever did this happen? Who would murder her, and why?? This is discussed in the School Trial, after the cuplrit had been confirmed. Mondo Oowada killed Chihiro Fujisaki. Ishimaru goes against Naegi's claims that his Bro is the culprit, but after hesitation, Oowada confirms that he was the killer. Ishimaru does not want to believe it, but the evidence forces him too. he yells and cries to Oowada, asking why did he do it. 
He explains that he killed Fujisaki in blind rage. Earlier on, Monobear announced a motive to kill someone, which was 'Embarassing secrets and Hidden Pasts'.  Fujisaki secretly told Oowada that her secret was that she was actually a boy to hide herself being weak. So she hopes for Oowada to help her get stronger. Oowada however, is paranoid and thinks that since Fujisaki was brave enough to reveal her secret, he was too weak to reveal his. So, to prove to himself in his head that he was strong, he picked up a dumbell and kills Fujisaki in the head. He immediately regretted this action. He did not want his secret to be revealed, ever.
(However, the setup was done by Super High School Level heir, Byakuya Togami, to have fun. Mondo originally left her on the floor).
But during the trial, Monobear decides to reveal Fujisaki's and Oowada's secrets.
Oowada accidently caused his brother, Daiya to get killed.
The Oowada's were racing, as Mondo wanted to prove that he could just as strong as Daiya. But he rode in front of a truck, so Daiya kicked him out of the way, leaving him to get killed instead, Mondo was upset and felt responsible.
And, as normal, it's time for the Execution. Oowada decided to accept it, but ishimaru does not. He yells at Monobear, THE PRINCIPAL OF THE SCHOOL, to wait. He burst into tears, knowing that his first proper friend is about to die.
Mondo's execution is quite terrifying. he's trapped onto a motorcycle, which leads him into a round cage. As he is going in circles, the cage ELETRCIFYS HIM AND TURNS HIM INTO BUTTER, WHICH MONOBEAR PUTS ON HIS PANCAKES. 
The next day, Ishimaru is depressed. Motionless. He saw his kyoudai die. The students find a laptop with a prgram called Alter Ego, which looks and sounds like Fujisaki as it was created by her. Ishimaru sees Alter Ego, thinking it's Fujiaki, and asks if he forgives Oowada, and himself for not stopping Oowada. Alter Ego then mimicks as Oowada with words he would've told Ishimaru if he was there. Ishimaru takes this emotionally, and claims that his Kyoudai's soul is fusing with him. And it is.
HERE COMES KIYOTAKA ISHIDA.
Ishida here, contains personality traits of Ishimaru and Oowada. He swears and can be very rude, but also abides to rules. This is a huge transformation for Ishiamru and the other students. He claims that Alter Ego is 'is' and no ones elses, as he is his brother as well. However, the Super High School Level Doujin Author, Hifumi Yamada, as fallen in love with Alter Ego, and wants to protect it from Ishida. Later on, this leads to two deaths in this game.
Through manipulation, Super High School Level Gambler, Celestia Ludenberg, has gotten Yamada to kill Ishimaru with a hammer, and Celestia killed Yamada. (This was through another motivation to kill, money). 
DO YOU KNOW HOW HARD IT WAS FOR ME TO OUT UP THAT PICTURE I LIKE BOTH CHARAACTERS BUT ISHIMARU!!!!!!!! NOOOOOOOO!!!! I BURST INTO TEARS WHEN I FIRST SAW HIM DEAD. I WAS UPSET ABOUT MONDO BUT...ISHIMARU!!!!! UGH WHY DID MY TWO FAVE CHARACTERS HAVE TO DIE????
Ahem. :|
Why do I love these two? Because they are such great characters with flaws and strengths and their own morals. And they got along with eachother! Despite being different, they went together like black and white. Just because you have different morals and interests, this does not stop you being friends with others! Some say they are just bros, some say there are even more. I like both ideas. 
I also find Ishimaru and Oowada attractive. Hey, I'm attracted to fictional charcaters! It's normal! Just look at tumblr! :P
Oh look, it's my favourite sprites.
Wow, hope you enjoyed reading this. 
It was hard for me to make this blog.
Goodnight.