I cant really decide which of my 2 really beloved rpgs i should choose so i will blog about both :)
Borth were the first appearances of 3d Dungeons. At the time this was really a great step towards our todays rpgs
The 2 main games which brought this out and which i really loved and played for hours are
Eye of the Beholder
Dungeon Master
Lets take a look at Dungeon Master first. The Game was Released back in 1987 from FTL Games. It started to have a huge success story in the rpg genre. You have your soldiers from different ****s with different abilitys like in all common rpgs of that time but what made the expierience unique were 2 main points. An 3d Dungeon and real time fights.
The Main Screen looked like that:
As you can see the 3d Dungeon with also an opponent :) you moved either with the arrows on your keyboard or with the mouse from over the buttons on the screen. You can change your formation on upper right 2 front fighters and 2 backrow which normally got space for mages or rouges and fighters in frontline. Another thing which you can see was the new and also grwat spellcast system. You see the runes on the right side. You couldnt simply cast a known spell you needet to get the right runes in order ro activate spells. Higher Spells got like 4 runes which made it also more difficult to use them during the real time battle.
:) i know that 3d dungeons aren't what we know today as 3d dungeons but believe me back in the days this was so omg wow :D
I even learned much english through this came cause i needed to translate most of it to my friend into german :)
Ok now a look at Eye of the Beholder:
Due to the great success of Dungeon Master the best and biggest rpg smith back in the days SSI decided to make a new remake of it with updodate grafics back in 1990.
There were also some new features in addition to the better grafics compared to Dungeon Master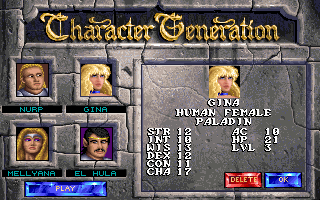 Since the RPG System which was behind that game is from AD&D it made it possible to Creat your characters this time from different ****s. In Dungeon Master you choosed from already made Chars.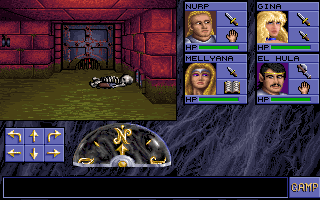 You can see pretty the similarities to Dungeon Master in the Main Screen of the Game. SSI dropped the Spell System and Made it like on normal rpgs if you know the spell simply choose it and then cast but the main fighting system was taken from Dungeon Master. Improvements of Inventory and Stats from the different Chars where also made
another thing this screen reminded me of was the fact that you needed food for your crew in both games which was rarely spread in the dungeon so you always were a bit under time pressure which made the game also more interesting.
Here the Box of Eye of the beholder i found it pretty scary when i was young so it also forced me to kill the bad monsters in the game :D
These 2 Series were Masterpieces of RPGs cause they brouht the RPG Genre 2 main features 3d Dungeons and Real-Time Battles which are part of mostly all rpgs nowadays.
:) ok that was the blast from the past for today more to come soon