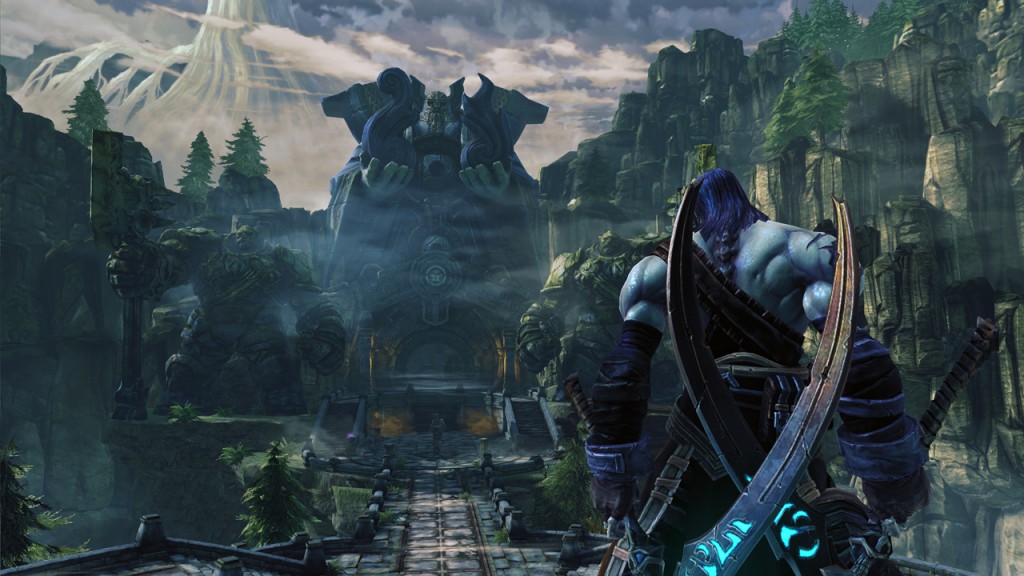 For the video game industry, 2013 hasn't been off to a particularly great start thus far. The issue of video game violence is once again being examined and scrutinized after the horrendous events of Sandy Hook last year, and a recognizable name in the industry, THQ (Toy Head Quarters for anyone who wondered what it stood for) has been dissolved. Nearly all of its intellectual properties have been sold off to other third-party publishers in an effort to help consolidate THQ's bankruptcy. Whatever your opinions may be of THQ, it is generally agreed that they did possess a number of promising franchises. Among them Saint's Row, the WWE games, Metro and Homefront. As of this writing, many of THQ's backlog have established new homes within the likes of Electronic Arts, Sega, Ubisoft, and Take-Two (to name a few). Yet, as of now, only one franchise failed to find a home. And it's one that I have a deep fondness of; a little known apocalyptic adventure known as Darksiders.
When I first bought Darksiders on my 360, I was drawn to how it indirectly references the Zelda games. Such a claim has been stated on numerous occasions and, when you play the game for yourself, you'll come to understand why. Puzzle solving, exploration, complex dungeons that require specific tools and items to navigate and intense combat round out the package. I wouldn't go so far as call it a Zelda-clone because while it shares many similarities, it possesses a identity all its own in a blood-soaked, apocalyptic, extraordinarily-violent atmosphere. Following up on Darksiders, Darksiders 2 expanded on the original with a bigger world, a protagonist that swelled of pure awesomeness on every level, an addictive loot system, side questing and more depth. It also took an interesting story approach by taking place during the original game when War was going through his struggles -- through the perspective of Death and how he fought to clear his brother's name. Yes, the story was quite outlandish, but damned if it doesn't make for a good excuse to kick some serious ass.
Darksiders was one of those games that did things a little differently with a formula that has already been done (more or less), and showed a great deal of promise in becoming its own successful franchise for THQ. Unfortunately, as THQ teetered on the brink of collapse, the future of Vigil Games and the Darksiders series fell into uncertainty. When THQ was finally dissolved earlier this month, no other third-party publisher expressed enough interest in giving it a new home, snapping up Saint's Row and the WWE franchise as they were proven money makers. Darksiders enjoyed moderate success, but it ultimately did not convince potential takers. As a result, Vigil Games was disbanded---many of its team going on to other development houses (like Crytek). This is truly a shame, because the Vigil team possessed more than enough potential to be a valuable asset for any company outside of THQ, and it wouldn't have mattered if they made a Darksiders game or not.
Interestingly enough, there is some hope on the horizon for Darksiders, and it's from a surprising source. Platinum Games, developers of Bayonetta, Metal Gear Rising and the upcoming Wonderful 101, has gone on record inquiring about obtaining the IP and using their own development team to possibly craft a third project. Whether or not Darksiders under a Japanese development team would be as good as its Vigil-produced forebearers would depend solely on how much they really care about and respect the source material to please long-time fans and possibly draw in newcomers. Of course, God forbid if they consider rebooting it.
Although nothing's been confirmed yet, at least there may be a second chance----a second coming if you will---of a franchise that, for the time being and like the dilemma War faced with Earth in the original Darksiders, has died way before its time.