AQWBlaZer91's Top 10 Countdown:

The Top 10 Worst Game Controllers

Controllers were the most important tools of ever playing a game otherwise you couldn't play one. Developers had created decent concepts and ideas for different controllers but some of them turned out to be so terrible that made you play like an idiot. This countdown shows off the biggest pile of junk that you'd probably wouldn't even need to play a game with. The controllers were badly designed, used for the wrong games or just doesn't work at all making these things a total cash-in.

10: Power Glove
Platform: NES
Developer: Mattel
Release Date: 1989



When NES developers wanted to try out an unique experiment by creating the Power Glove gamers where in for an hour and a half advertisement of both Super Mario Bros 3 and the Power Glove which was one screw up gamers shall remember. The controller was barely compatible with any game on the NES as the controls fly you all over the place. You can swing for your life but nothing will happen as you'd want it to. The Power Glove also had 2 other game which had special features used for the Glove but even that was not impressive. Using the Power Glove just makes really want to say that "It's so Bad" and anyone would just slap yourself in the face for it.

9: Intellivision Controller
Platform: Intellivision
Developer: Mattel Electronics
Release Date: 1982 (EU)


With the Atari 2600 revolutionizing the gaming industry it was time introduce one of it's competitors the Intellivison. It's controller was most complicated of it's time. It had a Keypad along with a disk in which you could easily jam your fingernails inside. The games for the system came with with different overlays which was really needed because without it you'd would not know what button does which for each game unless you had an instruction manual. Even with a manual and overlays it's difficult to control the game and the disk can also be unresponsive. With the same concept done with the Colecovision Controller and the technology not improving from it this makes it at number 9 on the countdown.

8: Resident Evil 4 Chainsaw Controller
Platform: PS2
Developer: NubyTech
Release Date: 2005


With it's high success Capcom's survial horror masterpiece that had high praise on the PlayStation 2 and the Gamecube it spawned off one of NubyTech effortless controller that would think it was remaking Texas Chainsaw Massacre. It sure had a blood stained feel to it along with it's awesome chainsaw sound effect but with it's bulky design it was difficult to even hold it and try to control the game. Buttons were clustered over, you'd have to level it in the middle to aim or to raise it high in order to move around and yo even bring up the menu requires you to pull it's lever. This makes it downright awkward to play the game with this device. If Leon or Ada don't use chainsaws in the game why would you ever need this to play the game other then making this into a Stupid Collectible item to show off to your friends.

7: Super Scope (Nintendo Scope)
Platform: Super Nintendo
Developer: Nintendo
Release Date: August 27th 1994 (EU)

With it's success of the NES Zapper back in the 80's Gunpei Yokoi (Creator of the Game Boy) invented the Super Scope and the 6 in 1 Game Cartridge. This huge bazooka gun used wireless technology with a sensor bar which plugged into the second port of the console, forcing you to use 6 AA batteries and this beast can eat up all it's power in only a matter of hours. the gun's design had you to look into it's sight to aim onto targets but it's uncomfortable design could leave you with eye strain if you play too long. Only 11 Games were made for the device and sadly there was little demand for it when it was released in Japan. With it's poor sales the Super Scope was dropped just only a year after it was released in Europe.

6: Konami Laser Scope
Platform: NES
Developer: Konami
Release Date: 1990
Just when Lethal Enforcers had gamers with their Six-Shooting Justifiers, NES owners in 1990 had their hands on with the Laser Scope. Originally designed to be used with one game called Laser Invasion but can be used with games for the Zapper as well. The device was a headset with a Crosshair and was voice controlled. to shoot you shout FIRE as this disturbs other people around you. Often times using this it would malfunction thus why it received such negative reception from it's use. You'd be better off not using this headset for anything unless you'd want a decent headset for your X-Box 360.

5: Plastic Wii Shells
Platform: Nintendo Wii
Developer: Serveal
Release Date: 2006 to 2011
When you get your hands on a Wii Remote and a Nunchuck which makes the revolutionary. What happens when Third Party companies released a whole bunch of useless Plastic Shells to make your remote into either a Gun, a Steering Wheel, a baseball bat, a sword and many others, you would have a package that's way too much for a mouthful. Although some gun-shells had some use and it was cool to have a racing wheel with Mario Kart Wii but many others where just plastic toys which made you into an idiot that probably plays with baby toys. Many of these make the controls in the games more difficult to control and sometimes they can make your arms more tired quickly. it's unbelievable that many more shells are being made for the Wii and being made less responsive and ridiculous. This should make this at Number 5 in the countdown.

4: Philips CD-I Controller
Platform: Philips CD-I
Developer: Philips
Release Date: 1991
The CD-I has the most ridiculous design for it's wireless controller. It had a loose stick can easily make your hands fall off it, buttons were clustered all over Joy-pad to make it confusing between what button you should press to do whatever. With a design that was most complicated it was best to use a simple Joy-pad with the right buttons which makes this the 4th in the countdown.
3: Sega Activator
Platform: Mega Drive (Genesis in US)
Developer: Sega
Release Date: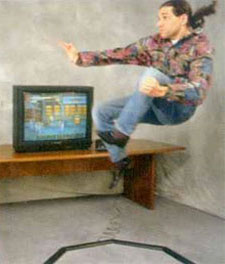 Fighting games were a big hit in the arcades with their arcade sticks but what if you've looked at a fighting stand which controls the fighting games? The answer would be that the device would not be usable for any kind of fighting game in living room. You'd punch and kick like you would in real life without hitting your television or anybody in the face. Trying to pull of a fatality in Mortal Kombat is certainly impossible because most of the controls are unresponsive. With it's future Fighting Stands following on the PlayStation 1 and 2 to try and capitalise on the Fighting Genre and failing miserably, making gamers just resulting to just playing with the arcade sticks and Joy-pads.
2: U-Force
Platform: NES
Developer: Broderbound
Release Date: 1989

A device that sounded so hot that nobody could touch it, but it was certainly untouchable when it came to figuring out how to use this untouchable nightmare. Although it had a power bar for Punch Out and and a plastic stick for flying games like Top Gun but mostly the controls were downright unresponsive leading players to their demise most of the time. This awful Battleship shaped device was just another reason to why the Power Glove from Mattel would ever succeed with terrible technology like this and why no one should ever touch it.
1: Atari 5200 Controller
Platform: Atari 5200
Developer: Atari
Release Date: 1982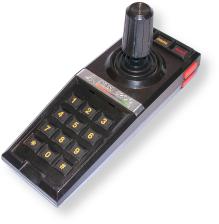 With Atari's competition increasing the Atari 5200 controller had one of the biggest reasons for the system to fail. Although it had it's innovations like a 360 degree Joystick and Pause which was new at the time, the controller's joystick was so fragile it would break after just a few hours of play. It also had a numeric keypad and action buttons on the sides of the controller. It shared the same design flaws as the Intellivision and the Celcovision controllers but made even worse for it's reliability. There were supposed to have third party support in order to replace the broken controllers but was just as bad as this one. This is one controller you'd wouldn't use for any game system making this the pick for the worst controller ever made.

Writtern By Anthony Hayball (AQWBlaZer91)