Game Title: AdventureQuest
Platform: PC (Web)
Developer: Artix Entertainment
Publisher: Artix Entertainment
Genre: Fantasy Role Playing Game
Age Rating: 13+ to Register
Release Date: 2002
-----------------------------------------------------------------------------------------
Game Score: 3.5/10
-----------------------------------------------------------------------------------------
Summery:
Artix's AdventureQuest is simply one of those browser games that fails to impress.
-----------------------------------------------------------------------------------------
With the success of High selling Japanese RPGS like Squares Final Fantasy, Enix's Dragon Warrior and Nintendo's Pokemon Series, how about a Role Playing Adventure that simply plays on your Internet Browser without any downloads. The end result is AdventureQuest from Artix Entertainment. While the concept seems simple enough but however it turns into an experience that won't add much interest to anyone.

While AdventureQuest doesn't offer much on story but the overall theme to it is that you as a nameless adventurer must travel across the world call Lore in order to fight off against a series of monster attacks. Throughout most of the story it's told through a series of different weekly events and spans through different sagas which mostly involve either invasions or alliance between either your allies or your enemies. Most of the dialogue in the game is told through cut scenes in which there's plenty of text to read but you can easily skip through these if you wish, the cut scene animations are ridiculous making you lose interest in both the storyline and any of the characters.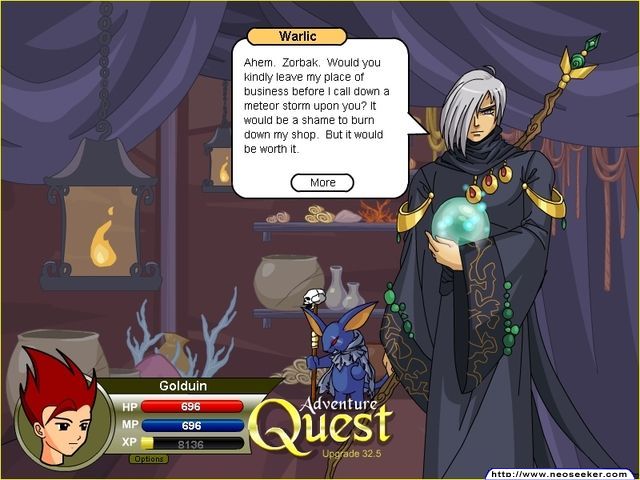 Before you'll begin adventuring you first access the website to register your account then your character with 3 Starting Job types you wish to start out with. You're also able to change your character's appearance from Hair, face and eyes to suit your tastes then you're ready to begin adventuring. Unlike with most RPG's where you'll always follow a straight forward path with only some leading to side quests, this game goes for a map system with different areas to explore and they become unlocked from your characters level. You'll also join up with clans which has it's own wars to fight in and also with exclusive Shops. You can also fight random monsters at your leisure and when ever you need Healing you can click on s small brown Moglin named Twilly to Heal up for your next encounter. You also have weekly events to watch out for since they have wars in which you'll fight numerous waves of encounters, a boss battle and the next piece of the story. These wars pop up more frequently and it takes a while for the war meter to raise up to 100% for you to fight the boss. On top of that add Survival Quests in which you'll go against an endless horde of monsters till you grow tired.

There's a lot of different quests that you'll go through with but many of these become increasingly difficult because of the amount of grinding you'd need to do but the Leveling is scaled between you and the enemies you'll face in many quests later on so you'll need to grind for gold in order to get stronger gear. Accusingly you also find special coins called Z-Tokens which allow you get really special items in the game. The big issue is that although you'll might get enough gold to buy something you need, but you'll have to be the exact Level to buy it which make little sense especially when you'll need stronger weapons to stay alive, even worse is that to get potions you'll have to play a certain quest or by going to the event's war room from a bag but requires Guardian accounts to do that. Speaking of Guardian accounts, you can upgrade your character so that you can enter areas which are exclusive to Guardians, use Exclusive weapons and also to find pieces to create the Blade of Awe which is the games strongest Weapon. With it you can beat nearly every encounter until you fight the boss which take quite a long while to beat. Guardian accounts also don't need to wait in line in order to play in which Free Players only have a full week upon account creation of free play until they need to wait in line in order to play. In order to become one you'll need to pay a one time payment. In all AdventureQuest does plenty of value to have but are you really going to enjoy any of it at all.


The battles in AdventureQuest are slow and boring to say the least. The battle menu allows you to change your equipment, use items or take animal sidekicks into battles which can be pretty useful along with recruiting a guest character along. These pets can be purchased in stores and each has their own particular Elements, the same inplies for Equipment which also have Elemental Attributes which either Boost or Decrease your Defenses between Elemental attacks. The main way of winning Battles is too attack the Monster's elemental weakness by placing the cursor over the monster in order to do the most Damage as that becomes tedious by the fact battles take a very long time to beat which makes these one-on-one encounters feel like Boss Battles. You can damage these things more with magic instead of Melee attacking them since that takes forever but most magic spells in the game can drain nearly all your MP to use either at least 2 which doesn't make any sense. Whenever you level up you don't raise stats like normal instead you'll need to go to the Stat Trainers area and then you'll fight one of them to raise your stats of 6 different attributes such as Strength, Dexterity, Endurance, Intelligence. Christma and Luck. It's absurd that you need to do that in order to Level up which makes many of your fights even more ridiculous. With many of the ridiculous design choices that you'll have to put with, it makes the battles in the game tedious and formulaic that it's outmatched by the earliest 8-Bit games in the Genre.


AdventureQuest's visuals are cheap and unimpressive to look at even for a flash game in 2002. Unimpressive looking Characters and Weapons which look downright ugly. Cut-scenes look absolutely ridiculous with Animations that fell more a puppet show. There's little to no sound effects other then Elemental and Item sounds in which you're better off playing on mute. This game simply looks and sounds unappealing for anyone to witness.

Artix's AdventureQuest is simply one of those browser games that fails to impress. You'll won't find any Browser games that could be better then this other then Sinjid's Battle Arena which is more recommendable. $24.99 for the Guardianship is something that is difficult to recommend, but if you're willing to try your Patience with it then play this game for free and see how your Patience lasts. There are so many better RPG's that does better justice.
-----------------------------------------------------------------------------------------
The Pros:
1. It updates every week adding in new Quests,
2. You can allow Pets and different Guests to fight along side you.

The Bads:
1. Buying Equipment Requires Leveling
2. Slow, Tough and Boring Battles
3. Unimpressive Graphic Details and Animations in Weapons, Characters and Cut-scenes
4. Ridiculous Design choices for Battles, Quests and Locations
-----------------------------------------------------------------------------------------
Reviewed by: Anthony Hayball (BlaZer91)
-----------------------------------------------------------------------------------------