The closure of half of Io Interactive would have upset Kane & Lynch 2 fans all over the world if there were any. I think I must be the only one that thinks it's brilliant but objectively I am hard-pressed to defend it. I want to call it a diamond in the rough but if that were the case the rough would be the pee-soaked grass around a park bench and the diamond would be glittering shards of a spent Lambrini bottle that was carelessly thrown under there.
Still, despite the cretinous AI, the wonky shooting and incredibly nasty story (Anita Sarkeesian wouldn't know where to start) I have to say that I love it and it's one of the few games I have completed multiple times. It has a sort of vulgar purity which starts ugly and gets worse. There is no glamour or style in the characters or their actions, they are just rats trying not to get eaten by bigger rats. The visual style really cements the grimy street vibe of the whole thing.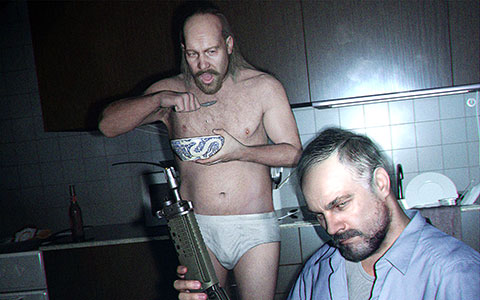 Believe it or not but things get worse ... and by worse I mean nakeder!
What is prompting me to write this blog is that now the current console generation is gasping it's last breath it's worth noting those B-list games that may not make a top 10 but might squeeze into a 20. It's strange to me that a title like Mirrors Edge gets a sequel when others like Spec Ops: The Line, Binary Domain or Zak & Wiki are equally worthy. Why is it that a game like Killer Instinct gets an extra life when general opinion seems to think it undeserving? Dark Sector, No More Heroes and Condemned warrant another visit, or even a first if you never got round to them. Have I missed any out?
Despite owning over 100 360, PS3 or Wii games there are still too many more out there for me to even consider the jump to Xbox One, PS4 or WiiU. XCOM: Enemy Unknown and Dishonored are critically praised classics that are firmly on my wishlist but so are Crackdown, Just Cause 2, Child of Eden, Sleeping Dogs, Alice: Madness Returns and a whole host of others. One day I may even finally get round to Psychonauts or The Longest Journey. Here's hoping.
I love the possibility and promise that a new round of fresh TV cabinet hogging gaming powerhouses can bring but there is something exciting about walking past the shiny new cases in my local gaming shop, diving head-first into the bargain bins at the back and leaving with something a little different with change for a fiver. So go get Kane & Lynch 2, you'll love it*.
*All claims regarding the rather excellent nature of Kane & Lynch 2 are entirely the opinion of the author who will accept no responsibility when you realise that Kane (an Lynch for that matter) have the aiming skills of a bear with a hosepipe!