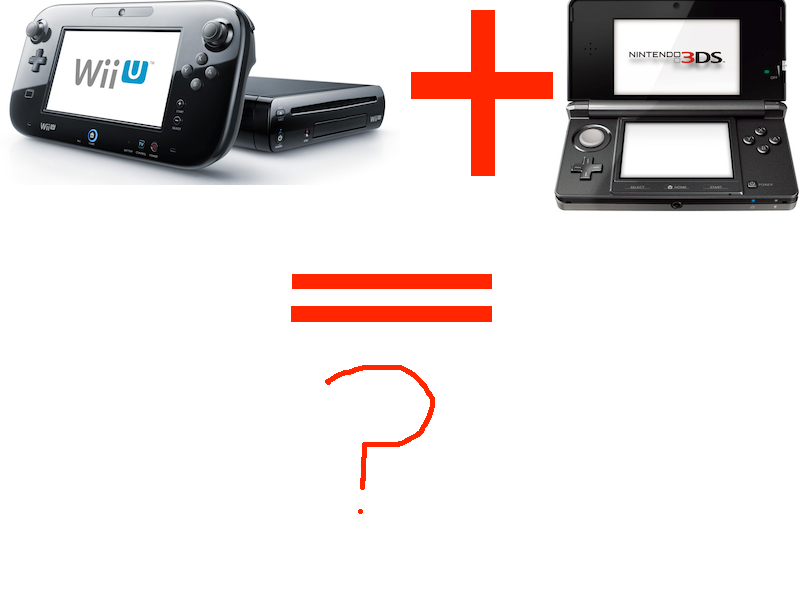 WHAT IS IT?
A Nintendo Hybrid is something that Nintendo has allegedly been working on for ten years, since the Gamecube-Gameboy Advance connectivity days (the DS's unexpected success being a brief distraction); essentially, it is one system that is the successor both to their current console and hardware, a system that unifies their product lines into one. 
How would it work? Think of it as a small handheld; a powerful handheld, with at least the power of an iPad- you pick it up and you take it with you, like any handheld. You play games on it on the go. And when you come home, you dock it into your TV, and you can play those exact games on your HDTV now, with controllers, as a console game. One platform, that acts as both a handheld and a console.
HOW DOES IT HELP?
It helps in multiple ways- let's focus on the chief issue, which is resource allocation. Increasingly over time, Nintendo has found it harder and harder to support two platforms, a handheld and a console. As we have seen in recent years, one always suffer at the hands of the other (in this case, the Wii U seems to be marginalized in favor of the 3DS); as software development grows more and more complicated, not just for consoles but for handhelds as well, Nintendo finds it harder and harder to allocate first party funds and resources to adequately support both platforms. But in this situation, imagine there being just one system you need to buy to play Nintendo games instead of two- one system for Mario, just one for Zelda, Pokemon, Metroid, the new Monolith or Retro game.
And you can play those games any way you want- you can play them on the go if you prefer handheld play. You can play them on your TV if you prefer console play (heck, this even gets you the big screen console Pokemon you have always wanted). 
From a first party perspcetive, this is incredible, because by focusing all their efforts on one platform, Nintendo can ensure there are no more software droughts, like the ones that the Wii U or 3DS suffered. They can ensure there is one major release from them on the one platform that they are supporting every month, without having to do the handheld/console balancing act that they currently do.
From a PR perspective, Nintendo does not have to worry about one platform failing pulling their public perception down (as is happening currently with the Wii U overshadowing the 3DS's impressive success).
IS THERE ANY PROOF THAT THIS IS HAPPENING?
Of course there is proof, there's a whole lot of proof. Let's start with the existence of the Wii U, which is the most conclusive piece of proof we have- the Wii U works a bit like what I described, except in reverse (possibly because the tech to do a hybrid at the level Nintendo wants/I have described wasn't mature or cheap enough yet). It's a proto hybrid. And the Wii U is just the culmination of a long line of efforts by Nintendo to consolidate handhelds and consoles- think back to the Gamecube-Gameboy Advance connectivity, for example.
But the most telling piece of evidence that we have, which will please those who like cold, hard, concrete facts, is the news from earlier this year that Nintendo is consolidating its handheld and console development teams; this can only lead one towards one conclusion, there is no other logical end to this process.
WHAT ABOUT THIRD PARTIES?
Ah yes- third parties. The bane of Nintendo's existence. This is a two pronged problem.
As far as handhelds go, Nintendo has third party support on lock- it's always gotten major third party support for its handhelds. Even in the days of the Wii, the days of the Gamcube, N64, even now, with the Wii U bombing, Nintendo gets major third party support on the 3DS. Third party support for a Nintendo handheld isn't a question. It's assured, because Nintendo has that market on lock.
For consoles, it's almost the exact opposite- no matter what Nintendo does, it can't seem to enlist third party aid. It's easy to see how a console/handheld hybrid would solve this problem, as not only does it get the full third party support a Nintendo handheld traditionally does, but it can also get the kind of 'console' third party support that the Vita is getting; in the best case scenario, it can get full third party support, as an able platform with a lot of sales.
WHA ABOUT THE FINANCIAL FALLOUT?
The one convincing argument against this happening is the financial argument- Nintendo currently earns money from both, its consoles and its handhelds. Wouldn't having one platform just halve the revenue stream?
And the answer to that is no, for a multitude of reasons.
For starters, the non overlapping handheld/comsole demographics now buy one system, and all sales are just transferred to that one, instead of being split across two platforms. For non overlapping demographics, those that own both a Nintendo handheld and a console, however, this represents a loss in revenue.
Said loss is more than covered for, however, by the fact that Nintendo now has to invest in one platform, not two- R&D for one system, maintenance of one system, manufacturing and marketing of one system. Third party support ensures consolidated licensing fees. 
And most importantly, software sales- a singular Nintendo system would experience massive software sales for all Nintendo games, much more than these games do individually on a handheld or a console. All of this can collectively ameliorate the short term revenue loss that unifying their hardware lines would mean.
WHAT DOES THIS ALL MEAN? (tl;dr version)
There are people who think Nintendo needs to go third party, because it 'sucks at hardware.' These people not only completely miss the point, but they are also inaccurate- Nintendo doesn't suck at hardware, it has a thorough and incredible understanding of hardware engineering. They have had missteps with their recent consoles. But all this while, their handhelds have continued to truck along as the best hardware for the handheld market, uniquely balancing hardware power, reliability, ergonomics, battery life, and innovative inputs, all along, and that has become their core competency.
Such a Nintendo hybrid as described above would take Nintendo's strongest competencies in the hardware market- their incredible experience at designing handhelds- and put it to great use at designing a unified platform. Said platform would be well engineered, unlike Nintendo's recent consoles, would get all the backing of third parties (as a 'handheld'), and the complete might of Nintendo's first party behind it. It would also, once and for all, end the problem of resource allocation that Nintendo often suffers, having to support two platforms all by themselves, and would once and for all answer and end the questions of Nintendo going handheld only/third party.
Finally, this move would also keep Nintendo competitive in a rapidly changing and increasingly more competitive market- this new device would be able to hold its own against smartphones, tablets, and media boxes in a way that a dedicated Nintendo handheld or console would not.
---
So the question now is, what do you think of the Nintendo Hybrid? Would you buy such a system? Do you think it is a good move for the company? What do you think would be the problems with this approach?