Assassins Creed 3 HYPE Thread
Assassin's Creed 3 is the third main entry in the popular Assassin's Creed franchise. This entry in the Assassin's Creed franchise takes place during the American Revolution, a major turning point in the way governments and their people interacted with each other. The game features a new Assassin named Connor, or Ratonhnhake:ton in his native language. Connor is half European and half Native American giving him a direct link into the conflict taking place in the American Colonies. It is unknown as to how Connor becomes an Assassin, but Connor has always fought for justice and fought against the tyrannies in the world. Connor also possesses a strong commitment to his people and seeks to do his best to assist his people while fighting for the greater good.
Connor's journey to fight the Templars takes him from Boston, to New York, to the frontiers of North America. Connor's heritage gives him access to many Native American tools and abillities such as a tomahawk and quickly climbing through the trees of the frontier to go from place to place.
Along the journey, Connor meets historical figures including: George Washington, Sam Adams, Benedict Arnold, King George III, and Ben Franklin. Connor participates in many of the major historical events and battles that took place during the revolution such as The Boston Massacre and the Battle of Bunker Hill.
Throughout Assassin's Creed III, you will also return to Desmond in 2012 and his quest to unravel the mysteries of the past and continue the fight on the templars. Desmond's tale picks up as Desmond prepares the enter the Great Temple and discover the origins of the First Civilization.
Are you ready to join Connor and fight tyranny in his quest to bring justice to a land in turmoil.
IGNITE THE REVOLUTION!
Features
-A 30+ Hour Campaign featuring sidequests and extra missions
-Battle on the high seas as you command a ship in Naval Combat
-Fully explorable frontier with all new tree climbing navigation
-Anvil-Next engine designed to add tons of new animations and next-gen like graphics
- Return to the popular multiplayer modes introduced in Assassin's Creed Brotherhood, with new modes including the co-op killing mode Wolf Pack in which you and your friends can assassinate AI controlled enemies.
Special Editions
Limited Edition ($119.99)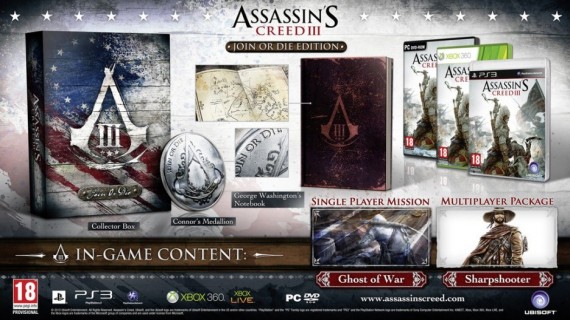 Join or Die Edition (52.97 Euros)
Ubiworkshop Edtion ($99.99)
DLC
Assassin's Creed 3 features a Season Pass which will provide a discount on all of the DLC released over the next year or so.
King Washington DLC:
This DLC takes place in an alternate history in which George Washington, after leading the Americans to victory, assumes control as King of America and becomes a dictator.
Countdown
http://www.timeanddate.com/countdown/to?iso=20121029T235959&p0=263&msg=Assassin%27s+Creed+III+Release
Reviews
8.5 Merristation Magazine
8.5 Gamespot
8.5 IGN
3.5/5 Joystic