Obama cut the deficit and slowed spending to lowest level in 50 years.
When Bush entered the white house, the annual budget had a $236 Billion surplus.
When he left, the budget had a $1.4 Trillion annual deficit.
Since then, Obama has lowered the deficit to $1.1 Trillion, by next year $977 Billion
Not only has the president cut the deficit by $312 billion during his first term (so far), but he's cut the deficit by $200 billion in the past year alone. And the CBO projected that the 2013 Obama budget, if enacted as is, would shrink the deficit to $977 billion -- a four year total of nearly $500 billion in deficit reduction.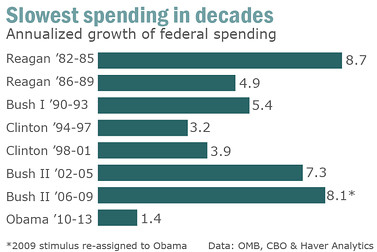 This country does have a spending problem, we're still adding a trillion to the national debt every year but is the president's spending out of control? Is he increasing spending? Absolutely not. Despite what republicans are trying to pin on him, he did a pretty damn good job handling the deficit. and it makes me think that if we didn't have the Wallstreet collapse in 2008, the deficit would have been much lower.
What changed?
In 2010, Obama signed the Statutory Pay-As-You-Go Act, which mandates that new spending be offset with spending cuts or new revenue. In other words, every bill passed MUST be paid for. So something like the Bush tax cuts - which included no compensation for lose of revenue couldn't have pass.
Ironically, not a single republican voted for this bill...