Nintendo WiFi Connection
FAQ & Info Thread
Welcome, fellow Nintendo DS gamers! This thread was designed over a year ago, and is currently in version 4.
Basically, this was set up to be a spot for Nintendo DS Gamers to come to find out about the Nintengdo WiFi Connection.
Please read the first page before asking any questions (to cut down on duplicate questions)
Also, please note that I am not alwayson GameSpot myself, so any others are free to answer questions, as long as they know what they're talking about.
IF YOU HAVE ANY SUGGESTIONS, PLEASE PM ME!

Table of Contents

I. The Multiplayer/Nintendo WiFi Connection
II. WiFi/Hotspots
III. Routers/The Nintendo WiFi USB Adapter
IV. Encrypted Networks and Your DS
V. "Nintendo WiFi Unveiled" Interview
VI. Typical Wireless Network Diagram
VII. www.nintendowifi.com: Features
VIII. Nintendo WiFi Connection-compatible Games
IX. FAQ
X. Friend Codes...? [NEW!!]
XI. Links
XII. Credits
XIII. Thread Updates

Nintendo DS Multiplayer Modes

Back at E3 2004, Reggie FIls-Aime promised online gameplay possibilities with the Nintendo DS at its unveiling. However, there was much doubt that Nintendo's plans would continue, because of their total disregard for Nintendo GameCube's online capabilities.
At the 2005 Game Developer's Conference, Nintendo President Satoru Iwata confirmed that the "Nintendo WiFi Connection" is well under way in development.
After less than a year after the system's release, the Nintendo WiFi Connection launched in the United Stateson November 14, 2005.
There is much confusion surrounding the game's multiplayer modes. Popular magazines list the local wireless multiplayer mode as "WiFi", when it's really not. That is just local wireless play.
The other multiplayer mode, as you know, is truly WiFi; The Nintendo WiFi Connection. The only thing you need to connect is a DS, a Nintendo WiFi Connection-compatible game, and a wireless router or USB adapter with a brodbad internet connection.



WiFi / Hotspots

WiFi, or Wireless Fidelidy, is basically wireless internet.
Anywhere where there is a wireless router offering a connection, there is a hotspot. "Hotspot" is just a term used to say "WiFi is offered in this area". Therefore, you must be in a hotspot to play on the Nintendo WiFi Connection.

Routers and the USB Adapter

Wireless routers take an internet connection and split it up into radio waves that your DS can communicate with internet servers with. (This also works with PCs with wireless network cards). The USB adapter does the same, but only works with the Nintendo DS (and possibly Revolution). Buy the USB Adapter here!!
Got a 2-Link router? They tell you how to set it up with the DS!

Routers vs. USB Adapter
Using Routers
Pros:
- Can be used with computers
- Can have more DSes connected than the USB adapter
Cons:
- Ranges from $37 to well into the hundreds.
- You need to program your DS to communicate with it
- Possibly big, bulky
Using the USB Adapter ($34.99)
Pros:
- Possibly cheaper than router
- No setup to play online (turn on the DS and play)
- Small, can take it anywhere easily
Cons:
- Can only be used with Windows XP.
- Only 5 DSes can connect at one time.
- Can't be used to connect computers to a network
- Can only be bought online at Nintendo's Store (as of now, Reggie says they have plans to retail it in stores)
Which one do I recommend? Well, that's up to you, and how each one fits your situation!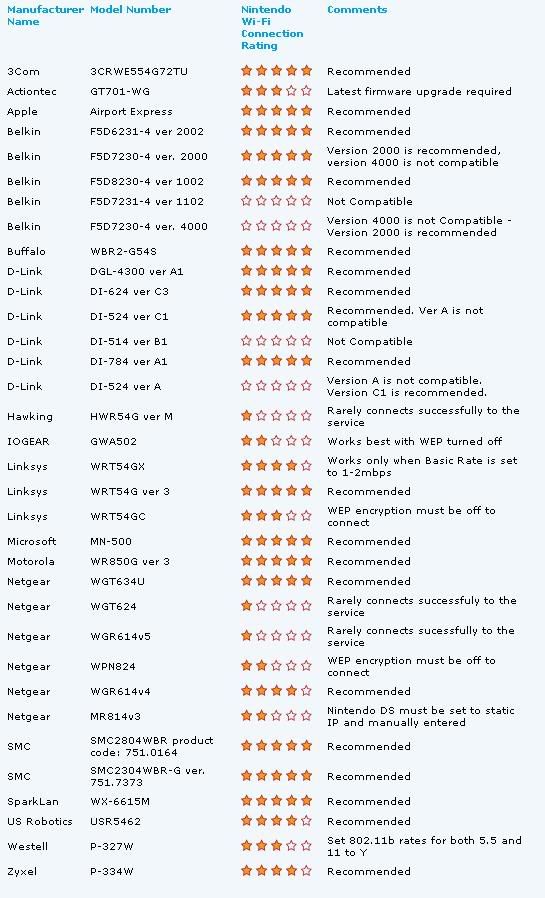 Graph coming back when images are allowed.
PLEASE NOTE: Sometimes routers change versions without any notification, and therefore may or may not become compatible with the WFC. Be sure to check out nintendowifi.com's list of supported routers frequently for the most detailed information. This information was relayed to me by a Customer Service Rep at NOA HQ in Redmond, WA during a call.



Encrypted Networks and Your DS

The DS supports only WEP Encryption. Therefore, you will need to enter your WEP key into the DS.
To find your WEP key, (in most routers), you need to type the router's IP address into a browser and there you can modify and find its settings, including the WEP key.

For troubleshooting, click here.


"Nintendo WiFi Unveiled" Interview

Sorry for any inconvenience, but this interview is so large that it is a nuiscance to have in this thread because of the character limits. But I have put it into a text file here.

Typical Wireless Network (by yellonet)
Link: http://i2.photobucket.com/albums/y27/cubedman990/JPG_WiFiRevoDS.jpg